A pro-Trump LGBT group said their float was recently denied a spot in a gay pride parade scheduled for August in Charlotte, North Carolina.
DeplorablePride.org's float had flashy props, drag queens and an array of colors.
However, there were a few details that stuck out, including Donald Trump's campaign message "Make America Great Again," a dancer dressed as Melania Trump, and someone dressed up as Donald Trump to accompany the Melania impersonator.
DeplorablePride.org has claimed these details are what organizers did not agree with and what ultimately led to the rejection of their float.
"I'm insulted. It's a slap in the face. After being deeply involved in the LGBT community for 15 years, I'm angry," the group's founder Derek Van Cleve told NBC Out. "The LGBT community is all about acceptance and inclusiveness. Why not include every political party?"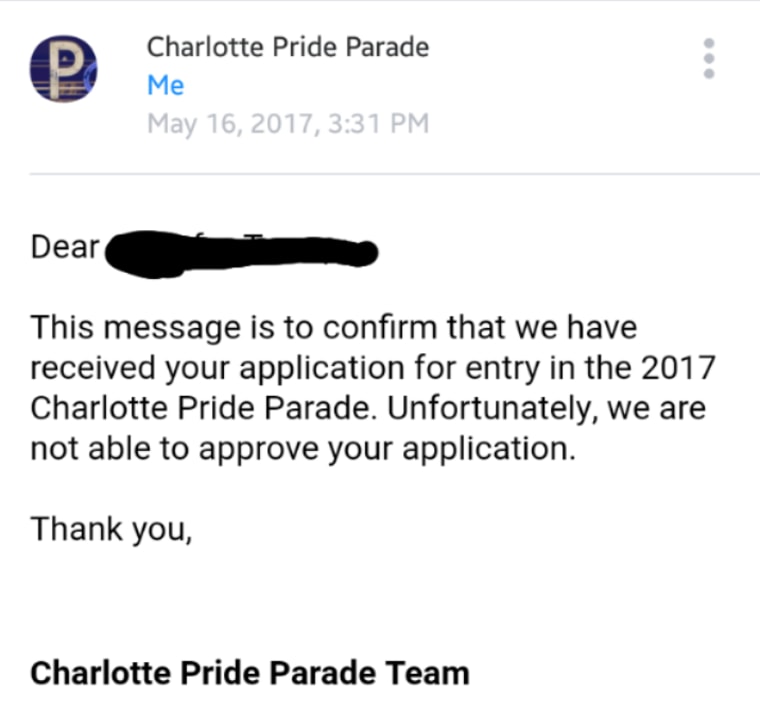 DeplorablePride.org received a rejection that read: "This message is to confirm that we have received your application for entry in the 2017 Charlotte Pride Parade. Unfortunately, we are not able to approve your application."
In a statement provided by the Charlotte Pride board of directors to NBC Out, the group said it "reserves the right to decline participation at our events to groups or organizations which do not reflect the mission, vision and values of our organization, as is acknowledged in our parade rules and regulations by all groups at the time of their parade application."
The statement also claimed that decisions like these have been made before.
"Their response was very vague saying they could reject anyone, anytime they want, especially if they are anti-LGBT. Donald Trump is not anti-LGBT," said Van Cleve.
A GoFundMe was created by DeplorablePride.org to raise money for their group to "fight the majority within the minority." The group also plans on hosting "The Deplorable Pride Ball" with the tagline "A Pride Celebration For Everyone."
"We are here to fight and we are here to stay," Van Cleve said.