It's a Friday afternoon at the White House and President Obama, the First Lady and family have departed for the weekend. On any other day, their absence would allow senior staff to gain a few hours to catch up on missed calls, even make weekend plans. However, for those who identify as gay, lesbian, bisexual, transgender and queer, this day presents a rare gathering and a special opportunity.
In a series of firsts, the White House gave NBC OUT exclusive access to these openly LGBTQ staff members, including a first of its kind "class photo" of those who currently serve, and will likely remain in the waning months of the Obama administration. From behind the scenes, they've seen policy changes, Supreme Court decisions and historic appointments affect the lives of LGBTQ Americans, their families and those who wish to make the United States home.
In their own words, we asked several staffers to share their reflections of their time in the West Wing and what the future of LGBTQ progress looks like to them.
Ellie Schafer, Special Assistant to the President and Director of the Visitor's Office, The White House
---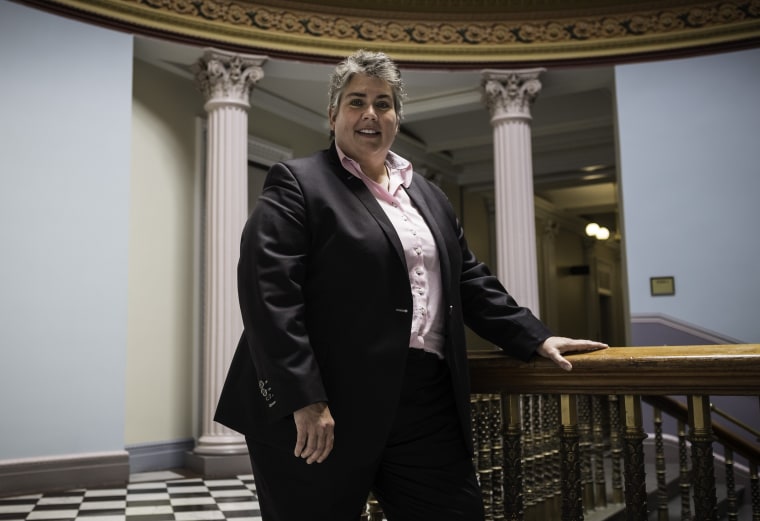 NBC OUT: Describe your role in the administration?
Ellie: I have worked for Barack Obama for 10 years. I began working with him on his Audacity of Hope book tour and was there from Day 1 in Springfield, Illinois and traveled with him for 654 days.
Now, I have been at the White House for 7.5 years and serve as a Special Assistant to the President and Director of the Visitors Office.
In this role, I run the office that carries out the directive of the President and First Lady to make The White House, The People's House. I have the privilege of producing and managing all of the large events at the White House, from one on one meetings to the annual Easter Egg Roll with 35,000 guests. To-date, over 4.1 million guests have come through the Visitors Office during this Administration (75 percent of ALL visitors).
NBC OUT: What comment or remark by the President and or Vice President touched you as an LGBT American over the past several years?
Ellie: I got married last year, and the President and First Lady congratulated me and my wife and that was a pretty special moment; they were both so genuinely happy for us.
Monique Dorsainvil, Deputy Chief of Staff for the Office of Public Engagement and Intergovernmental Affairs, The White House
---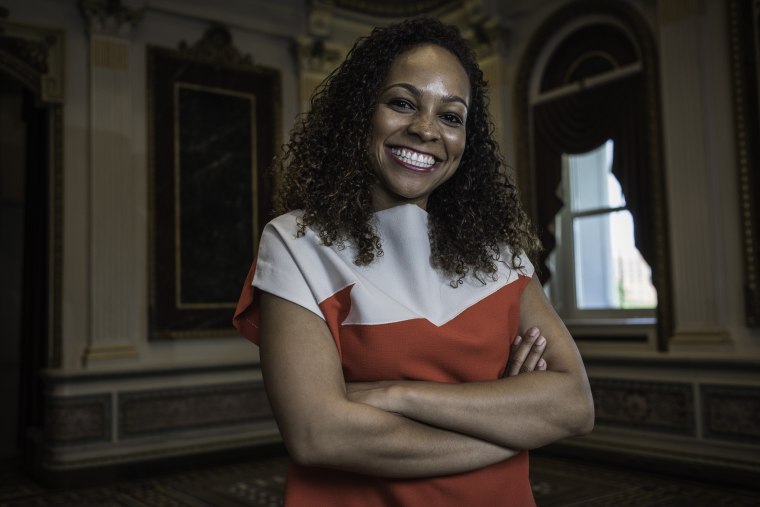 NBC OUT: From the President's historic election and re-election, to this moment, what's one event that sticks out to you the most?
Monique: A moment I will never forget at the White House was President Obama's response when I mentioned my partner. I was briefing him en route from the Oval Office to a stakeholder briefing in the Eisenhower Executive Office Building. It was August 3rd 2012 and the President's birthday was the following day August 4th and my birthday was the day after that on August 5th.
After I finished briefing the President on the range of stakeholders at the convening, we discussed being Leos and our upcoming birthdays and what we had planned. I mentioned my partner was planning a small dinner for me with close friends.
When I said 'partner' he didn't flinch. He didn't even blink.
He just looked at me and said, 'Oh, what does she do?' That was his first question, and to me, that spoke volumes.
"When the nights are long and you need a little motivation, remember the small victories."
NBC OUT: Often when speaking on LGBT issues, the idea of continuing conversations and listening to develop understanding comes up. What else needs to be done to help move the LGBT community forward?
Monique: Over the course of the last seven years, we have seen many significant accomplishments for LGBTQ Americans. We have come a long way - from the repeal of "Don't Ask, Don't Tell" and the passage of the Matthew Shepard and James Byrd Jr. Hate Crimes Prevention Act to lifting the HIV travel ban and the inclusion of important safeguards in the Affordable Care Act, including protections against insurers turning someone away just because they are LGBT.
And almost exactly a year ago, we celebrated a victory in the Supreme Court granting same-sex couples the freedom nationwide with a backdrop of the White House illuminated in rainbow colors.
In stark contrast, LGBTQ youth still experience bullying in person and on the internet at alarming rates. The transgender community –especially transgender women of color – experience violence and discrimination in unspeakable ways. While we have celebrated many successes as a community, it is important to recognize that there is still much work to be done.
Raffi Freedman-Gurspan, Outreach and Recruitment Director for Presidential Personnel, The White House
---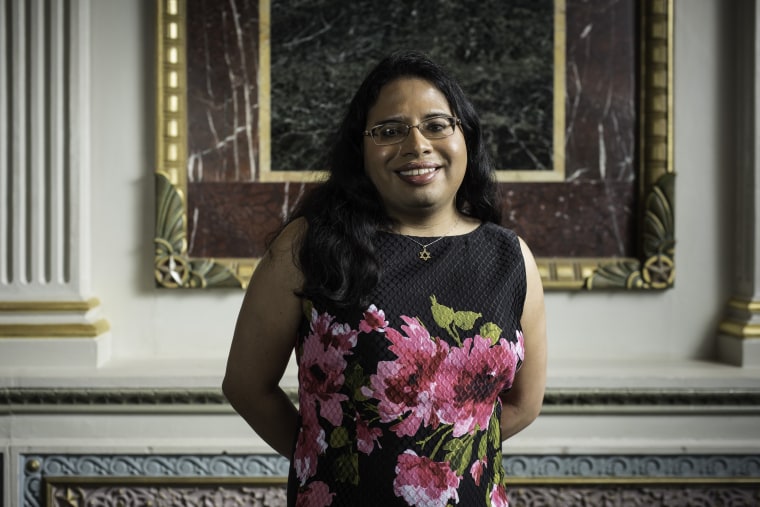 NBC OUT: What's an area of success often missed by the LGBT community?
Raffi: I feel it's critical we, as a community, embrace and are aware of the smaller everyday victories.
For example, protecting LGBT federal workers and supporting LGBT small businesses are powerful actions to ensuring LGBT people are protected and supported in not only the public sector, but private industry as well. We also have done incredible work overseas through the State Department and the USAID that is often overlooked.
LGBT rights are human rights and we are helping lesbian, gay, bisexual and transgender communities overseas reach their full potential. It seems like almost every agency has prioritized some piece of policy or service delivery to better address the LGBT community. No other Administration in history has done so much for LGBT people across so many different areas. I wish more people knew about that.
NBC OUT: What significant achievement have you been part of?
Raffi: Serving as LGBT Liaison at the White House when the Administration released its final rule on nondiscrimination in health programs and activities! This rule, which represented a key step toward ensuring that all Americans have access to healthcare, delivers on a promise made by President Obama through signing of the Affordable Care Act six years ago.
In May, the Department of Health and Human Services published a final rule protecting against discrimination in healthcare on the basis of gender identity. This is particularly important to transgender people of color and those living in poverty. As a transgender woman of color, I am proud to have been on hand when that history was made.
Clarence J. Fluker, Deputy Associate Director, National Parks and Youth Engagement, Council on Environmental Quality, The White House
---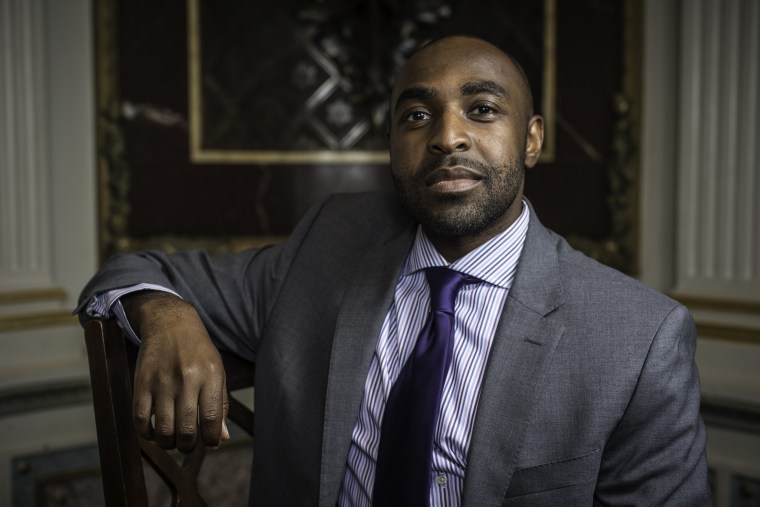 NBC OUT: What's an area of success often missed by the LGBT community?
Clarence: The National Park Service is America's storyteller and their education and interpretative programs inform millions of people each year. In May 2014 the National Park Service announced that it would begin a theme study to identify places and events associated with LGBT Americans that can be used to educate the public about the nation's heritage. This is an unprecedented step in making sure that the story of the contributions of LGBT Americans and the history of the LGBT civil rights movement are preserved and accurately folded into the larger American story. The LGBT theme study will be released before the end of the Administration.
Even since the study began the National Register of Historic Places has seen the additions of the residence of Dr. Franklin E. Kameny, Merrill James House, Carrington House, Cherry Grove Community House & Theater, Bayard Rustin residence, Julius' Bar, Furies Collective House and Edificio Comunidad de Orgulla Gay de Puerto Rico. The Henry Gerber House was designated as a National Historic Landmark July 2015.
Farouk Ophaso, Deputy Associate Director for Legislative Affairs, Office of Management and Budget, The White House
---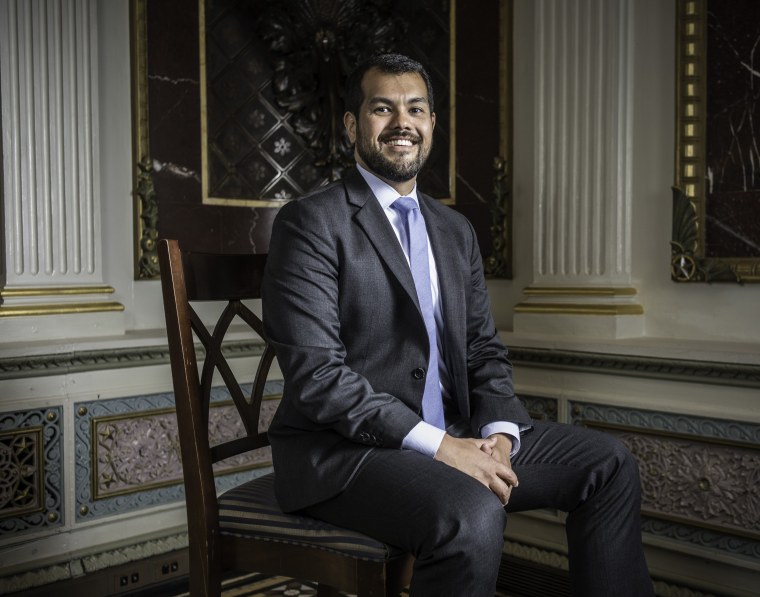 NBC OUT: As an out individual in the workplace, what has meant the most to you working in the White House?
Farouk: As a young gay person living in a rural and conservative town in California, I never thought having a career at a place like the White House was possible. My understanding was that gay people of color just didn't work at the White House because I never knew of any or saw any in the media. For someone like me to have access to the White House means that this truly is a place free and open to every single American.
NBC OUT: Often when speaking on LGBT issues, the idea of continuing conversations and listening to develop understanding comes up. What else needs to be done to help move the LGBT community forward?
Farouk: At the last Pride Reception the President emphasized that there's still a lot more work to do, and I agree with him. We need to make sure that members of our LGBT community aren't afraid of being fired because of their sexual orientation or gender identity. And LGBT people around the world still face incredible isolation, poverty, and persecution.
NBC OUT: What's the best piece of career advice you can give?
Farouk: When the nights are long and you need a little motivation, remember the small victories. These victories are examples of how you're making a difference no matter what career you've chosen.
[These interviews have been edited and condensed]