National LGBTQ advocacy group GLAAD released its first-ever political candidate survey on Tuesday, and the responses — or lack thereof — revealed a stark partisan divide when it comes to views about lesbian, gay, bisexual, transgender and queer Americans.
The "Electing Acceptance" survey seeks to assess political candidates' comfort level with LGBTQ people, and the findings are intended to help voters make informed decisions at the ballot box.
"Americans deserve to know if the candidates they are putting in positions to make important decisions about their lives, their families, and their communities match their own levels of comfort and acceptance when it comes to LGBTQ people," GLAAD President and CEO Sarah Kate Ellis said of the inaugural survey.
GLAAD sent the survey to the nearly 1,200 candidates running for seats in both houses of Congress, as well as those running for governor and lieutenant governor. But while 240 Democrats and 79 third-party candidates filled out the survey, only 32 Republicans did so. Of those who responded, 99 percent of Democrats, 80 percent of third-party candidates and 55 percent of Republicans received an "Ally" designation from GLAAD — the highest of the three ratings.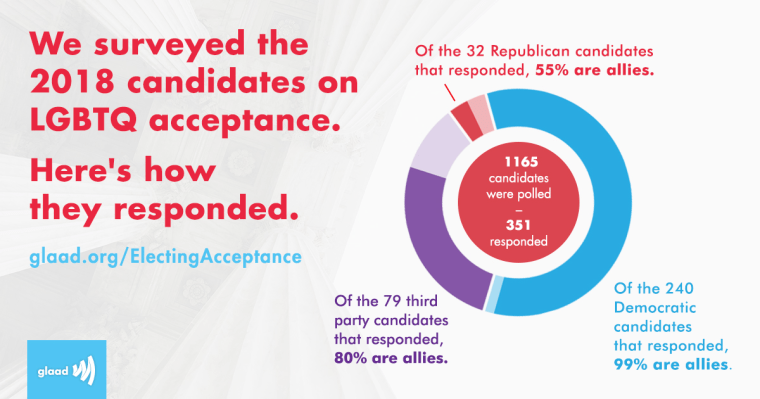 In order to assess whether the candidate is an "Ally," "Detached Supporter" or "Resistor" when it comes to LGBTQ acceptance, candidates were asked to rate how comfortable they are in seven different scenarios. These scenarios include having an LGBTQ person at your place of worship, learning that you have an LGBTQ family member, learning that your doctor is LGBTQ, seeing an LGBTQ coworker's wedding photo, seeing a same-sex couple hold hands, having your child learn about LGBTQ history in school and learning your child has an LGBTQ teacher.
After receiving the candidates responses, GLAAD then classified them into one of the three categories based on their answers. Allies expressed comfort with every scenario, resistors were not comfortable with any scenario and detached supporters had a mixed comfort level with the seven scenarios presented.
Of the approximately 40 percent of Republicans who earned a Detached Supporter designation, most of them expressed discomfort with their children being taught LGBTQ history in school.
Several Democrats in tight races — including Georgia gubernatorial hopeful Stacey Abrams and Senate candidates Beto O'Rourke of Texas, Jacky Rosen of Nevada and Heidi Heitkamp of North Dakota — earned Ally ratings while their opponents did not respond to the survey.
"Acceptance should never be a partisan issue," Ellis said, "but the paltry response from Republican candidates is unfortunate and the latest sign that creating an America where LGBTQ Americans are accepted is not a priority for their party."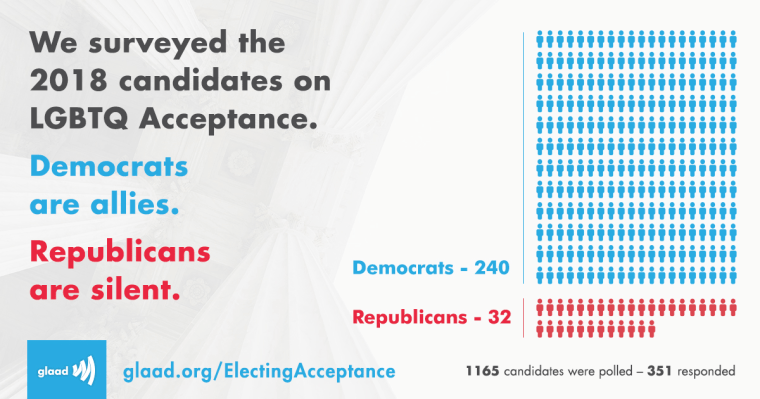 Logan S. Casey, a policy researcher at Harvard University, said he was not surprised by the partisan results of the survey. In his own research, he foundRepublicans were more likely than Democrats to report feelings of "disgust" toward LGBTQ people.
"Politicians are people, and some people still aren't comfortable with being around LGBTQ folks or seeing them express affection," he explained. "My research shows that some people still feel not only uncomfortable with, but also outright disgust toward LGBTQ people, and that makes them less likely to support LGBTQ policies and more likely to avoid LGBTQ people. That said, these politicians are largely out of step with public opinion."
Only four Republican incumbents responded to GLAAD's survey: Rep. Carlos Curbelo of Florida, Rep. Donald Young of Alaska, Rep. Brian Fitzpatrick of Pennsylvania and Vermont Governor Phil Scott. Their responses earned them an Ally designation by GLAAD.
"Supporting LGBTQ equality should never be a partisan issue," Rep. Curbelo told NBC News. "I'm proud to be an LGBTQ ally, because supporting equality for all people is simply the right thing to do."
Curbelo's Southern Florida district — which includes Key West and parts of Miami-Dade County — is classified as a "toss up" by the Cook Political Report. He is in a close race with Debbie Mucarsel-Powell, a Democrat who also completed the GLAAD survey and received an Ally designation.
Rep. Brian Fitzpatrick is in a similar situation to Curbelo. Fitzpatrick is running for reelection in the suburbs of Philadelphia, a battleground district the Democrats are hoping to flip in the midterms. The Cook Political Report has Fitzpatrick as the slight favorite to win over his Democratic opponent, Scott Wallace, who also completed the survey and attained an Ally status.
Fitzpatrick told NBC News that he responded to the survey, when so many fellow Republicans did not, because "it's a cause a believe in, and I'm proud of my position on it." He described himself and Curbelo as the "next generation" of the Republican party "who think very differently" on issues like LGBTQ rights, and he added that it's an area "the GOP needs to make significant strides on."
Casey agreed, saying Republicans who break with their party when it comes to LGBTQ rights, would likely be awarded at the polls.
"An increasing majority of the public is supportive of a wide variety of LGBTQ issues," he explained. "In other words, they would have plenty of public opinion support, including among independent and Republican voters, if they chose to break with their party on LGBTQ issues."
Vermont Governor Phil Scott, who is running against transgender Democrat Christine Hallquist, is likely trying to "shore up [his] credentials on LGBTQ issues" ahead of next month's election, according to Casey. Scott and Hallquist both completed the GLAAD survey and were labeled allies due to their answers indicating comfort in all seven scenarios presented. Should Hallquist beat Scott in November, she would be the first transgender governor in U.S. history.
Casey said he was most surprised by the survey results of Rep. Donald Young of Alaska, whose answers earned him Ally status by GLAAD.
"He's got an extremely anti-LGBTQ voting record," Casey said, "but perhaps he is responding to voters' rejection of the anti-trans Proposition 1, which was defeated in Anchorage back in April." Proposition 1 would have required transgender people to use public facilities that correspond to the sex on their birth certificates.
Ellis said she is disappointed that the "majority of the people that stayed silent" on these survey questions are from "the party in power," but she hopes voters consider candidates answers — and their silence — next month.
"As LGBTQ people and our allies got to the polls on November 6, they need to know where these candidates stand,"she stressed.