Betsy DeVos was confirmed as education secretary head Tuesday after Vice President Mike Pence took the unprecedented step of voting to break a 50-50 tie.
Opposition to DeVos was intense compared to that expressed at other Trump administration Cabinet hearings; Democrats held an all-night speaking session to protest the vote, phone calls jammed Senate office lines and the hashtag #DumpDeVos trended across social media platforms.
But some of the fiercest opposition was driven by LGBTQ advocacy groups and Senate Democrats who cited donations to conservative anti-LGBTQ groups made by the DeVos families' foundations. DeVos has maintained that she does not hold anti-LGBTQ views.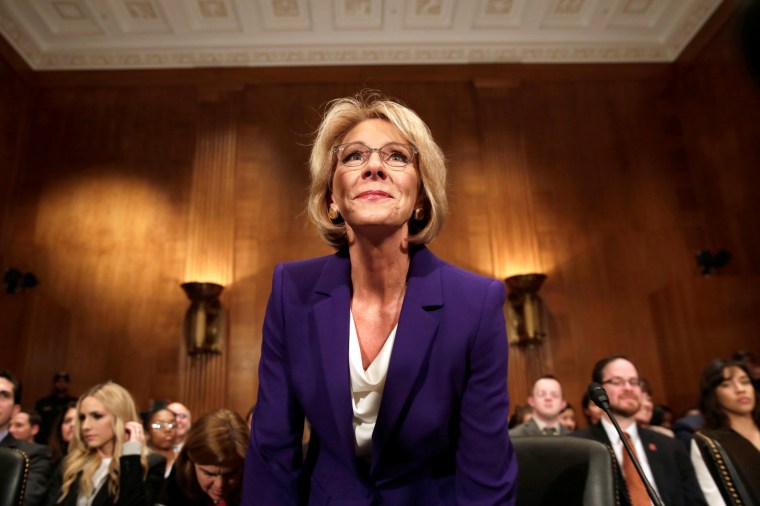 The top national LGBTQ organizations spoke out within minutes of the DeVos' confirmation, expressing disappointment and concerns for the future of LGBTQ youth and students.
"We remain deeply concerned that the protections that are so critical for our children risk being cast aside," PFLAG Interim Executive Director Elizabeth Kohm said in a statement emailed to NBC News.
"We are thoroughly disappointed that Ms. DeVos supports policies and procedures that fail to buoy the public education system," Kohm said. "We remain concerned about a family track record supporting policies of discrimination including their support of so-called 'reparative therapy.'"
Kohm said PFLAG's concerns were hardly assuaged by the fact that Pence cast the deciding vote. Pence has long had a reputation as an opponent of LGBTQ equality, having signed one of the nation's strictest "religious freedom" laws seen as enshrining anti-LGBTQ discrimination when he served as the governor of Indiana.
While Pence's track record of anti-LGBTQ political plays is long, DeVos appears to be a somewhat unknown factor. During earlier confirmation hearings, she denied that she believes in therapy that aims to "convert" LGBTQ youth to force them to become straight or cisgender, saying she "never supported" the method.
"I fully embrace equality, and I believe in the innate value of every single human being and that all students, no matter their age, should be able to attend a school and feel safe and be free of discrimination," DeVos told Sen. Al Franken, D-Minnesota, in response to a round of questioning in January, The Advocate reported.
But powerhouse LGBTQ law firm Lambda Legal isn't convinced that DeVos was uninvolved in her family's charitable funding of ultra-conservative causes.
"She has supported Focus on the Family, which opposes marriage equality," Lambda Legal Chief Executive Rachel Tiven said in an email to NBC News. "And her family foundation has funded a group that advances the dangerous practice of so-called 'conversion therapy.' Her advocacy for privatizing public education could eject students — LGBT or not — from the protection of federal laws."
Queer and gender-nonconforming students face unique circumstances in schools, with increased rates of bullying alongside issues like access to gender-appropriate bathrooms. Guidance issued by the Obama administration protects many of those students — and that's just one of the many things that advocates worry could change under DeVos' leadership.
A request to the White House for comment on DeVos' confirmation did not receive an immediate response.
DeVos has maintained that the majority of attacks on her LGBTQ record are inaccurate, and a January New York Times article quoted the general counsel of the Michigan Republican Party as saying that DeVos — serving as the party chairwoman at the time — personally insisted upon appropriate accommodations for transgender call center worker in the late 1990s.
But friend to the transgender community or not, DeVos has some work to do, LGBTQ advocacy groups say. According to the National Center for Transgender Equality, the education secretary has failed to distance herself from the conservative agendas of groups she has funded in the past.
"We continue to call on her to disavow disturbing anti-transgender statements and positions of organizations she has been a major donor to, including statements that transgender people are 'broken' and that transgender people should not be teachers," Mara Keisling, executive director of the National Center for Transgender Equality, said in a statement emailed to NBC News.
In a tweet on Tuesday, DeVos thanked the Senate for confirming her — painful though it was — to lead the Education Department.
"I appreciate the Senate's diligence & am honored to serve as @usedgov Secretary," DeVos tweeted. "Let's improve options & outcomes for all US students."