President Donald Trump unveiled his 2018 budget proposal — dubbed "A New Foundation for American Greatness" — last week. The proposal includes sweeping cuts to social spending for low-income Americans, along with big increases to defense spending. And while several policy experts pointed to the budget's unrealistic economic assumptions, others noted the lesbian, gay, bisexual and transgender community would be among the groups hard hit by the proposed cuts.
"This budget would destroy basic living standards that help working and middle class families get ahead when times are tough," Sharita Gruberg, associate director of LGBT research at the Center for American Progress, told NBC Out. "And because LGBT people face high rates of discrimination that fuels unemployment, poverty and uninsurance, they're going to be particularly hard hit by these cuts to essential programs."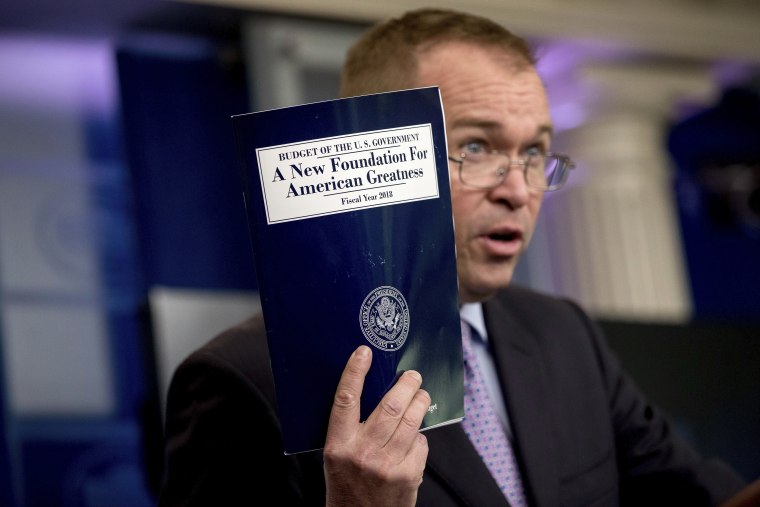 Stephen Forssell, director of the Graduate Program in LGBT Health Policy and Practice at George Washington University, said the overall message of Trump's budget proposal is "it's open season on marginalized populations."
"This legislation on its face is just so mean-spirited and so specifically targeted at people who are disenfranchised and vulnerable — and LGBT people are very clearly in that group," he told NBC Out.
Gruberg, Forssell and Jen Kates of the Kaiser Family Foundation listed a number of cuts that could hit the LGBTQ community particularly hard. Among those named were cuts to Medicaid, the Supplemental Nutrition Assistance Program (SNAP), Planned Parenthood, the Centers for Disease Control and Prevention (CDC), the Health Department Office of Civil Rights and the Office of Refugee Resettlement.
Medicaid
The administration proposes reducing spending on Medicaid programs by more than $600 billion over the next decade, a massive cut that appears to go on top of $839 billion in Medicaid cuts included in the House Republican health care bill.
Medicaid is "hugely important" for the LGBTQ community," Gruberg told NBC Out, noting that 18 percent of lesbian, gay, bisexual and transgender people have Medicaid compared to 8 percent of non-LGBTQ people.
Gruberg also noted that Medicaid is the "largest source of coverage for people with HIV in the U.S.," adding that "a $1.4 trillion cut to Medicaid over 10 years will be detrimental to the ability of people living with HIV to get the health care they need to survive."
Gay and bisexual men, and other men who have sex with men, made up 55 percent of people living with HIV in the United States in 2013, according to the CDC.
Related: How Trump's First 100 Days Impacted LGBTQ Rights
Another way LGBTQ people could be disproportionately impacted by cuts to Medicaid are the potential cuts to mental health services.
"Medicaid is the single largest payer for behavioral health in the United States," Forssell explained, adding, "There's very clear evidence that LGBTQ people are more impacted by discrimination and harassment, which impact mental health."
LGBTQ people, for example, are nearly three times more likely than non-LGBTQ people to experience a mental health condition, such as depression or anxiety, according to the National Alliance on Mental Illness.
"We already have really limited access to mental health care, and rather than trying to expand access in communities that need it most, like LGBT folks, it's going to be even harder to access, which is going to have devastating consequences for people's ability to live and thrive," Gruberg said.
Supplemental Nutrition Assistance Program
In addition to Medicaid cuts, Gruberg said she's most concerned about the proposed $200 billion in cuts to the Supplemental Nutrition Assistance Program (SNAP).
"More than one in four LGBT adults reported that they didn't have enough money to feed themselves or their families in the past year," Gruberg said. "LGBT people and same-sex couples are more likely than non-LGBT people to report receiving SNAP benefits; 27 percent of LGB adults participated in SNAP, compared to 20 percent of non-LGB adults."
Centers for Disease Control and Prevention
Trump's budget proposal "cuts many programs LGBTQ folks rely on," according Jen Kates, director of global health and HIV policy at the Kaiser Family Foundation, but she said she's focused on the proposed HIV prevention cuts at the Centers for Disease Control and Prevention.
The budget proposal cuts $186 million in CDC funding for HIV/AIDS, viral hepatitis, STIs and TB prevention.
"The CDC is the main source of funding for HIV prevention in the country, so that's of concern," Kates told NBC Out, adding that gay and bisexual men are at an elevated risk of contracting HIV. According to CDC data, gay and bisexual men accounted for 67 percent of the total estimated new HIV diagnoses in the U.S. in 2014.
In its "Overview of the CDC FY 2018 Budget Request," the CDC outlined how the proposed cuts would specifically impact its services. Under the section regarding cuts to HIV/AIDS, viral hepatitis, sexually transmitted infections and tuberculosis, the overview stated, "At the FY 2018 requested amount, CDC will reduce activities around testing, support services for persons living with HIV, and prevention services."
Kates said the proposed cuts would "present more challenges for sustaining gains that have been made thus far" in slowing the spread of HIV.
PEPFAR / Global Fund to Fight AIDS
Gruberg noted that it's not just the domestic fight against HIV/AIDS that would be impacted by Trump's budget.
"The budget has enormous cuts to programs that have been extremely successful at addressing HIV globally. There's a $1.08 billion suggested cut to PEPFAR (President's Emergency Plan for AIDS Relief), and then also a 17 percent cut to the Global Fund to Fight AIDS," she said. "So we have attacks on LGBT health both at home and abroad."
Planned Parenthood
Trump's budget proposal aims to cut all federal funding to Planned Parenthood, and Gruberg said this is particularly troubling for the transgender community.
"Planned Parenthood is one of, if not the nation's largest provider of transgender-inclusive medical care, with 65 locations offering transition-related care," she said. "So defunding this essential care provider for transgender people is also going to hit the community really hard."
Civil Rights Offices
A number of civil rights offices across government departments — including at the Health Department, Justice Department and Education Department — are facing budget cuts, and Gruberg called these cuts "extremely" concerning.
"All of these offices that under the last administration have really ramped up enforcement against violations of the civil rights of LGBT people are facing enormous cuts," Gruberg told NBC Out.
According to a report published last week by Gruberg and her colleagues at the Center for American Progress, "Trump's budget would eliminate nearly 10 percent of employees from critical civil rights offices across the federal government tasked with upholding the rights of all Americans."
Related: Senators 'Deeply Troubled' by Trump's New Health Dept. Pick
Gruberg noted another "really disturbing" civil rights cut for the LGBTQ community is the proposed merger of the Office of Federal Contract Compliance Programs (OFCCP) and the Equal Employment Opportunity Commission (EEOC).
"President Obama issued an executive order prohibiting federal contractors from discriminating against LGBT employees, and the [OFCCP] is charged with enforcing that," Gruberg explained.
The budget also calls for eliminating 249 full-time positions from the EEOC, the federal agency tasked with enforcing federal laws against employment discrimination. Currently the agency "interprets and enforces Title VII's prohibition of sex discrimination as forbidding any employment discrimination based on gender identity or sexual orientation."
According to the Center for American Progress, up to 28 percent of lesbian, gay and bisexual Americans and nearly 50 percent of transgender Americans have been discriminated against in their employment.
Refugee Programs
Under Trump's budget, refugee assistance and resettlement programs within the State and Health Departments would be cut by hundreds of millions of dollars. Gruberg equated this move to "decimating funding" for these programs at a time when the global LGBTQ needs these programs most.
"With nearly 80 countries criminalizing same-sex relationships — as well as the really horrific reports we're seeing of anti-LGBT violence in Chechnya as well as Bangladesh and Indonesia — the U.S.'s role in being a beacon of safety and security for LGBT is more important than ever before," she said.
Bright Spots?
When asked if she found any bright spots for the LGBTQ community in Trump's budget proposal, Gruberg had less to share.
"I think the best we can say is they didn't completely eliminate [Violence Against Women Act] grants," she said.
The White House did not respond to an interview request from NBC Out.