Following Donald Trump's victory last Tuesday, a number of organizations have reported receiving a surge in calls and texts from distressed LGBTQ people who fear they could see a reversal of rights recently gained under the current administration.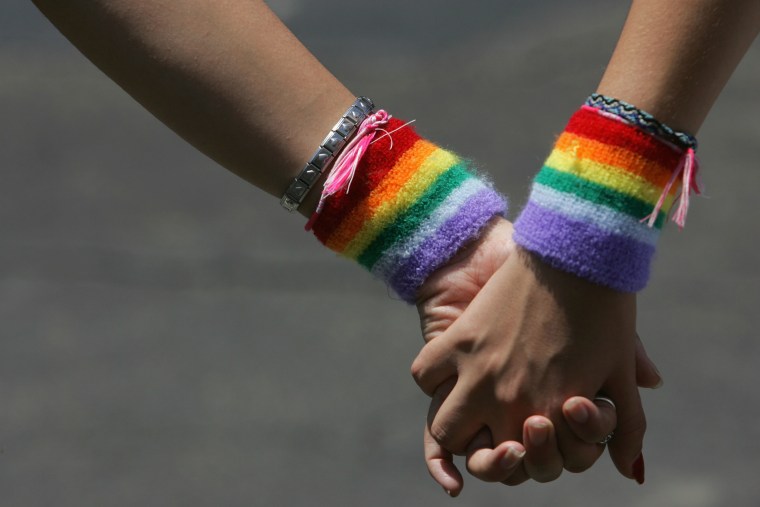 The Trevor Project, a crisis and suicide prevention organization for LGBTQ youth, reported receiving a record number of calls following the election.
"We've reached our all-time peak volumes this week. Since Tuesday, the phones, chats and texts have been off the hook. Young people are expressing high levels of anxiety, and I'd say 95 percent of people who have called have mentioned the election," Steve Mendelsohn, deputy executive director of The Trevor Project, told NBC OUT. "People are worried that gay marriage will be reversed. They're scared about conversion therapy. They're scared that the Affordable Care Act will be repealed."
The nonprofit's crisis hotline typically receives 100 to 150 calls, texts and online messages daily, according to Mendelsohn, but in the two days following the election, it received nearly 700.
RELATED: LGB Teens at Increased Risk for Suicide, Bullying and Violence
Trans Lifeline, crisis hotline supporting the transgender community, has also reported a record number of calls. In a piece for Medium, they claim to have received nearly 350 in the 24 hours after the election results were announced.
"We get a lot of calls from rural America and people in the South, people who live in social climates that aren't very hospitable [to transgender people]. A lot of people are calling having first hand experiences of harassment. There's been an increase in people getting harassed, yelling transphobic slurs, violent acts," Andre Perez, a spokesman for Trans Lifeline, said.
RELATED: How Trump's 100-Day Plan Could Impact LGBTQ Rights
At the Crisis Text Line in New York, which provides support by text message, a spokeswoman said the organization had seen a fourfold increase in text volumes in the days following the election. The non-profit does not only support the LGBTQ community, but said its data showed the word "scared" was most often associated with the word "LGBTQ" in the messages it received in the election's aftermath.
This surge in calls to crisis hotlines is especially troubling given the already dire statistics when it comes to LGBTQ suicide and attempted suicide rates. Lesbian, gay and bisexual youth are four times more likely than their straight counterparts to attempt suicide, and the rates are even higher for trans youth, according to data compiled by The Trevor Project.
RELATED: Trumps Says He's 'Fine' With Same-Sex Marriage
Trump, a Republican, has claimed to embrace the LGBTQ community, but those he has surrounded himself with have made many in the community skeptical. His choice for vice president, Mike Pence, has particularly rankled LGBTQ-rights activists due to his years of opposition to gay rights as governor of Indiana. The president-elect's promises to nominate conservative Supreme Court justices and overturn President Obama's executive orders have also caused worry among the community.
Thomson Reuters Foundation contributed to this report.