October is LGBTQ History Month, and to celebrate, NBC News will feature an NBC Out #FlashbackFriday review of key moments and people in LGBTQ history. Each week's feature will include images from the New York Public Library's LGBTQ archives. This week, we explore the NYPL's portraits of lesbian, gay and bisexual leaders in the early "gay liberation" movement (visit us on Oct. 26 for our spotlight on early transgender pioneers).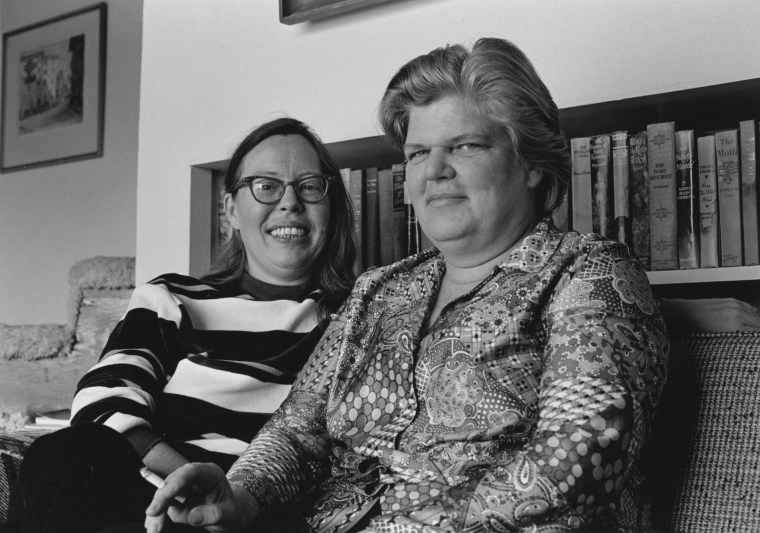 Phyllis Lyon and Del Martin — This couple founded the Daughters of Bilitis, the first lesbian rights organization in the U.S., in San Francisco in 1955.
.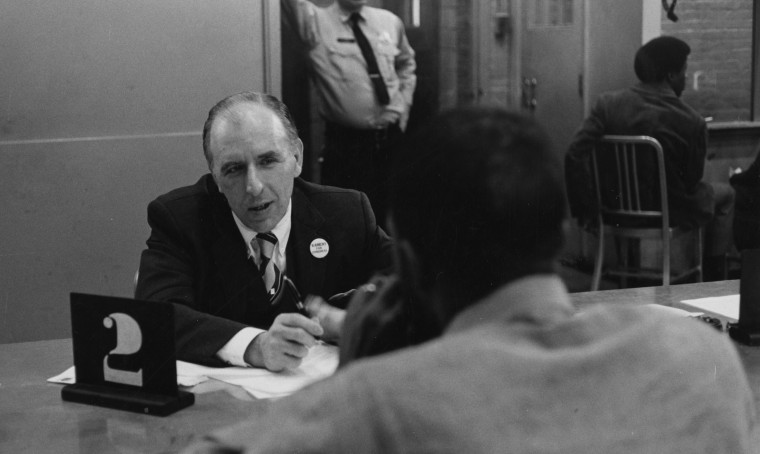 Frank Kameny — One of the earliest gay rights activists, Kameny is known today for protesting after being fired from a U.S. government job for being gay. He led an "Annual Reminder" picket protest for gay rights in Philadelphia until 1969. He was active in the Mattachine Society of Washington, D.C., and he and Barbara Gittings were active in persuading the American Psychiatric Association to delist homosexuality as mental disorder in 1973.
.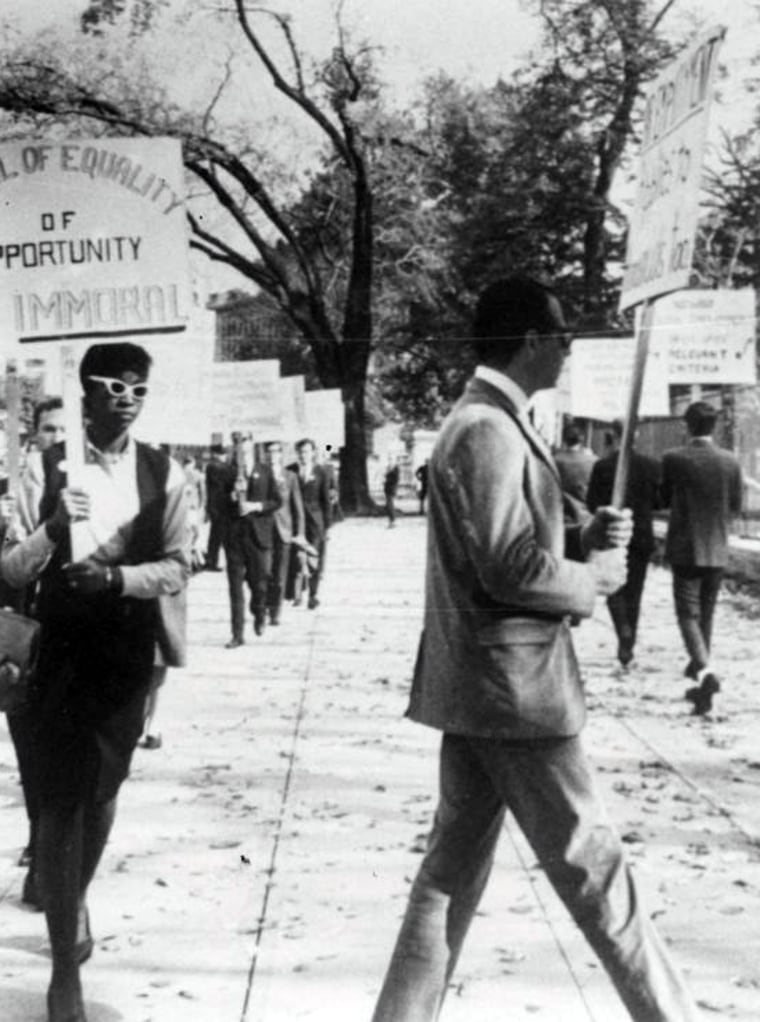 Ernestine Eckstein — Eckstein was active in the Daughters of Bilitis in New York City. She attended "Annual Reminder" picket protests and was frequently one of the only women — and the only black woman — present at early LGBTQ rights protests. She was an early activist in the black feminist movement of the 1970s, and the organization Black Women Organized for Action.
.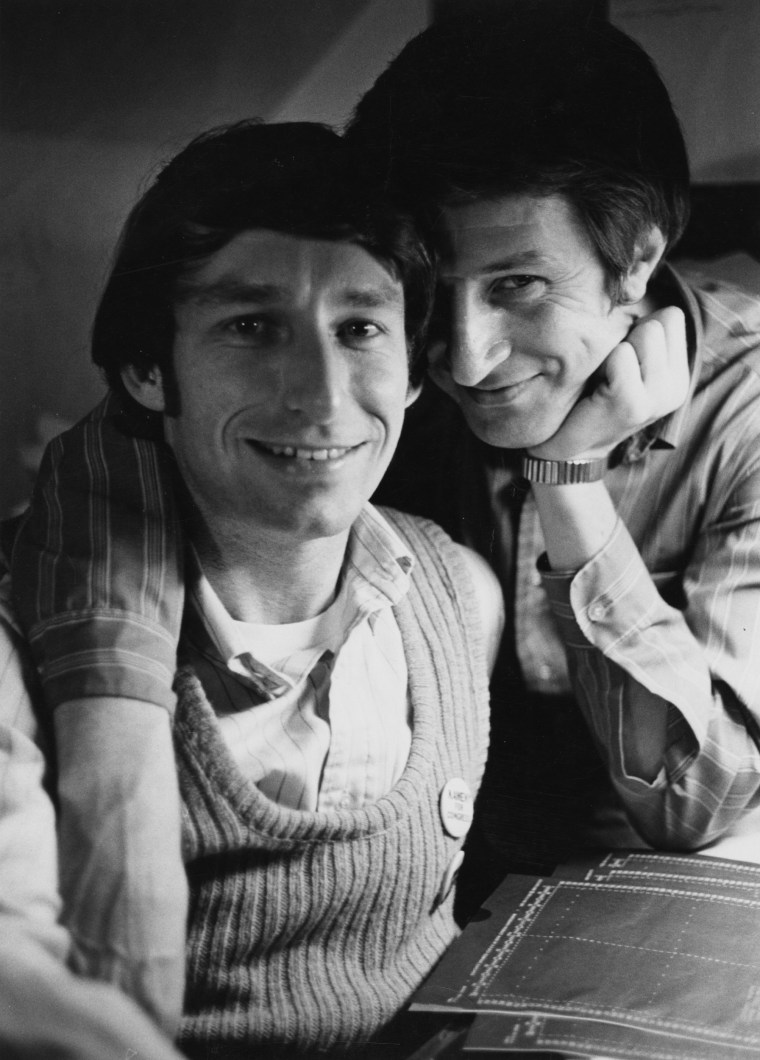 Michael McConnell and Jack Baker — This couple was one of the first to push for the right to marry. In 1970, they applied for a marriage license in Minnesota, where existing laws did not forbid same-sex marriage. The right of same-sex couples to wed was recognized as constitutional by a 2015 decision of the Supreme Court.
.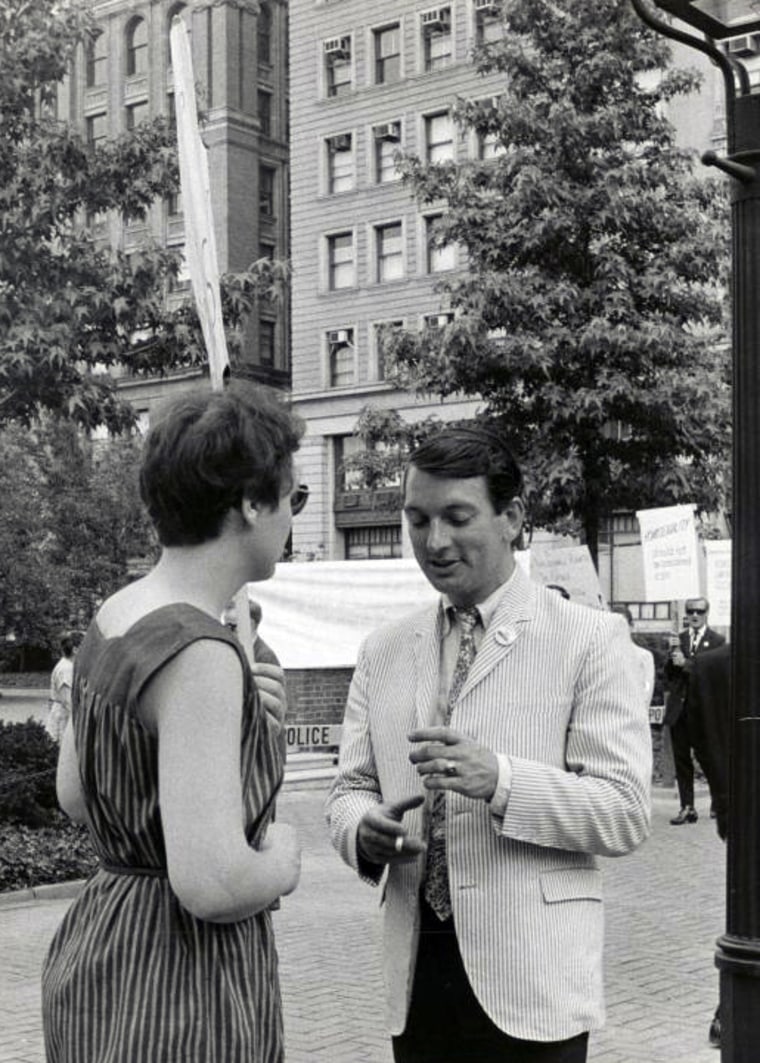 Dick Leitsch — Leitsch was president the Mattachine Society, one of the first "homophile" organizations in the U.S. He led "sip-in" protests in New York City to protest the city's ban on serving gay men.
.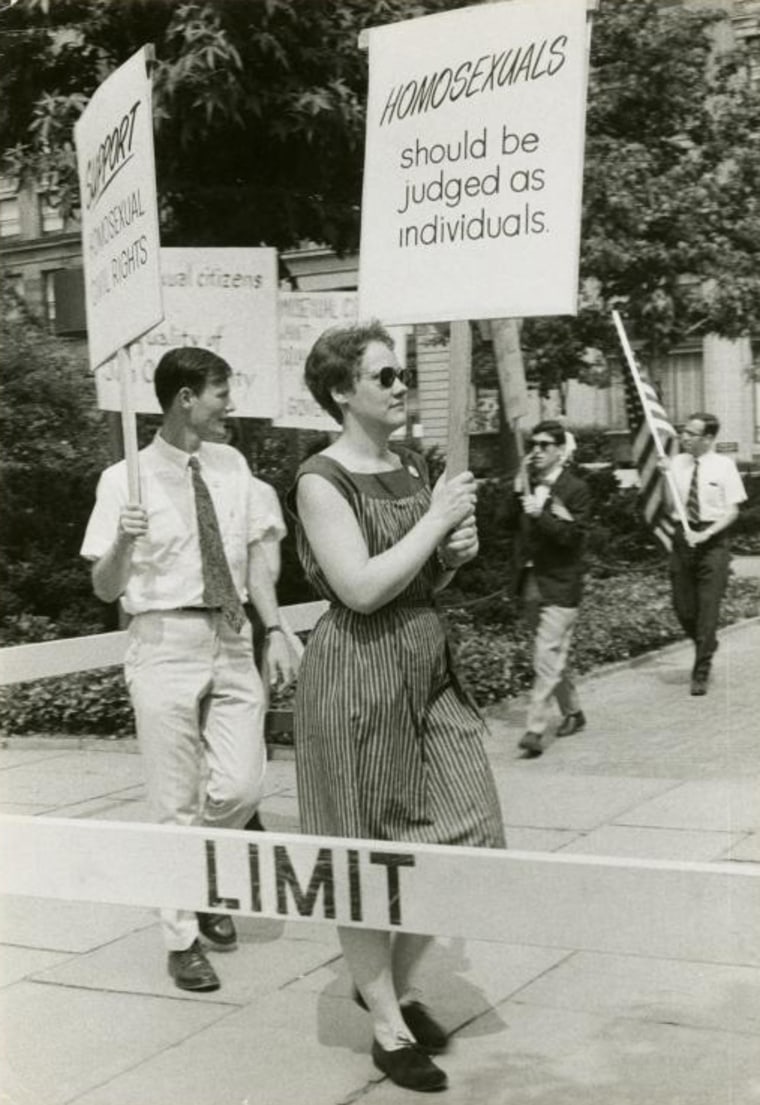 Barbara Gittings — Gittings founded the New York chapter of Daughters of Bilitis in 1958. She and Frank Kameny worked together to delist homosexuality as a mental disorder, which the American Psychiatric Association approved in 1973.
.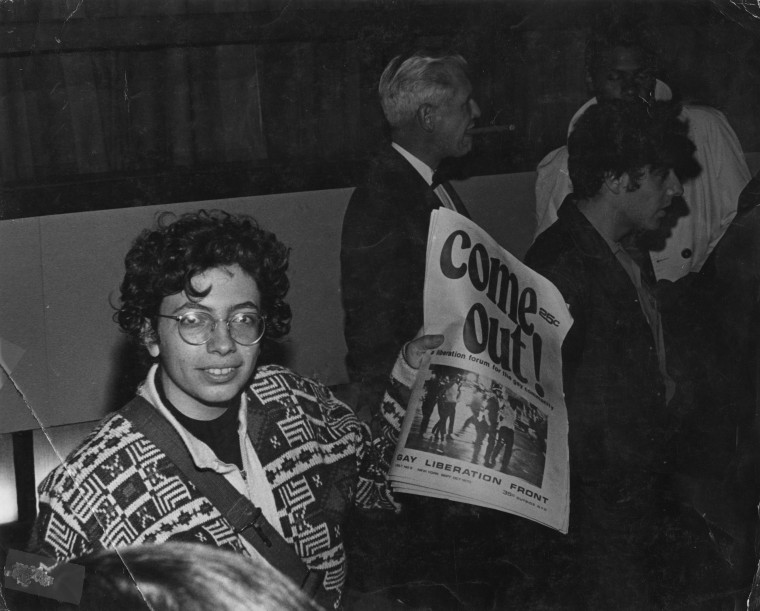 Martha Shelley — One of the first members of the Gay Liberation Front, Shelley is one of the best-known lesbian activists in America. A writer and poet, she was also active in Lesbian activist group Lavender Menace. The name "Shelley" was an alias taken to avoid being identified in FBI surveillance of the Daughters of Bilitis.
.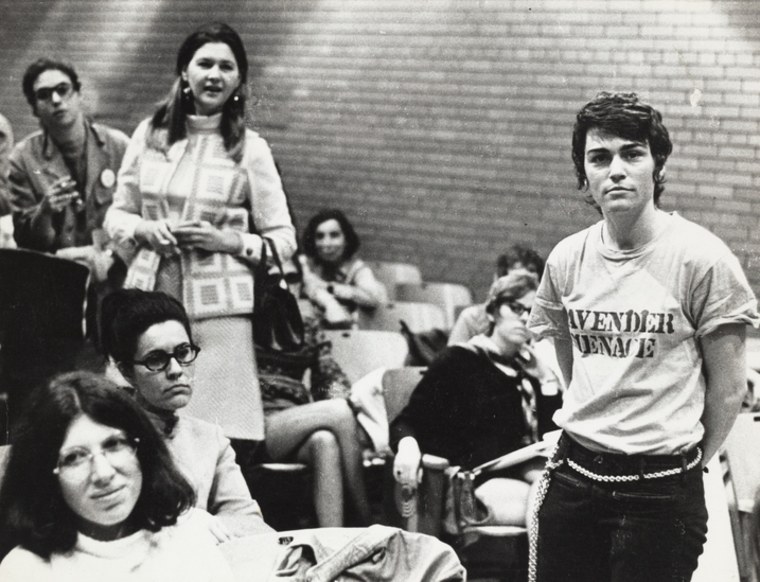 Rita Mae Brown — A lesbian activist and feminist active starting in the 1970s, Brown was a member of the Gay Liberation Front, Lavender Menace, and joined a lesbian commune in Washington, D.C., called "Furies Collective," whose founding documents stated: "Sexism is the root of all other oppressions, and Lesbian and woman oppression will not end by smashing capitalism, racism, and imperialism. Lesbianism is not a matter of sexual preference, but rather one of political choice which every woman must make if she is to become woman-identified and thereby end male supremacy."
.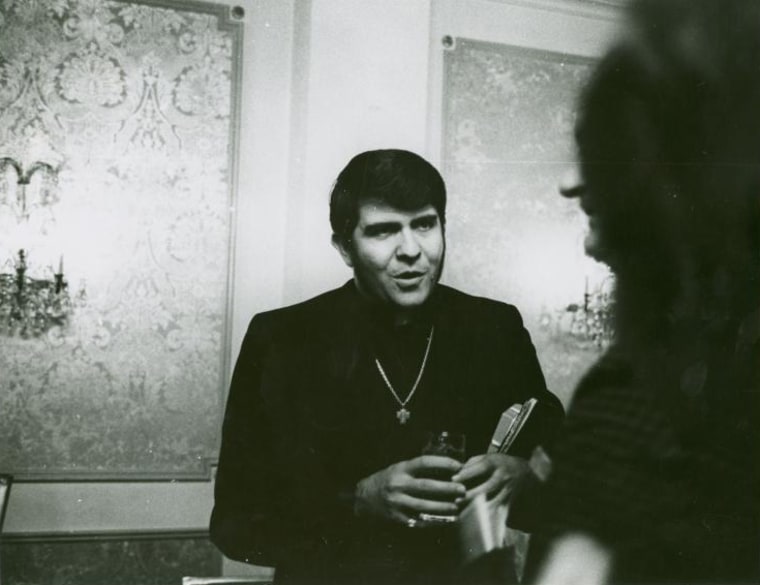 Rev. Troy Perry — Perry founded the Metropolitan Community Church in Los Angeles in 1968. Perry's church is one of the first to specifically minister to LGBTQ people, and he was present at the first Pride march in Los Angeles that took place on June 28, 1970.
.
Want to see more? The New York Public Library's digital archives contain several collections related to LGBTQ history. NYPL has the archives of pivotal organizations, such as the Mattachine Society of New York and the Gay Activists Alliance; the papers of pioneering activists like Barbara Gittings; and vast holdings in LGBTQ pop culture. NYPL also hosts the New York Trans Oral History Project.