October is LGBTQ History Month, and to celebrate, NBC News will feature an NBC Out #FlashbackFriday review of key moments and people in LGBTQ history. Each week's feature will include images from the New York Public Library's LGBTQ archives.
This week, we look back at the country's first gay pride march — held in New York City on June 28, 1970, the one-year anniversary of the Stonewall Riots — and what led up to that historic event.
Early Saturday morning on June 28, 1969, police staged a raid at the Stonewall Inn, a mafia-run gay bar in New York City's Greenwich Village neighborhood. Unlike the many previous raids that had taken place at the Christopher Street establishment, this one inspired the bar's patrons to fight back. The Stonewall Riots, as the days-long protest became known, is credited as the spark that ignited the modern-day LGBTQ-rights movement.
The week following the protests, Village Voice writer Howard Smith described the "strange mood" when when police first ejected Stonewall's patrons out onto the sidewalk under a full moon.
"Loud defiances mixed with skittish hilarity made for a more dangerous stage of protest; they were feeling their impunity," Smith wrote. "This kind of crowd freaks easily."
"The turning point came when the police had difficulty keeping a dyke in a patrol car," Smith continued. "Three times she slid out and tried to walk away. The last time a cop bodily heaved her in. The crowd shrieked, 'Police brutality!' 'Pigs!'"
What had been a routine crackdown on an illegal bar took a turn when pennies and dimes started to whiz through the air and toward the police. The cops barricaded themselves into the bar, and then the gay mob outside the bar began to throw bricks and rocks toward the door and tried to break through the boarded up windows.

Just a few days after the Stonewall Riots, gay activist Frank Kameny loaded up a bus with fellow activists and headed down to Philadelphia for the fifth "annual reminder" picket protest outside Independence Hall.
According to historian and author Lillian Faderman, these picket protests were "staid" and reflected Kameny's desire for gay integration into society and the workforce. Women wore skirts and blouses, men wore suits, and there were no public displays of affection permitted. But at the 1969 "annual reminder," Faderman said, it became clear to Kameny that things had changed following the Stonewall Riots.
"Two of the young women who came with Kameny started to hold hands, and Frank immediately ran up to them and banged their hands apart and said, 'None of that here,'" Faderman recounted. "The kids who had come from New York were angry and started to protest" Kameny's conservatism.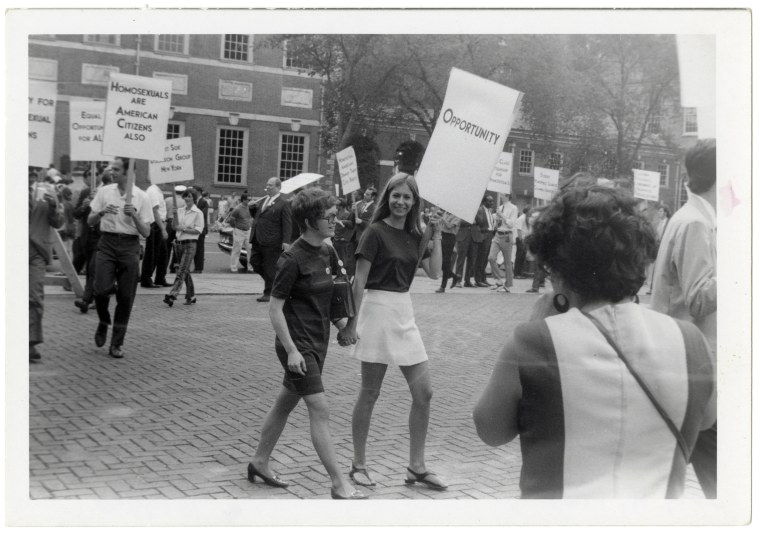 Inspired by the African-American riots in response to the assassination of Dr. Martin Luther King, Jr., and massive protests against the Vietnam war, young gay activists demanded faster and more radical change.
"I think that was probably Frank's first realization that this was a new order, things were changing," Faderman said.
Two days after the "annual reminder," on July 6, 1969, the New York tabloid The Daily News ran a homophobic article about the Stonewall raid by Frank Lisky, titled "Homo Nest Raided, Queen Bees Are Stinging Mad."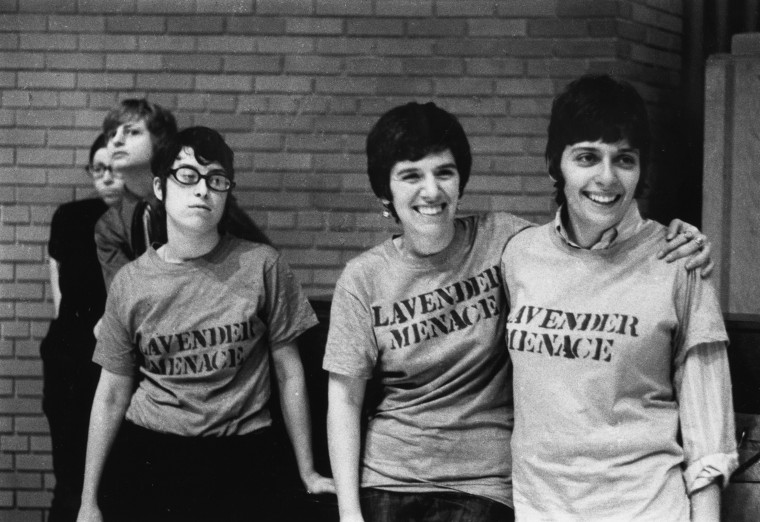 Soon after the 1969 "reminder", four activists — Craig Rodwell, Fred Sargeant, Linda Rhodes and Ellen Broidy — decided to attend a regional "homophile" conference and "propose that the staid 'annual reminders' of homophile pickets at Independence Hall in Philadelphia, held every July 4 for the previous five years, be replaced by a march in New York City," Faderman said.
The men were members of the Homophile Youth Movement in Neighborhoods, and the women members of Lavender Menace. The activists decided to commemorate the Stonewall Riots with a march on the event's one-year anniversary: June 28, 1970. That first march was named "Christopher Street Liberation Day."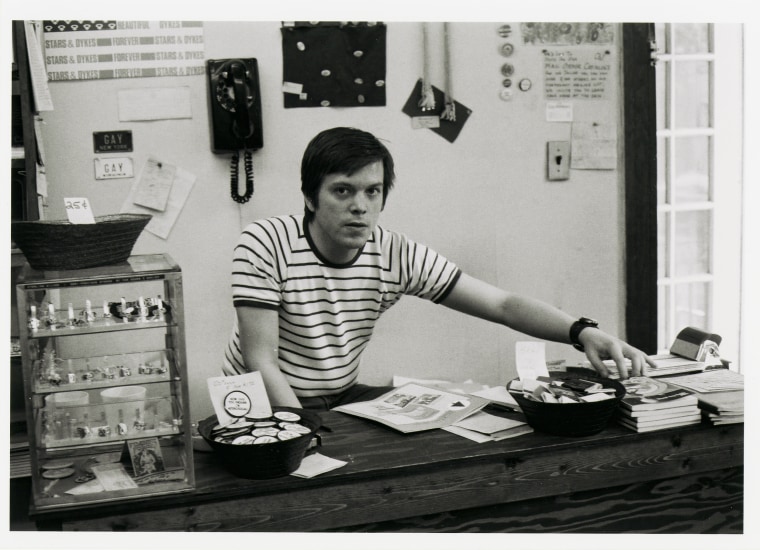 Since so many people were still in the closet, the straight world was simply unaware of how many LGBTQ people lived and worked beside them, according to Faderman.
By many accounts of people who attended New York's first pride march, it started small — just a few hundred people downtown in front of the Stonewall Inn — but by the time it arrived 50 blocks north, at Central Park, the crowd numbered in the thousands. The march stretched 15 blocks — three quarters of a mile — at its longest, The New York Times reported.
The march ended in Central Park's Sheep's Meadow, where the Times wrote marchers "gathered to protest laws that make homosexual acts between consenting adults illegal and social conditions that often make it impossible for them to display affection in public, maintain jobs or rent apartments."
"It was much bigger than any of the four expected," Faderman said of Rodwell, Sargeant, Rhodes and Broidy. "The same tactical division of the NYPD, which had been active in the Stonewall Riots, was there — at the end of the parade, to protect the marchers from violence!"
Michael Brown, who is named by the Times as a founder of the Gay Liberation Front, told Times reporter Lacey Fosburgh: "We have to come out into the open and stop being ashamed, or else people will go on treating us as freaks. This march is an affirmation and declaration of our new pride."
Around Sheep's Meadow, protesters shouted, "Say it loud, gay is proud."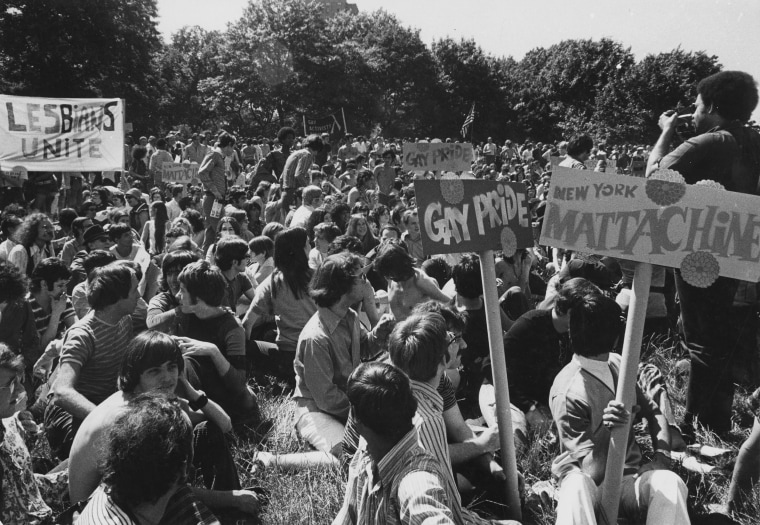 Later that same day, Los Angeles held a "Christopher Street West" celebration on Hollywood Boulevard that drew thousands. Paul Houston reported in the Los Angeles Times on the "hour-long, mile-long procession" down Hollywood Boulevard: "Sunday evening had many things — joyous demonstrators for sexual rights and dignity, some in casual attire, others in briefs, 'queens' in drag, 'fairies' with paper wings, clowns, leather-jacketed motorcyclists, a lesbian on horseback, a python, white huskies, American flags, hilarious and somber signs and chants, a float depicting a homosexual nailed to the cross."
"As a teenaged lesbian, I used to hang out on Hollywood Boulevard in the 1950s," said Faderman, who attended the first Christopher Street West event. "I would say there must have been at least a thousand people. Let me also say that the straight press always underestimated the sizes of these gay demonstrations, but I can tell you it was astonishing and huge."
There were also two "very small marches" in San Francisco and Chicago that year, according to Faderman, but by far New York City's was the largest.
"We're becoming militant, and we won't be harassed and degraded any more," Martin Robinson, a member of the Gay Activist Alliance, told The New York Times.
Michael Kotis, president of the Mattachine Society, told the paper, "The main thing we have to understand is that we're different, but we're not inferior."
Now, nearly five decades after that first "Christopher Street Liberation Day" event on June 28, 1970, the annual NYC Pride March draws millions of participants and onlookers.
(Correction: A previous version of this story incorrectly stated that Fred Sargeant and Craig Rodwell were members of the Gay Liberation Front.)
Want to see more? The New York Public Library's digital archives contain several collections related to LGBTQ history. NYPL has the archives of pivotal organizations, such as the Mattachine Society of New York and the Gay Activists Alliance; the papers of pioneering activists like Barbara Gittings; and vast holdings in LGBTQ pop culture. NYPL also hosts the New York Trans Oral History Project.