Nerveline Jude came to the United States a little over a decade ago. She left the island of Dominica in 2006, hoping to escape a legal system that often imprisons and institutionalizes LGBTQ people.
"Back in the Caribbean, in my country, they submitted me to a facility," Jude said. "I had no voice. Here I can be outspoken."
It took some time for Jude to find her voice. After moving to New York City, she said she struggled to feel settled at first; tasks like finding housing, health care and a job seemed daunting. Then a friend connected her with an immigrant support group that met once a week at the Lesbian, Gay, Bisexual and Transgender Community Center (also referred to simply as "The Center") in Manhattan. Eleven years later, Jude now serves as a facilitator for the The Center's Immigrant Leadership and Empowerment Group, helping mentor other LGBTQ immigrants looking for a space to feel heard.
"When they come they are shy, but after a few sessions they open up," Jude explained. "Some end up feeling emotional, because being among people like themselves matters."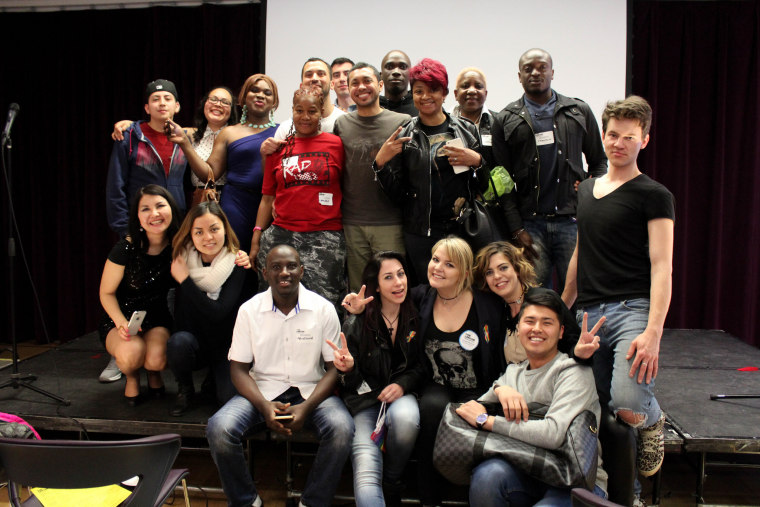 Cristina Herrera, coordinator for transgender and gender-nonconforming services at The Center, said Jude's story reflects the importance of peer-to-peer support and community-building for LGBTQ immigrants in the U.S. For many, these networks of support are one of the few safe spaces they can turn to for help or advice — especially amid an increase in anti-immigrant rhetoric.
"After the election, interest in the group has increased quite a bit," Herrera said. "The need is out there, but people are more vigilant."
A combination of factors has generated skepticism and distrust among immigrant communities toward the current presidential administration, according to Herrera. Those factors include U.S. Immigration and Customs Enforcement (ICE) officers arresting people in places like hospitals, schools and courthouses, which may have the effect of intimidating immigrants into foregoing the most essential aspects of community participation.
For LGBTQ immigrants, the weight of anti-immigrant rhetoric and actions are often compounded by their sexual or gender identity. As the Trump administration nominates officials with anti-LGBTQ track records and challenges the community's civil rights protections, many lesbian, gay, bisexual, transgender and queer immigrants feel these actions mirror the same oppression they faced in their home countries.
Related: 'No Hope Left in Venezuela' for Those With HIV, Advocates Say
While city and state laws can soften how federal immigration standards are enforced, the fact that some LGBTQ immigrants don't have that buffer creates disparities in safety, quality of life and access to legal counsel around the country.
"NYC has been fortunate," Herrera said. "We are in a bubble; we have more protections than some other parts of the country."
This "bubble effect" is why Herrera and others are eager to expand local tactics into models for community-building among vulnerable immigrant populations across the U.S. — and outside of it.
"The whole process of obtaining legal status in the U.S. has really changed," Herrera explained. "Asylum cases that were taking a year are now taking 3 to 5 years, because there are more people applying. People are waiting longer, which means more anxiety."
That wait becomes less burdensome when new arrivals have a place to land and find support, she added, but many LGBTQ immigrants aren't offered that opportunity. Those held at detention facilities often face exposure to sexual violence, solitary confinement and substandard health care. On average, only 14 percent of immigrants in detention are able to obtain legal counsel.
So what happens when networks of support have to overcome physical barriers?
"We have to make we're sure on the ground advocating for those who are often erased," said Jennicet Gutierrez, a community organizer with Familia: Trans Queer Liberation Movement. "It's good for them to know that there are organizations here mobilizing to make sure they arrive safely, and if they're detained, get legal support to be released as soon as possible."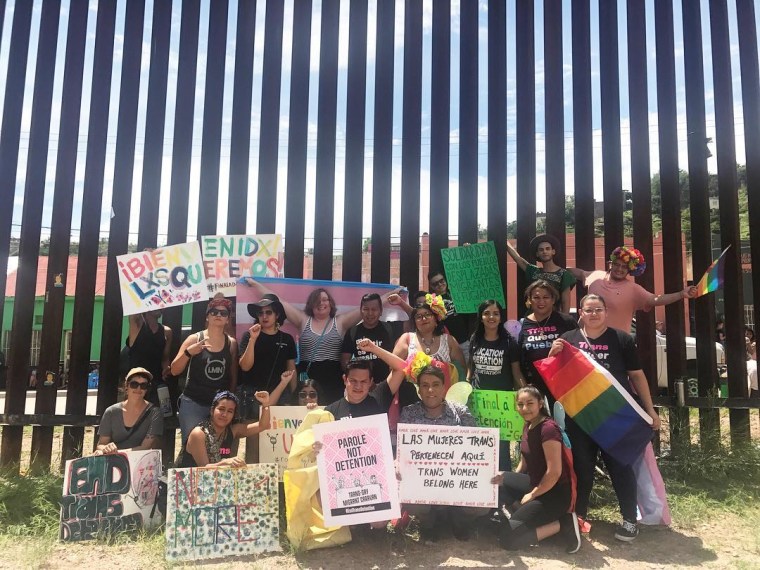 Gutierrez is a trans woman from Mexico, and her work often focuses on LGBTQ immigrants making the journey to the U.S. or being detained at the border. She said connecting detained people to nationwide networks of support means battling a system that seeks to render them invisible.
"We have to stick with them — make sure communities are able to own their own narrative, their own journey, their own pain," Gutierrez added. "Then transform it into that community building for other people that come after them."
Gutierrez stressed that the most successful modes of community-building should create solidarity without erasing difference. She said that starts by fostering LGBTQ communities willing to center more than cisgender, male perspectives and reject mainstream moralizing over immigrant narratives.
"The first step is opening up," Gutierrez said. "Whether in New York City or L.A. or the middle of nowhere, people need to speak up and own their truth."
"It will be hard, and there are times you will want to give up," she added. "But we don't know how much we can change until we take that risk."
Thousands of miles away at The Center in New York, Nerveline Jude echoed a similar sentiment. Even in the "bubble" of a liberal city, she said having the courage to be visible and trust in others can feel like a daunting first step for queer people arriving in the U.S.
"We start like children," Jude said. "When the new members come, now I use my experience to encourage them to be themselves and be who they are. That's how I believe I mentor them."
There is still uncertainty over what the future holds for many immigrants in the U.S., particularly undocumented individuals and DACA recipients. But amid this uncertainty, Jude, Herrera and Gutierrez are committed to making sure LGBTQ people across the country can find each other and provide support networks.