This year was the first time an openly gay candidate participated in a presidential debate, and both NBC's debate in June and CNN's debate this week included openly LGBTQ moderators. However, lesbian, gay, bisexual, transgender and queer issues earned barely a mention during nearly 10 hours of debate over four nights involving 21 Democratic candidates for president.
On Night 1 of this week's debate in Detroit, CNN anchor Dana Bash asked Mayor Pete Buttigieg of South Bend, Indiana, about the student loan debt still held by him and his husband. Buttigieg dove into an answer about debt-free college. Aside from that, no LGBTQ-related questions or answers came up until Sen. Bernie Sanders of Vermont, in his closing statement, reprised a past criticism and called President Donald Trump a "homophobe."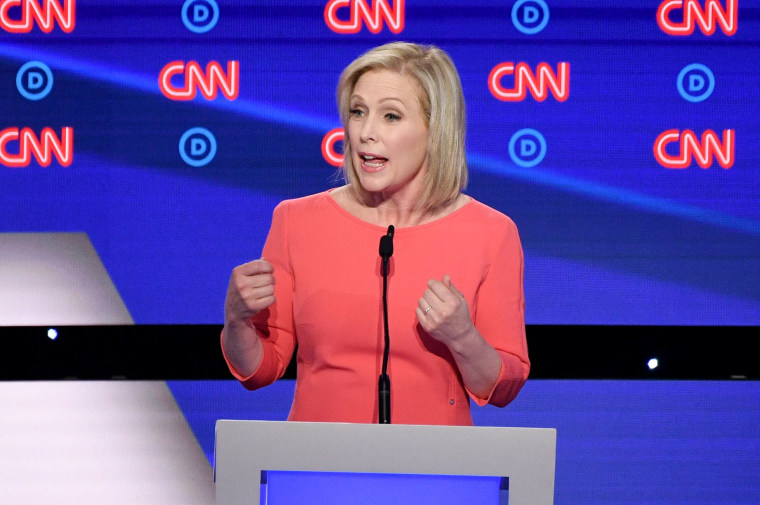 On Night 2, Sen. Kirsten Gillibrand of New York was the first candidate to bring up the LGBTQ community in any significant way. In her opening statement, Gillibrand said her mother, one of only three women in her law school class, had "worked with gay couples for basic rights."
"As a freshman senator, I was told you couldn't repeal 'don't ask, don't tell.' Even members of my own party told me it wasn't convenient," Gillibrand continued. "When are civil rights ever convenient? We stood up to the Pentagon and got it done — not impossible."
Washington Gov. Jay Inslee also made brief mention of the LGBTQ community when answering a question about how he would heal racial divides.
"I've never been a black teenager pulled over in a white neighborhood. I've never been a woman talked over in a meeting. I've never been an LGBTQ member subject to a slur," Inslee said.
The absence of any direct question about the LGBTQ community from CNN moderators Dana Bash, Jake Tapper and Don Lemon did not go unnoticed.
"Questions about LGBTQ people weren't included during either night of this week's #DemDebate," Sarah Kate Ellis, president and CEO of the LGBTQ advocacy group GLAAD, tweeted Wednesday night. "This is unacceptable especially as the Trump administration continues to attack the lives of LGBTQ people."
In the June debate hosted by NBC News in Miami, LGBTQ issues only came up in a significant way when Rep. Tulsi Gabbard of Hawaii was asked about her past anti-LGBTQ activities, like working for an organization led by her father that advocated for same-sex marriage bans and "gay conversion therapy."
In response, Gabbard touted her vote for the Equality Act — a federal bill that would modify existing civil rights legislation to ban discrimination against LGBTQ people — and said that she held views when she was younger "that I no longer hold today."
But Sen. Cory Booker of New Jersey interjected after Gabbard's response, saying, "This is not enough."
"We do not talk enough about trans Americans, especially African American trans Americans, and the incredibly high rates of murder right now," he said.
Over the course of three 2016 presidential debates between then-candidates Donald Trump and Hillary Clinton, the LGBTQ community came up twice. In their third debate, in response to an opening question about the Supreme Court, Clinton said she felt strongly that the court "needs to stand on the side of the American people."
"For me, that means that we need a Supreme Court that will stand up on behalf of women's rights, on behalf of the rights of the LGBT community, that will stand up and say no to Citizens United, a decision that has undermined the election system in our country because of the way it permits dark, unaccountable money to come into our electoral system," she said.
Later in the debate, while attacking the Clinton Foundation's Arab donors, Trump said: "You talk about women and women's rights? So these are people that push gays off business — off buildings. These are people that kill women and treat women horribly. And yet you take their money."
During the vice presidential debates between Sen. Tim Kaine of Virginia, the Democratic nominee, and Mike Pence, Pence was never asked about his extensive anti-LGBTQ record as governor of Indiana and a member of Congress, which many advocates saw as a major "missed opportunity."
On October 10, the Democratic presidential hopefuls will have an opportunity to directly address LGBTQ issues in a candidate forum hosted by the Human Rights Campaign Foundation and UCLA's Luskin School of Public Affairs. The event, which will not be a debate but rather a forum in which candidates speak one by one, has yet to officially announce which candidates will participate.