Democrats celebrated big wins Tuesday night in Virginia and New Jersey, sparking hope of an even bigger electoral comeback in 2018. The election was also remarkable for the success of LGBTQ candidates, many of whom made history by winning their races.
Year of the Transgender Candidate
Currently, only six openly transgender people hold office in the U.S., according to the Victory Fund, an LGBTQ political action committee. This underrepresentation, Harvard researcher Logan S. Casey told NBC News, means the election of any transgender person to office is likely to be a milestone. Casey tracked the races of 10 transgender candidates in Tuesday's election, and of those races, six had trans candidates emerge victorious.
Virginia's Danica Roem made national headlines for winning her election, which is set to make her the first openly transgender candidate to be seated in a U.S. state legislature. She soundly defeated 11-term incumbent Bob Marshall to flip the state's 13th district. Her seat was one of 16 in the House of Delegates that the Democrats took from the Republicans.
"These folks are going to serve as role models for future potential candidates ... This isn't' just a blip, it's going to be a wave."
Don Haider-Markel, University of Kansas Political Science Professor
"To every person who has ever been singled out, who has ever been stigmatized, who has ever been the misfit, who has ever been the kid in the corner, who has ever needed someone to stand up for them when they didn't have a voice of their own …This is for you," Roem said after her election victory.
Andrea Jenkins and Phillipe Cunningham, both transgender, ran for seats on the Minneapolis City Council. Jenkins won her bid, making her the first openly transgender black woman elected to public office in the U.S.
"As an out African-American trans-identified woman, I know first-hand the feeling of being marginalized, left out, thrown under the bus. Those days are over. We don't just want a seat at the table — we want to set the table," Jenkins said in a statement released by her campaign Wednesday.
Victory Fund President and CEO Aisha Moodie-Mills said Jenkins "shattered a glass ceiling."
"Andrea ran on improving the lives of constituents in her ward, but the significance of her victory for the trans equality movement is undeniable. Americans are growing increasingly aware of trans equality and people, and this win will surely inspire other trans people to run for office and further inclusion in their communities," Moodie-Mills said.
As of Tuesday afternoon, the results of Cunningham's election were still too close to call. If he emerges victorious, his win could more than double the number of transgender officials in office across the U.S. from six to 13.
Further east in Pennsylvania, Tyler Titus won his race for the Erie School Board, becoming the first out trans person ever elected in the state.
"Trans people remain severely underrepresented in our politics and government, and now more than ever we need trans voices like Tyler's in the halls of power," Moodie-Mills said of Titus' victory. "This is a historic night for trans candidates across the country – and Tyler is part of a vanguard of leaders who are determined to be part of the conversation on issues that affect their lives."
Other transgender candidates to emerge victorious on Tuesday include Lisa Middleton, who won her race for Palm Springs City Council in California; Stephe Koontz, who won a close race to take a seat on the Doraville City Council in Georgia and become the state's only openly transgender elected official; and Gerri Cannon, who won her election to join the Somersworth School Board in New Hampshire.
Logan Casey of Harvard emphasized that the successful transgender candidates focused on local issues of importance to constituents, but he also said "lots of people were fueled by the political energy of the past year."
State Legislatures
Last November's elections put Republicans in control of both chambers in 32 state legislatures. At the same time, state legislatures became a battleground for anti-LGBTQ policies, such as North Carolina's transgender "bathroom bill" and Mississippi's Religious Accommodations Act, which allows businesses to reject LGBTQ clients and fire LGBTQ employees.
However, several LGBTQ candidates — including the aforementioned Danica Roem — held their own this year in state legislature races in New Jersey and Virginia.
Mark Levine, an openly gay Democrat, won his reelection bid to the Virginia House of Delegates. And Tim Eustace and Reed Gusciora, also openly gay Democrats, will come back to represent their constituents in the New Jersey State Assembly, where they have been advocates for LGBTQ rights, including co-sponsoring a bill that would prohibit "gay panic" defenses for murder.
Mayoral Races
Former U.S. Attorney Jenny Durkan, a Democrat, is projected to become the first lesbian mayor of Seattle and the liberal city's first female mayor since the 1920s. While there were still votes to be counted as of Wednesday afternoon, early returns Tuesday showed Durkan had captured more than a 20-point lead with nearly 61 percent of the first votes tallied in the all-mail election.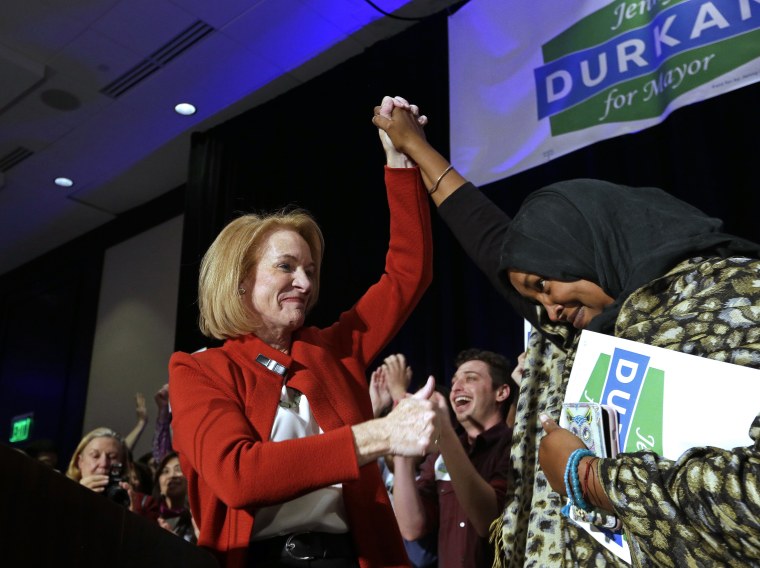 Liz Ordiales, also an out lesbian, won her race to become mayor of Hiawassee, Georgia.
Patrick Wojahn of College Park, Maryland, and Alex Morse, of Holyoke, Massachusetts, both openly gay Democrats, won their mayoral reelection bids, as did Democrat Lydia Lavelle, North Carolina's only openly LGBTQ mayor.
Red State Victories
Liz Ordiales and Stephe Koontz were among 16 LGBTQ candidates who threw a hat in the ring in Georgia. Joseph Geierman of Doraville won his city council election outright, and Keisha Waites, De'Andre Pickett and Alex Wan will face runoffs in their races next month. If Wan wins, he will become both the first gay man and the first Asian-American to hold the position of Atlanta City Council President
Georgia is not the only red state to elect LGBTQ representatives this cycle. LGBTQ candidates won their local elections in several states that went to Trump in 2016, including Florida, Kansas, Arizona, Alaska, Pennsylvania and North Carolina.
'Role Models for Future Potential Candidates'
Don Haider-Markel, a professor of political science at the University of Kansas, said Tuesday's election was "remarkable in a number of ways." He noted there was a "huge surge" of women and LGBTQ candidates running for office, and he said this may just be the beginning.
"Having this bigger pool of candidates in this off-cycle election and in 2018 means that more of them are going to get elected," he explained.
Most of this election cycle's LGBTQ candidates ran as Democrats, and Haider-Markel said most non-traditional candidates tend to do so. He also noted Democrats were the ones motivated to run and make it to the polls this cycle.
"It was Democrats who didn't turn out in 2016," Haider-Markel said. "There is a real motivating factor for the party out of power to get back in the game."
Recent years have also seen LGBTQ political action committees, including Victory Fund, LPAC, Pride Fund and Trans United Fund, increase the financial support of lesbian, gay, bisexual, transgender and queer candidates.
"The money matters, sure," Haider-Markel said, but what matters most to the candidates, he added, is the increase in visibility and campaign volunteers. "In local races especially, those volunteers make all the difference in the world."
Haider-Markel said the success of LGBTQ candidates in this election cycle means "more potential [LGBTQ] candidates are going to get off the bench and throw their hats in the ring."
"These folks are going to serve as role models for future potential candidates," he added. "This isn't' just a blip, it's going to be a wave."