In March 2018, Amber Stanton, 38, received a call from her doctor's office that would change her life: A pregnant transgender teenager was looking for an LGBTQ couple to adopt his baby. Would Stanton and her wife, Rachel, be willing to take the child in?
The Nashville-area business owners had been struggling with fertility issues since the birth of their son, Ryman, six years earlier. After meeting with the pregnant 17-year-old, Oliver Graves, and his then-boyfriend, fellow high school senior Lukas Reed, at a local restaurant, they all agreed to an open adoption.
"Less than 60 days after that we had a baby," Stanton told NBC News. She added that their daughter, Regan, who will be 2 years old in May, has a family that covers "the whole LGBT" spectrum.
"I actually identify as bisexual, my wife identifies as lesbian, one dad is transgender and the other is a gay man," she explained. "She has the whole gamut to her family, and we love it; she has a very special story."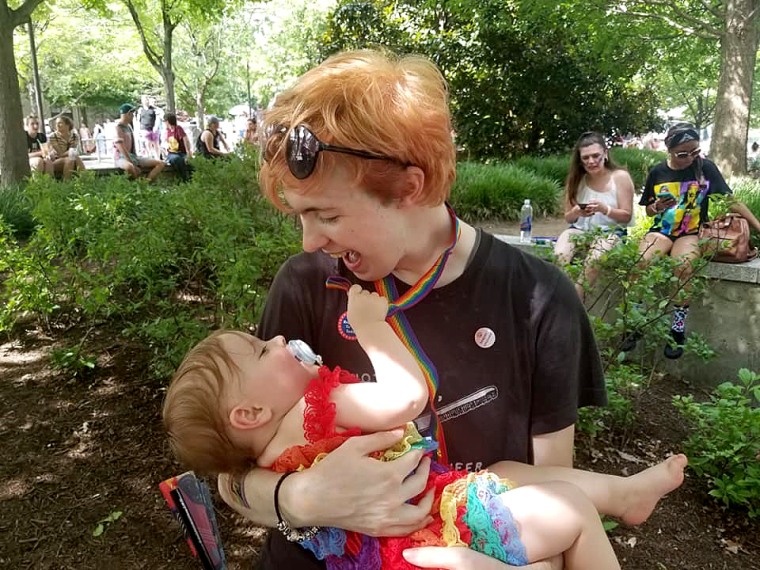 Now, however, Stanton worries that an adoption bill signed last month by Tennessee's Republican governor, Bill Lee, will make adoption more difficult for families like hers. The controversial law allows private adoption and foster care agencies to continue receiving taxpayer funds even if they exclude LGBTQ prospective parents and others who do not meet the agency's religious criteria. Tennessee is now one of 11 states to permit state-licensed child welfare agencies to refuse services to queer people and same-sex couples, according to the LGBTQ think tank Movement Advancement Project.
Stanton said she felt "saddened" and "disappointed" by the passage of the Tennessee law.
"Adoption comes with so many trials and so many traumas, and of course there's also so much joy," she said. "Any parent who goes through the adoption process goes through so much to get to that end adoption day that they are waiting for, and to see that that might be met with discouragement for those who identify as LGBT is very sad."
Gillum Ferguson, a spokesperson for Lee, did not respond to NBC News' requests for comment, but he told The Tennessean that the governor signed the legislation because it is "centered around protecting the religious liberty of Tennesseans."
"The governor believes that protection of rights is important, especially religious liberty," Gillum told the paper.
Religious liberty or discrimination?
LGBTQ advocates argue that adoption laws like the one Tennessee just passed are part of a larger conservative movement to roll back hard-won protections for the community. Those who champion such laws say they protect the first amendment rights of faith-based organizations and individuals, and prevent them from being forced to shut their doors rather than violate their beliefs.
In fact, Catholic Charities USA, which operates foster and adoption agencies across the United States, ceased adoption services in San Francisco, Washington, Boston and Buffalo, New York, rather than abide by their state and local antidiscrimination laws, and in 2011, it lost a contract with Illinois over the organization's policy of refusing to place kids with same-sex couples. Ironically, however, Catholic Charities of Tennessee is the agency that Graves and the Stantons said facilitated their adoption in 2018, though the organization would not confirm this.
"We do not and have not placed children with same-sex couples," the executive director of Catholic Charities of Tennessee, Judy Orr, told NBC News. However, she said her agency does not "turn away" gay couples, rather it refers them elsewhere.
"We are not trying to impose our beliefs on anyone," Orr added. "We are really just trying to live our faith, which really requires that we recognize the dignity of all people, and provide service, and so we are going to facilitate those people getting the resources that they need and deserve by state right."
State Sen. Paul Rose, a Republican who sponsored the Tennessee bill, said law will result in an "added layer of protection" for faith-based, child-placement agencies so they can "continue the work they have done for decades without fear they will be forced out of business."
"Tennessee needs all hands on deck when it comes to providing loving homes for children in need," Rose said in an email. "Our faith-based agencies, which makes up about 12 to 15 percent of placement agencies, have played a vital role in helping serve these vulnerable children and the adoptive and foster parents who want to care for them."
While some organizations, like Catholic Charities, have stopped foster and adoption services rather than comply with state and local antidiscrimination laws, other agencies have taken over services in those places. An amicus brief filed by 17 states and the District of Columbia in support of prohibiting discrimination in the foster care system cited data that found Boston and D.C. saw no decrease in adoption and foster placements as a result of Catholic Charities ending its services in those cities.
Agencies that turn away prospective parents due to religious or moral objections have spurred a handful of lawsuits in recent years. Last year, following an ACLU lawsuit, Michigan agreed to stop allowing tax-funded agencies to turn away LGBTQ couples or individuals because of religious objections. A separate case last year in Pennsylvania affirmed that a Catholic agency in Philadelphia must comply with the city's nondiscrimination requirements, though the Supreme Court is currently considering whether to take up this case.
The Trump administration has made it known where it stands on the issue. In November, the administration proposed a rule that would allow faith-based foster care and adoption agencies to continue getting taxpayer funding even if they exclude LGBTQ families and others from their services based on religious beliefs. The White House said the rule is needed to remove barriers that prevent some nonprofits from helping vulnerable people in their communities. In addition to child welfare agencies, the rule would also apply to a broad range of other organizations that receive federal support, such as those that get federal funding to help the homeless or prevent HIV.
Leslie Cooper, deputy project director of the American Civil Liberties Union's LGBT & HIV Project, said these laws are a violation of the establishment clause of the First Amendment.
"The state itself couldn't say, 'We're only going to accept Christians,' 'We're only going to accept Jews,' or 'Only people who go to church …' That's clear, I think, to pretty much everyone," she said. "When they contract out those services to private organizations, they can't do that either; it's still a violation of the Constitution."
Chris Sanders, executive director of the Tennessee Equality Project, an LGBTQ advocacy group that fought the state's adoption bill, said the new law will also further stigmatize an already marginalized group.
"Another law has been passed to allow a group of people to buffer themselves from us under the guise of religion," Sanders said. "Even if the law had no practical effect, the fact that it was used to so-called protect people from our community, having to deal with our community, having to serve our community, makes us second-class citizens."
'Now, you can just be denied'
Following the passage of their state's controversial adoption law, LGBTQ prospective parents in Tennessee say they now face many unknowns. Some expect the law will make an already confusing system harder to navigate.
Faith-based adoption agencies don't typically advertise whether they will work with gay clients, which means these prospective parents will need to do their research, make phone calls, risk the humiliation of rejection, and in some cases travel long distances to meet with agencies that are willing to work with them. But some say they already experience this — the new law simply means these agencies won't face consequences for turning them away.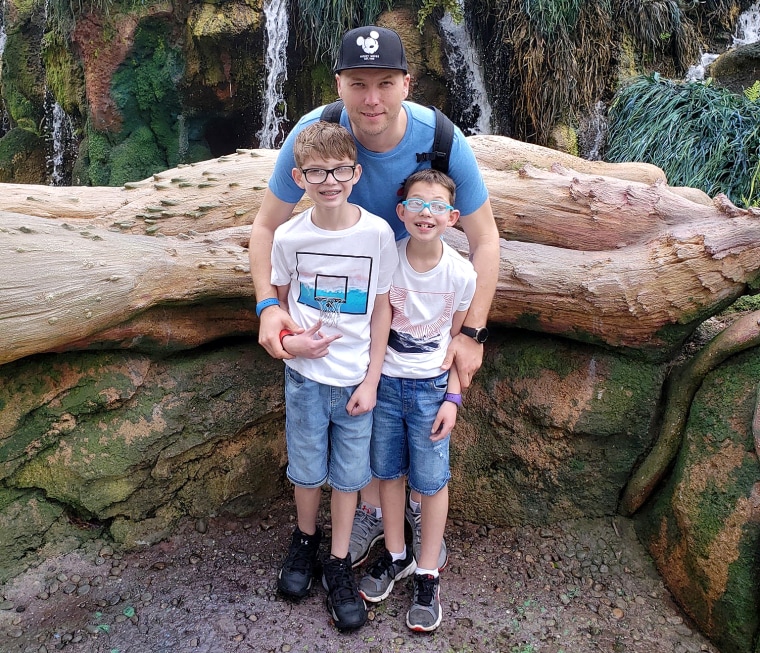 Michael Quinton, 35, a single dad who works in the restaurant industry, first considered adopting a child in 2013 before he got divorced from his husband. He began calling agencies near his home in Dandridge, a rural slice of Tennessee outside Knoxville, and told them he and his then-husband were looking to adopt.
"Three times I called, was twice hung up on, and the third time I was on hold for 45 minutes, so I think they made their point to me that that's not something they would like to happen," he said.
The rejection stung, and Quinton gave up on the idea until the following year, when he learned that his nephews, brothers Blake and Clayton, were taken from their parents by child services due to neglect. Concerned for them, he immediately began the process of getting his foster care license. In 2015, he adopted the younger boy, Blake, who was then 4, and two years later, he adopted Clayton, then 9. Quinton adopted Clayton through a private, secular agency, but he wonders what would have happened if he were in the same situation today and didn't meet the private agency's "moral" criteria.
"Now, you can just be denied, and they don't have to worry about being sued if it's in their mission statement or they state their moral code," Quinton said.
Shaneda Destine, 31, an assistant professor at a university in Knoxville, wants to be a foster parent, but she doesn't know what to expect. Earlier this month, she and her wife, Shaina Destine, 35, a librarian, started foster care training after years of struggling with fertility issues.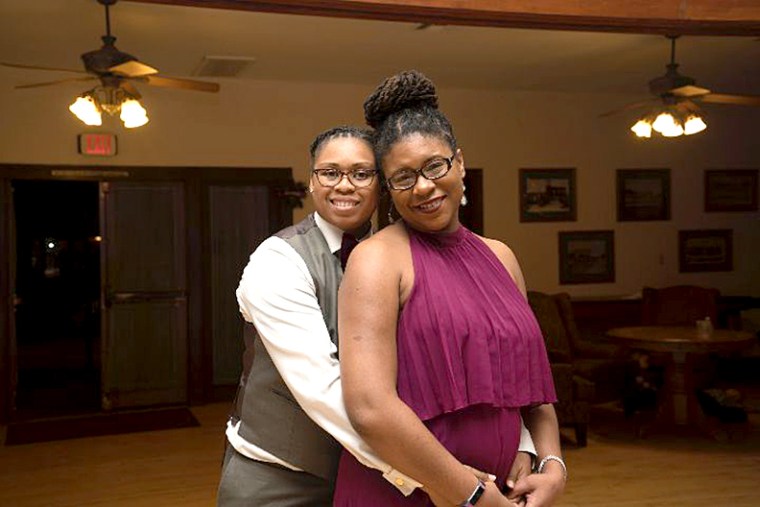 The women expect to foster and eventually adopt their first child directly through the Tennessee Department of Children's Services, not a private agency. Shaneda Destine fears that only using the state agency will narrow their prospects, but she also feels it will be better than potentially wasting time with private agencies that could refuse them. Based on her research, most of the private agencies that contract with the state near Knoxville, where they live, are Christian organizations, and she isn't sure which, if any, would be willing to work with her and her wife.
"It really limits what we can do to affect our community, to support these children, and to welcome them into a loving home," Shaneda Destine said of Tennessee's new law. She added that she and her wife are hoping to adopt a teenager who is both of color and LGBTQ, two demographics that are overrepresented in the system.
'There aren't enough families'
LGBTQ advocates worry how laws like Tennessee's will affect the more than 400,000 children in America's foster care system. In Tennessee, about 7,500 kids are stuck in that system, and about 1,000 age out of it every year, according to Adopt Us Kids, a project that works to ensure children and teens in foster care get safe, loving and permanent families.
Shelbi Day, who leads the state policy work for Family Equality, an organization that advocates for LGBTQ families, said the law will make it harder for an already stressed system to place children with qualified parents.
"We're talking about systems where there aren't enough families, and there are far too many kids in care, far too many kids in out-of-home settings like groups homes, and far too many kids who age out of the foster care system," Day said.
A 2018 report by the Williams Institute at UCLA School of Law estimated that 114,000 same-sex couples in the U.S. are raising children, and they are significantly more likely than heterosexual couples to be raising adopted or foster kids. Over 21 percent of gay couples are raising adopted children compared with 3 percent of straight, and nearly 3 percent of gay couples have foster children compared with 0.4 percent of their straight counterparts, according to the report. Previous research has also suggested that LGBTQ people are more likely to adopt older, special-needs and minority children.
As for Oliver Graves and the Stantons, their story has a happy ending. "I couldn't have asked for anyone better," he said of the couple.
Graves gave birth to a daughter, Regan, in May 2018. He said he babysits Regan regularly and visits her on birthdays and holidays. "They make me feel like I'm welcome and I'm wanted in their family," Graves said of the Stantons.
While Regan has found a loving, stable and permanent home, Amber Stanton worries about the impact Tennessee's new adoption law will have on the 7,500 children currently in the state's foster care system.
"The ones who suffer the most are the thousands of kids who are waiting for a family to call their own, and I just wonder where their well-being is in this process," she said. "We have all these adults who are more concerned with who other adults are loving and marrying than they are about the love these kids miss out on every single day they spend in foster care."