Lesbian, gay, bisexual and transgender Americans — long a reliable voting bloc for Democrats — made up a disproportionately high 9 percent of the electorate in the Super Tuesday contests, and nearly 4 in 10 of them voted for Sen. Bernie Sanders, according to the NBC News Exit Poll.
The poll, which was conducted in 12 of the 14 Super Tuesday states, found that slightly less than 1 of every 10 voters identified as "LGBT." In addition to the 39 percent of such voters who went for Sanders, I-Vt., 21 percent backed Sen. Elizabeth Warren of Massachusetts — meaning 6 in 10 of all LGBT votes went to the two most progressive Democrats on the ballot.
The two most competitive centrists in the race, former Vice President Joe Biden and former New York Mayor Michael Bloomberg, got 19 percent and 8 percent, respectively. Former South Bend, Indiana, Mayor Pete Buttigieg, who had been the only openly gay candidate in the race, received 9 percent of the LGBT support, as he suspended his campaign Sunday after early voting had commenced in several states.
Non-LGBT voters, on the other hand, backed Biden at 35 percent, Sanders at 29 percent, Warren at 12 percent and Bloomberg at 13 percent, according to the NBC News Exit Poll.
(Note: The data in this story are current as of 1:45 p.m. ET. Additional results published later on may cause the final NBC News Exit Poll numbers to shift.)
Democrats: Historically 'more inclusive'
LGBTQ voters lean heavily Democratic: In 2016, 78 percent backed Hillary Clinton for president, and in 2018, 82 percent voted for their districts' Democratic House candidates.
Andrew Flores, a political science professor at American University, said there's an obvious reason: "The Democratic Party historically has been more inclusive than the Republican Party," particularly when it comes to "LGBT people and LGBT rights."
Sanders, for instance, supported same-sex civil unions in Vermont when he was a member of Congress in 2000 — when more than a dozen states still criminalized gay sex.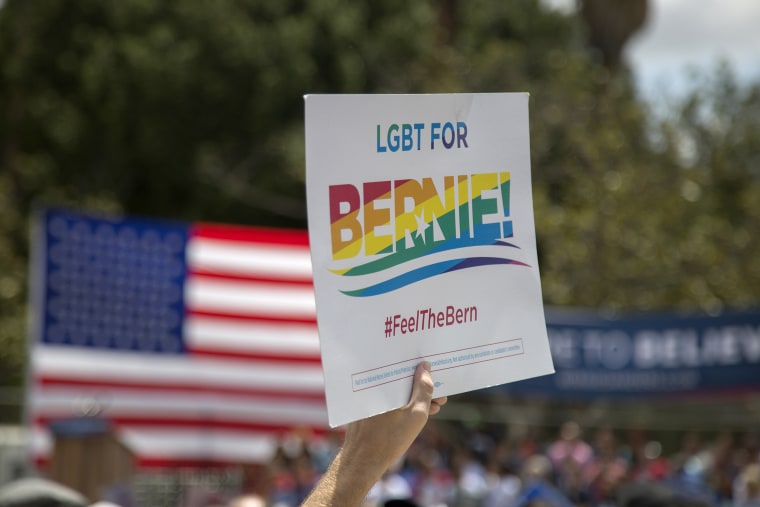 The historical support for Democrats helps explain why, in 11 of the Super Tuesday states, LGBTQ voters turned out in the Democratic contests at roughly double their states' estimated LGBT populations. Overall, 9 percent of all Super Tuesday Democratic voters identified as LGBTQ in a country where less than half that, an estimated 4.5 percent, do so.
Joanna Wuest, a Princeton University postdoctoral fellow researching politics, said it's "no surprise" that LGBTQ voters by and large chose the two most liberal Democratic candidates, in part because their young age as a cohort places them at a unique economic crossroad.
Download the NBC News app for breaking news and politics
"Due to the worsening economic status of many folks under 30 and the economic disparities that exist in the LGBTQ population across ages, it would be no surprise if these voters were working class or downwardly mobile professional types who have come to support redistributive policies like single-payer health care, a federal jobs guarantee or a student loan debt-forgiveness program," Wuest said.
Toby Brooks, 30, a gay man who voted for Sanders in California's primary, said he is a bit of a "one track" voter and chose Sanders because of his view that Sanders has the best plan to address climate change.
"When it comes to LGBT issues, his [pro-LGBT] record kind of makes questions of his queer policy nonexistent," Brooks added. "I don't really have to think about his support for queer people in any regard."
Brooks said he thinks LGBT voters flocked to Sanders' revolutionary message because so many have had to "understand how to live within systems of oppression" because of the experience of homophobia. "You have no interest in upholding anything that intersects with the systems that oppressed you," Brooks said.
Jeff Freitas, 49, president of the California Federation of Teachers and a gay supporter of Warren, said he likes the senator's "position on education, her position on labor and her position on LGBTQ issues," which he learned about from candidate questionnaires that are distributed through interest groups like unions.
"She had the best responses," Freitas said, although he added that if she does not prevail, he will vote for whoever the Democratic nominee is. "It will definitely be blue," he said of his presidential pick.
Reggie Menenses, 51, a gay man from Fairfax County, Virginia, was among the 19 percent of LGBT people who backed Biden. Menenses said he remembered fondly when Biden came out for gay marriage in 2015, ahead of President Barack Obama. "He kind of spilled the beans," Menenses said.
Menenses, originally a Buttigieg supporter, decided to back Biden after Buttigieg threw his support behind the former vice president.
"I knew that he would be friends to LGBTQ causes and be a uniter and bring some unity back to a divided country," he added.
LGBT voters: Younger and more liberal
Reflecting changing generational attitudes about sexuality and gender identity, LGBT Democratic voters are substantially younger than today's electorate as a whole. Over a third of LGBTQ people voting on Super Tuesday are younger than 30, while 66 percent are under 45. As for non-LGBT Super Tuesday voters, 11 percent are younger than 30, while 34 percent are under 45.
LGBT Super Tuesday Democratic voters are a strikingly liberal group: 46 percent identified as "very liberal," 32 percent as "somewhat liberal," 18 percent as "moderate" and just 5 percent as "conservative." Non-LGBTQ voters, on the other hand, identified most frequently as "somewhat liberal" (37 percent), followed by "moderate" (32 percent), "very liberal" (23 percent) and "conservative" (9 percent).
Looking at the country as a whole, an estimated 9 million LGBTQ people are registered to vote in the 2020 election, according to a report published in October by the Williams Institute at the UCLA School of Law. Of these voters, 50 percent, or 4.5 million, are registered Democrats, 15 percent are Republicans, 22 percent are independents and 13 percent are unsure.
While Sanders has the lead among LGBTQ voters in the primary season so far, Flores said whoever the Democratic candidate is will likely get a boost from the community in November.
"LGBT voters will skew young, will skew more progressive and also likely reflect a greater level of racial and ethnic diversity," he said — all characteristics that suggest that a voter is more likely to vote for a Democrat.