While the third annual Logo Trailblazer Honors highlighted the work of LGBTQ activists over the past 50 years, the event focused heavily on remembering and mourning those affected by the Orlando night club shooting on June 12.
RuPaul walked on stage to dedicate the whole ceremony to the 49 queer, Latinx and allied people who lost their lives.
""We are once again reminded that the fight for civil rights is never ending, but we won't let the darkest recesses of human nature extinguish the light and hope and love we feel in our soul," RuPaul said. "As gay people we get to choose our families. My chosen family includes millions of brave men and women across this country and around the world."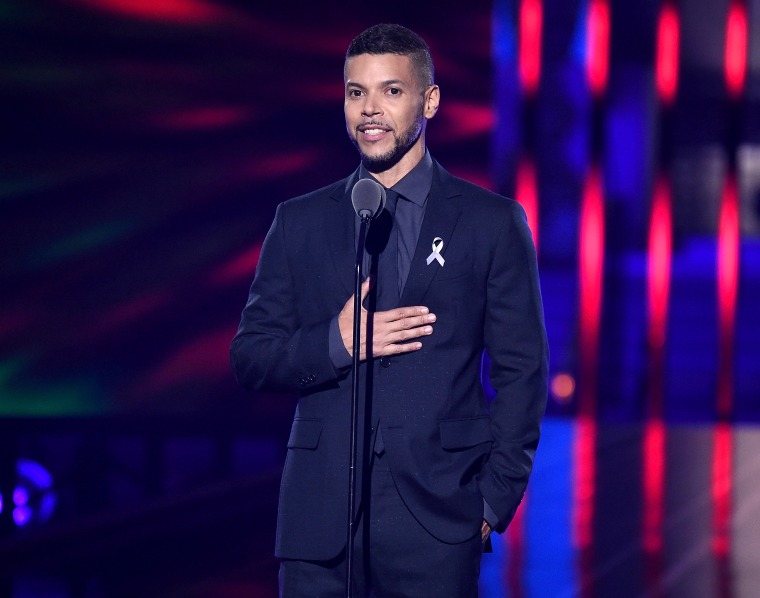 Puerto Rican actor Wilson Cruz took the stage to share the story of his relationship with Brenda McCool, his mother's stepsister and a mother of 11 children who died saving her son in the Orlando Shooting. Cruz emphasized that the shooting on June 12 is not the first time the LGBTQ community has experienced violence in large numbers — specifically the Latinx community.
RELATED: Open Letter from Moms Stress LGBT Support Following Orlando Massacre
"Even just the numerous transgender people we lose year and year around the world," Cruz said. "There is real violence happening in the LGBT community, and I think that what happened in Orlando is a real wake up call for all of us to say, 'Alright, now that we have done marriage, let's turn our gaze onto the fact that this violence is unacceptable.'"
While speaking to NBC OUT, Cruz cited incidents like the UpStairs Lounge arson attack in 1973 which killed 32 people.
"How do we use our collective voices to actually make a difference in terms of gun violence, and in terms of mental health issues?" Cruz added.
RELATED: Orlando Massacre Not a First for LGBT Nightclubs
Emma Stone presented Billie Jean King with a Trailblazer Honor. King, a women's tennis champion, was forced to come out in 1981 when her partner at the time filed a lawsuit demanding alimony. King's career took a nose dive as her sponsors cut off financial ties because she is a lesbian.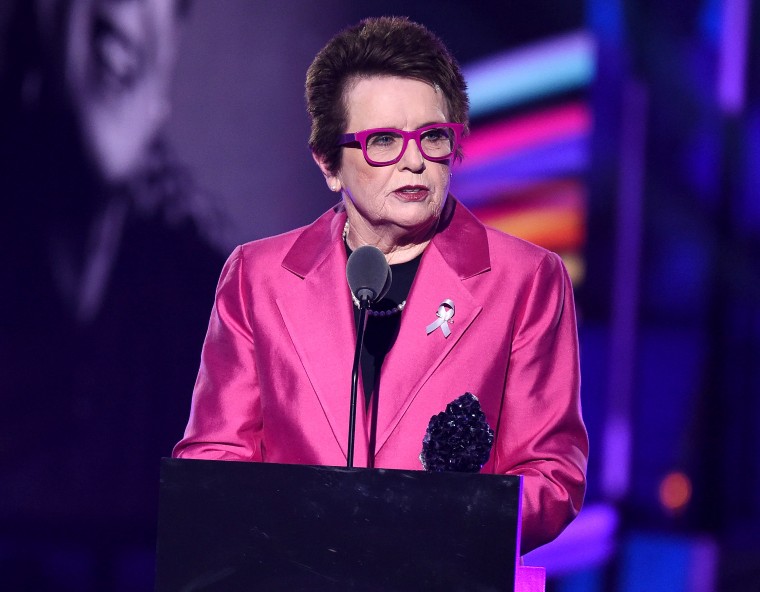 King said she wished to share her award with all LGBTQ people across the world, especially Brenda McCool.
"I'll be thinking about Brenda forever, a she-ro for sure," King said. "It's just more important that we stand together than ever, that we support one another and speak openly and loudly about the need for complete equality in our world."
Before she left the stage, she said, "Love not hate. Love not hate."
RuPaul's Drag Race season eight winner Bob the Drag Queen and actor Joel Grey presented Harvey Fierstein with his Trailblazer Honor. Upon accepting the recognition, Fierstein immediately took the opportunity to take a political stance against the anti-Islamic rhetoric surrounding the Orlando shooting.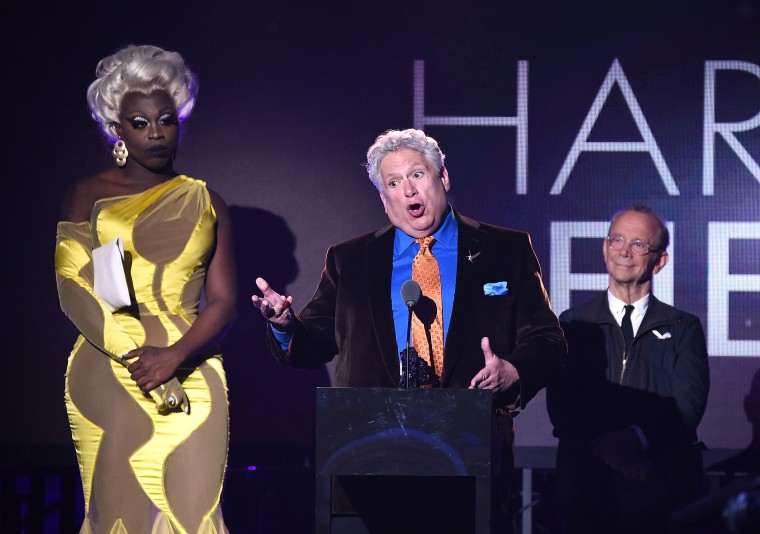 "These last two weeks have been very hard for all of us, especially for gay people who, as soon as we heard the news we knew," Fierstein said. "We knew who took out that gun and shot. We knew it wasn't something to do with Islam. We knew it was hate."
Before the ceremony, Fierstein said in an interview with NBC OUT that he hopes to shift the focus to all the people whose "lives were destroyed" in the Orlando shooting.
RELATED: After Orlando, Some Businesses Stress LGBTQ Inclusivity Moves
"I just wish people would stop saying that 49 people were killed — 103 people were shot," Fierstein said. "A lot of lives were ruined that night, and I hate to dismiss the people that were shot and attacked."
After Fierstein accepted his Trailblazer Honor, drag superstars Ginger Minj, Alyssa Edwards, Phi Phi O'hara, Alaska Thunderfu*k and Tatianna paid tribute to his career with a musical number. Ginger Minj took center stage to sing "I Am What I Am" from Fierstein's Broadway musical La Cage aux Folles with the rest of the queens.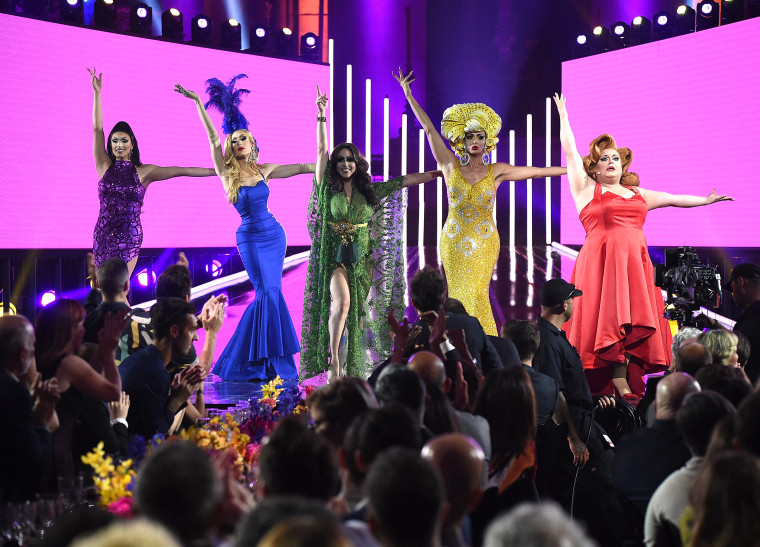 Ginger Minj is from Orlando, so her homage to Fierstein was also directed at her friends who died in the Pulse Night Club shooting. She has worked at Pulse throughout her drag career, and she intends to take her talents to uplift people affected by the shooting.
RELATED: Actress Laura Gómez: We Need to Fight for Gay Rights in Latin America
"We are basically clowns," Ginger Minj said in an interview with NBC OUT. "We have to get out there in our wigs and makeup and shoes to makes people laugh. We need to help them heal."
Despite the tragedy, Ginger Minj said it was a sobering reminder why the LGBTQ community is so tight knit.
Subhi Nahas, a gay refugee from Syria who survived ISIS torture, received a Trailblazer Honor as well. He is the first person to testify to the United Nations Security Council about first-hand experiences with ISIS' treatment of LGBT people.
RELATED: Syrian Refugee Subhi Nahas Gives Voice to LGBTQ Asylum-Seekers
Janet Mock, Tiq Milan and Candis Cayne posthumously awarded Sylvia Rivera and Marsha P. Johnson with Trailblazer awards, remembering their work as trans women in the gay rights movement.
Alok Vaid-Menon, a trans-femme activist and poet in Dark Matter Poetry, echoed Cruz's call to emphasize that the Orlando shooting was a crime committed against Latin people of color, not just the LGBTQ community. Vaid-Menon said people must acknowledge that the majority of the victims at Pulse were Puerto Rican and Latinx.
"The people in this country that are most likely to experience anti-gay and anti-trans violence are Black and Latino people," Vaid-Menon said. "This is not an exception, this is part of the ongoing violence that is specifically targeting Black and Latinx people, and unless we name that, that erasure is going to turn into more violence against these communities."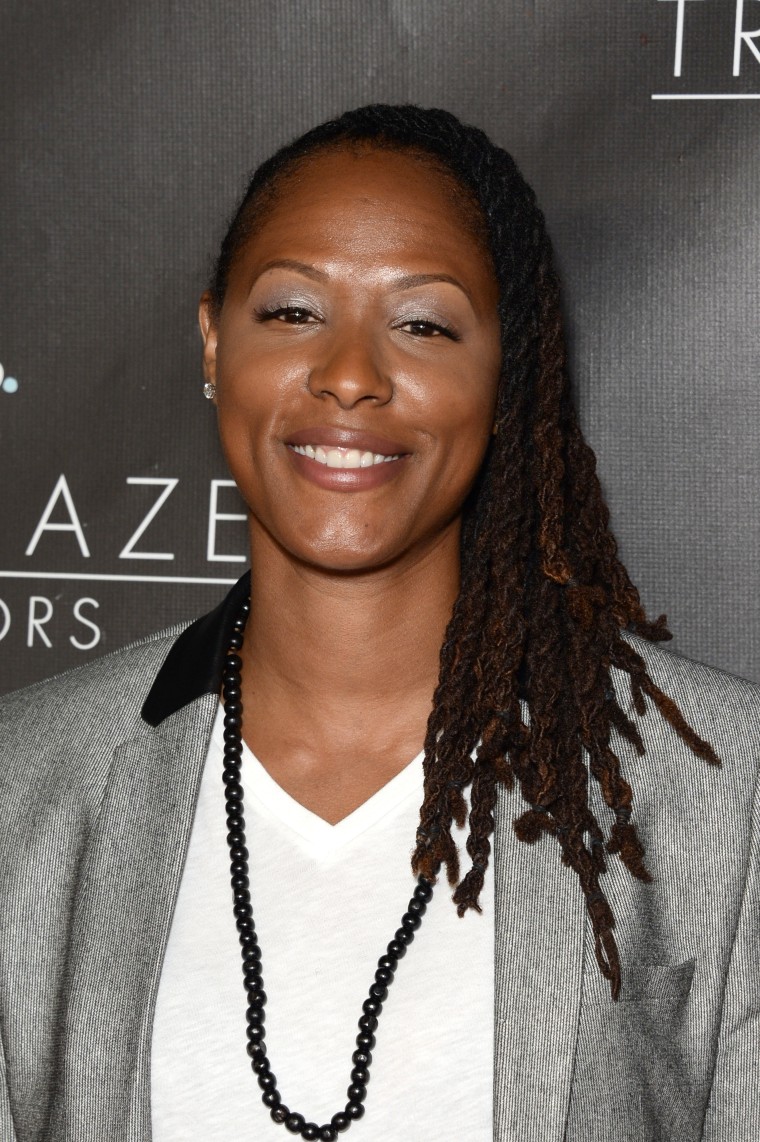 Former WNBA player Chamique Holdsclaw said the next step for LGBTQ people is to continue coming together as a community. As a lesbian, woman of color in sports, Holdsclaw said she is proud to be a role model for young people looking to come out.
"First of all, I was ashamed and I was embarrassed, and I think I just got the confidence because of the people we're honoring here tonight," Holdsclaw said. "It takes that one person that you see living their lives that gives you the confidence to truly be who you are."
The Logo's Trailblazer Honors will air on Logo and VH1 on Saturday, June 25, at 8 p.m. ET/PT.