Terry Donahue and Pat Henschel lived as a couple behind closed doors for seven decades, careful to hide their same-sex romance from society. Now, a new Netflix film, "A Secret Love," documents the women's clandestine love story and their decision to live out their final chapter as an openly gay couple.
Both from Canada, Donahue was 22 and Henschel 18 when they met in 1947. Donahue was a catcher for the Peoria Redwings in Illinois in the All-American Girls Professional Baseball League, popularized by the movie "A League of Their Own."
"There's a youthful quality to their love, playful and patient," the film's director, Chris Bolan, said. "They sure like to laugh a lot together."
The pair, who shared their true relationship with only a few confidants, told others they were "cousins" or "friends" who lived together in Chicago to save on rent.
"They denied it, denied it, denied it," Bolan said of their romance.
The viewer watches the couple's relationship blossom in public as they decide to get legally married and move into an assisted living facility while working to repair ties with their families, who only recently learned they were a couple.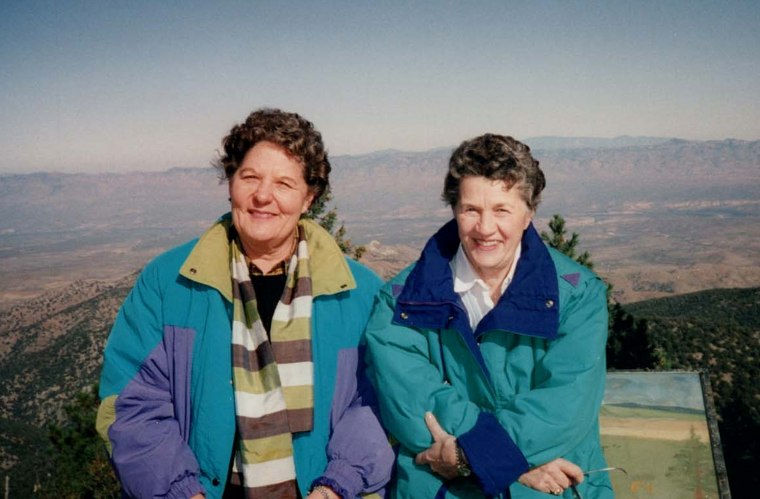 Bolan, who is also Donahue's great-nephew, said Donahue and Henschel revealed their relationship to him in 2009, as he and his wife were having drinks with them in Chicago.
"The first time I heard my Aunt Terry say she was gay, it hit me," Bolan said. "Hearing it from an 88-year-old was a profound experience."
Bolan said he was so in the dark that he once thought Henschel had a crush on his father, but that revealing the truth was like "a weight had been lifted off their shoulders." They were so relieved, Bolan said, that the two women started to dance together. "I'd never seen them do that."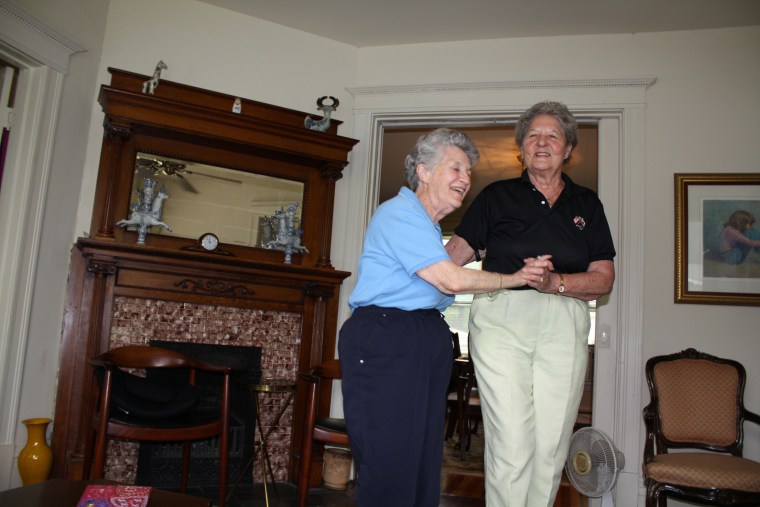 Despite their desire to keep their relationship private, the women had documented their lives in "dozens and dozens" of photo albums and audio cassette tapes, some of which are featured in the film. The couple preserved their love letters but had ripped their signatures off in case the notes were ever found, said Bolan. While putting the documentary together, Bolan said he discovered an old suitcase in the couple's basement filled with videos of their lives on 8 mm film. The clips of Donahue playing baseball and the couple visiting Donahue's family on their Canadian farm are included in the documentary.
"They recorded everything," Bolan said. "They loved each other so much and had such a wonderful time together they wanted to document every minute."
The women were "constantly perplexed" why people would be interested in their story, according to Bolan, who said their minds changed after he explained to them the impact their visibility could have on young people. He said he wanted to shed light on the experience of lesbians of the Silent Generation.
"Gay men stories I feel are a little more prominent than lesbian women," Bolan said. "Lesbian history of that generation, those storytellers have not shared these stories, and they're disappearing."
The couple did not actively participate in the public fight for LGBTQ rights that was going on throughout their relationship.
"They didn't talk about Stonewall or about the movement," said Bolan, whose film briefly touches on such activism. "They went to a bar once, but were scared they'd be arrested."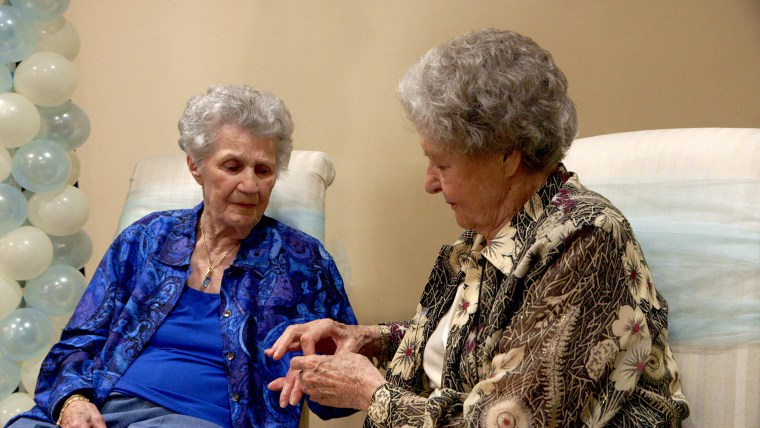 Yet despite the decades of secrecy, Bolan said the two ultimately enjoyed sharing their journey in the documentary. Donahue opened up quickly, he said, but Henschel took more time.
"Those rare moments where she let us see underneath, they're especially powerful, because she had that kind of armor up," Bolan said.
In sharing their story, Bolan said he wants people to walk away from the film with a new perspective.
"I don't care if they understand it in their head; I want them to feel the story in their heart," he said. "When we listen with our hearts, we have a more profound understanding."