The Los Angeles Football Club is only eight months old, but the Major League Soccer franchise has already ruffled feathers.
At a home game on Thursday, fans could be heard chanting "puto" from the stands. The Spanish curse word, which was directed at the opposing team's goalie, is often used as an anti-gay slur in Mexico.
LAFC President and Owner Tom Penn and Josef Zacher, president of the 3252 Independent Supporters Union, issued a statement Friday condemning the use of the "offensive" word.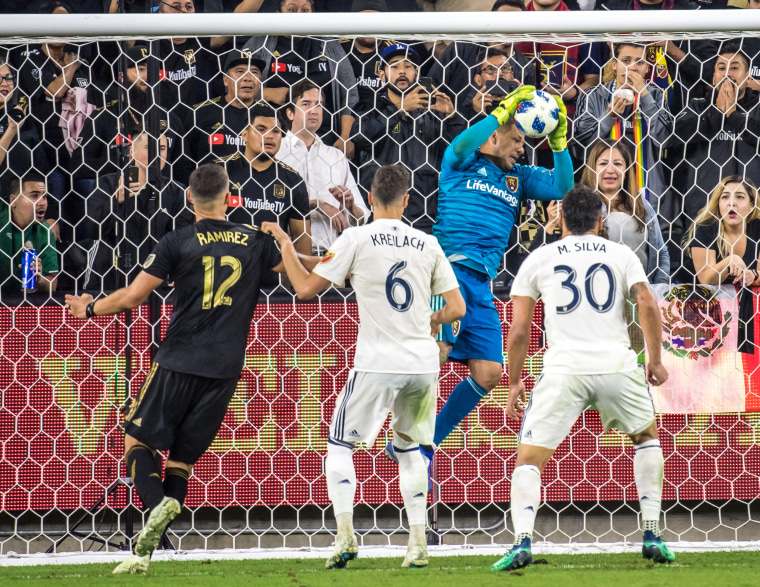 "The chant has no place in our City or Stadium and does not represent who we are as a Club," the statement said. "LAFC and The 3252 are committed to creating an inclusive, welcoming and safe experience at Banc of California Stadium for all fans."
Penn and Zacher said they are working together to develop "new processes and procedures to eliminate this chant" and issued a warning to fans.
"Any fans identified as participating in this offensive chanting or other prohibited acts will be removed from the stadium and permanently banned," they stated.
Thursday's game was not the first time LAFC fans have used the offensive word in the stands. They did so after LAFC's first-ever home game in April of this year. The league and the team condemned the chant and implored fans to stop, and, according to NBC Los Angeles, fans obliged until the playoffs week.
The chant is a staple of Mexican national team games, and earlier this year FIFA fined Mexico $10,000 for its fans use of the slur during the World Cup. FIFA launched a campaign against the chant, but, according to NBC Los Angeles, those efforts have largely been ineffective.
LAFC Pride Republic, the LGBTQ fan group of LAFC, issued a statement on Twitter in response to the chant.
"We look forward to working with the team, our fellow LAFC supporters and fellow LGBTQ supporter groups throughout the league to eliminate the chant for good in the 2019 season," the the group stated. "And we call on the MLS to show some real leadership on this issue, beginning right now, in the post-season."
The group added that "videos, talking points, and 'policies' are not enough."
"The league must take decisive action in order to eradicate this chant permanently," the statement concluded.