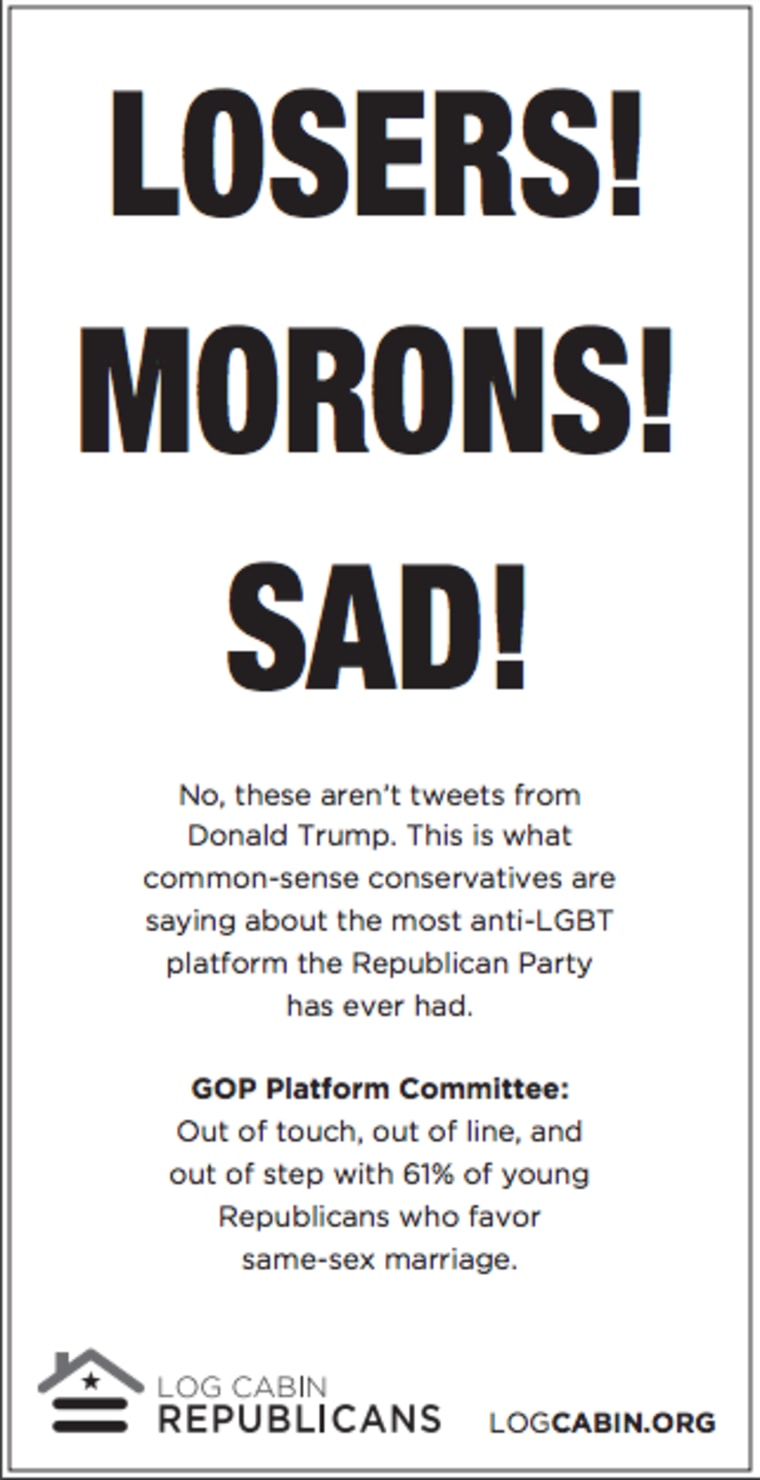 Log Cabin Republicans, the nation's largest organization representing LGBT conservatives, placed a full-page ad in USA Today on Tuesday slamming the GOP and its platform.
The ad, which was published in the Cleveland edition to coincide with the Republican National Convention, calls the GOP platform "the most anti-LGBT platform the Republican party has ever had."
RELATED: Despite Anti-Gay Record, Pence Doesn't Scare All Gap GOPers
"It's my hope this advertisement will be a wake-up call to the intransigent and ancient voices on the GOP Platform Committee that marriage equality is the law of the land, gay families are a part of the fabric of America, and LGBT Republicans have an important role to play in growing the Party," Log Cabin Republicans President Gregory Angelo stated.
In a press release posted last week to the Log Cabin Republicans' website, Angelo said he's "mad as hell" about the party's platform and went into detail about its anti-LGBT measures.
RELATED: Some Gay Voters Say It's Dangerous to Come Out for Trump
"Opposition to marriage equality, nonsense about bathrooms, an endorsement of the debunked psychological practice of "pray the gay away" — it's all in there," he stated. "This isn't my GOP, and I know it's not yours either. Heck, it's not even Donald Trump's! When given a chance to follow the lead of our presumptive presidential nominee and reach out to the LGBT community in the wake of the awful terrorist massacre in Orlando on the gay nightclub Pulse, the Platform Committee said NO."
Log Cabin Republicans have not yet endorsed a presidential candidate, something the group typically does in the fall. Though Angelo told NBC News last week he "definitely" has "concerns" about Trump.