A recent college graduate who appeared to claim on Monday that he was sexually assaulted by Mayor Pete Buttigieg of South Bend, Indiana — a rising Democratic presidential candidate — said Tuesday in a statement shared with NBC News that the assault never happened. He said he was the victim of conservative activists who had duped him.
The accusation was made public Monday in the name of Hunter Kelly, 21, a Michigan resident, in a short post on the website Medium, which lets anyone publish. But Kelly said Tuesday that the post was fake and was instead written by the conservative activists Jacob Wohl and Jack Burkman, both of whom have previously spread false accusations against perceived enemies of President Donald Trump, including a bogus sexual assault claim against special counsel Robert Mueller.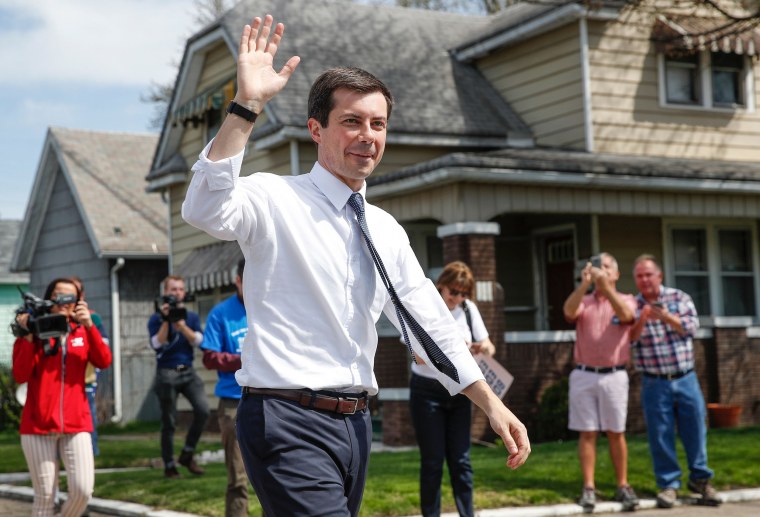 A statement shared with NBC News from Kelly's Facebook page and from a mobile phone number, which was found in his college directory, details his interactions with Burkman and Wohl. In the statement, Kelly, a recent graduate of Ferris State University in Michigan, said he was flown to the Washington area on Sunday by Burkman and Wohl. After taking a taxi to Burkman's home in Arlington, Virginia, the trio discussed their shared political interests.
Kelly said in the statement that he went to Washington under the assumption that he would be working on a task force that was "set up by the Donald Trump administration to slightly push back the progress of Democratic candidate (and Trump's only true contender) Peter Buttigieg."
But Kelly said Wohl and Burkman presented him with a draft of a blog post in which "Wohl pretended to be me and spewed a bunch of hateful accusations at Buttigieg." Kelly said he expressed unease and went to bed at 4 a.m. Monday morning, but not before texting Wohl again on Signal, an encrypted messaging app, and telling him he was "incredibly uncomfortable and not on board with their plan."
I was never raped by Peter Buttigieg, nor was I in Washington DC in February 2019.
Hunter Kelly
Kelly said that when he woke up on Monday morning, Wohl told Kelly he had published the blog post on Medium.
"That means, without my permission, a disgusting article pretending to be me was lambasted across the internet," Kelly said. "Next thing I know, Jack Burkman is telling me how I am a 'star' and people are eating me up."
The Medium post, which was deleted but is archived here, read: "I was sexually assaulted by Mayor Pete Buttigieg. I didn't know who he was back in February, only that he told me he was an important politician."
"Reading the story made me sick to my stomach," Kelly wrote in his statement Tuesday.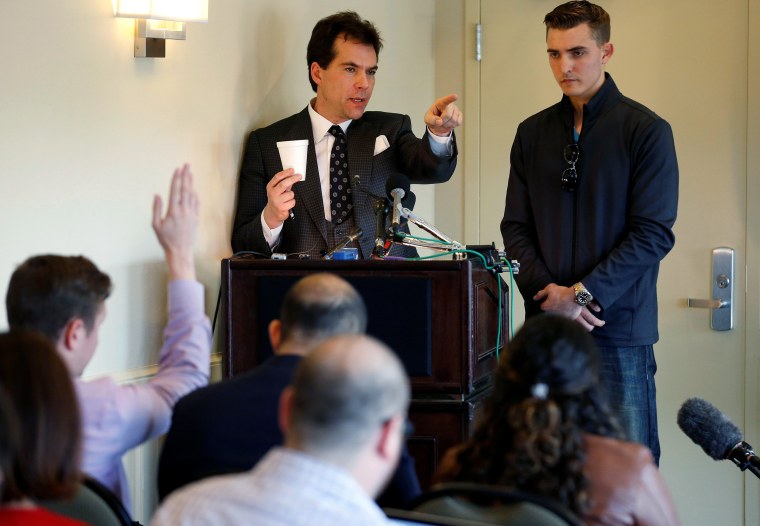 In an interview with NBC News, Wohl disputed Kelly's version of events, saying that Kelly reached out to him with a claim of sexual assault by Buttigieg.
"All we do is advocate for folks who have stories to tell," Wohl said. "We tried to help a young gay man air out his very serious accusations against a 2020 contender."
"Reporters called his family hundreds of times," Wohl added, referring to the reaction to the Medium post. "And so as a lawyer, in Jack's case, and advocate, all you can do is say, 'All right, do whatever you want, we won't force you to do anything.'"
Kelly said he told Wohl and Burkman on Monday that he wanted to leave Burkman's home. "After probably 45 minutes of me being stubborn and not wanting to do anything except leave, which 'was not an option,' I reluctantly signed a script that I was told had no legal standing," he said.
The Daily Beast first reported on the alleged scheme by Wohl and Burkman late Monday, just hours after the post appeared on Medium.
The document Kelly signed after publication of the Medium post stated that he had met Buttigieg at a Washington hotel bar in February and was "led by the mayor to a room in the hotel," where he was sexually assaulted.
Kelly told NBC News that never happened and that he has never met Buttigieg.
In a Twitter post shared late on Monday, Burkman posted images of Kelly and of the signed document to Twitter, saying the media had "bullied him & his family into submission."
On Tuesday afternoon, Burkman shared another post about Kelly on Twitter, stating: "I firmly believe that my former client's story about the Mayor was accurate and true. I am sorry that he was pressured out of telling his truth."
"I was never raped by Peter Buttigieg, nor was I in Washington DC in February 2019," Kelly wrote in his statement. "I had never been to the Mayflower Hotel, nor did I ever wake up with Peter Buttigieg forcefully pulling down my pants like I was almost coerced into saying."
"Nothing they alleged is true about Buttigieg," Kelly said. "I will not stand around idly and get dragged through the mud for two people to continue committing heinous acts in the name of 'protecting our country.' They are the real danger to our country."
Prior to Kelly's statement regarding the alleged conservative scheme, Buttigieg on Monday denied the allegations.
"I'm sure it's not the first time somebody is going to make something up about me," Buttigieg told reporters. "It's not going to throw us. Politics can be ugly sometimes, but you have to face that when you're in presidential politics."
Kelly had been an active conservative and supporter of Trump on social media, appearing in multiple pro-Trump Facebook groups, on Twitter, and Instagram promoting the president and his policies. Kelly's bio on his now-private Instagram read: "Log cabin republican. LGBT for Trump. 2a. Patriotic. #MAGA #Trump2020."
As part of the rollout of the Medium accusation, Kelly's Instagram account was made private, many of his Facebook posts were scrubbed, and his previous Twitter account was shuttered and replaced with a new account, @realHunterKelly, which exclusively liked and followed pro-Bernie Sanders accounts. In his statement, Kelly claims he did not create the @realHunterKelly Twitter account.
In 2017, the National Futures Association issued a lifetime ban from futures trading to Wohl, then a hedge fund manager. Wohl's plan to run a series of fake accounts to influence the 2020 election for Trump got him banned from Twitter in February, the same month he was accused of faking death threats and reporting them to police. And Wohl's alleged plot to set up Mueller in a similarly botched sexual assault scheme last November reportedly has caught the attention of the FBI.