Australia's opposition Labor Party has voted to block a government-backed referendum on same-sex marriage.
The move means it will remain one of the last countries in the Western world to grant gay and lesbian couples the right to wed.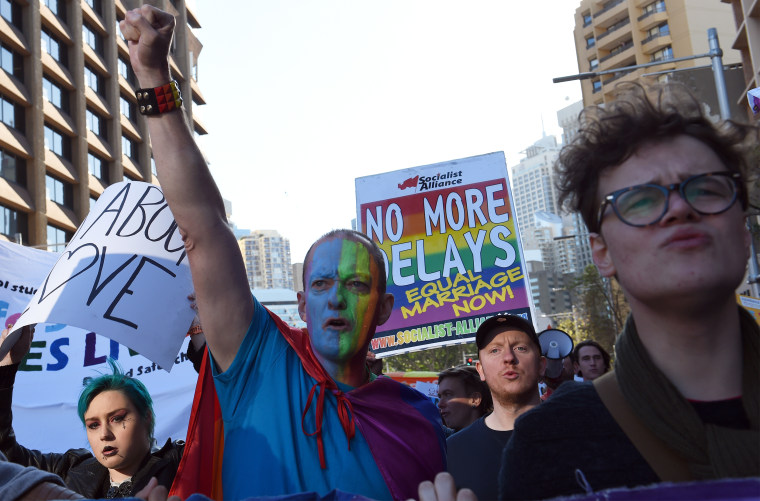 Labor Party leader Bill Shorten — as well as a majority of Australians, according to recent Essential opinion polls — support marriage for same-sex couples.
But Shorten said Tuesday his party voted unanimously against the referendum proposed for February amid concerns it would be too costly and create an acrimonious climate for LGBT Australians.
Shorten joined numerous gay rights advocates in calling on Parliament to pass a measure legalizing same-sex marriage instead.
"This country does not have the right ... to pass judgment on the marriages and relationships of some of our fellow Australians," Shorten said at a news conference Tuesday, according to The New York Times.
On Twitter, he added: "Labor wants to achieve marriage equality in the fastest, cheapest, least harmful way possible. That's why we want a free vote in Parliament."
Prime Minister Malcolm Turnbull, the first Australian prime minister to support same-sex marriage while in power, had asked lawmakers to vote to approve a national referendum, or plebiscite, for next February.
Tens of millions of dollars in public money would be used to fund campaigns in support of and against marriage equality.
Critics saw the referendum as a stall tactic, however, one that could potentially create negative effects for LGBT people — as one study found it did in Ireland, the only county so far to legalize same-sex marriage through popular vote. In the survey of 1,657 Irish LGBT people, 75.5 percent of participants said they often or always felt angry when they were exposed to campaign messages urging people to vote against same-sex marriage in the referendum.
The Labor Party's move, which effectively kills the nonbinding national vote that Turnbull proposed, comes on the heels of numerous advancements for LGBT rights — particularly the right of same-sex couples to marry — throughout the Western world.
Twenty-two countries currently allow same-sex couples to legally wed, almost all of them in Western Europe.
The United States legalized nationwide marriage equality last year via the landmark Supreme Court case Obergefell v. Hodges. And in May, Italy approved a law legalizing civil unions for same-sex couples.
But same-sex marriage has been illegal in Australia since 2004. The country only allows gay and lesbian couples to enter into civil unions or domestic partnerships.
Without a national vote, Turnbull has warned that the issue of same-sex marriage might not be reintroduced into Parliament until after 2019, when the next general election will take place.