Palm Springs, California, is now being represented by the nation's first entirely LGBTQ city council.
Yes, all five members of the city council identify within the LGBTQ community, and they represent every letter in the acronym. With last month's election, the pentad arrives in a conflicting political landscape, where LGBTQ politicians have picked up historic wins while the Trump administration and a number of states are rolling back some of the gains the community has made over the past decade.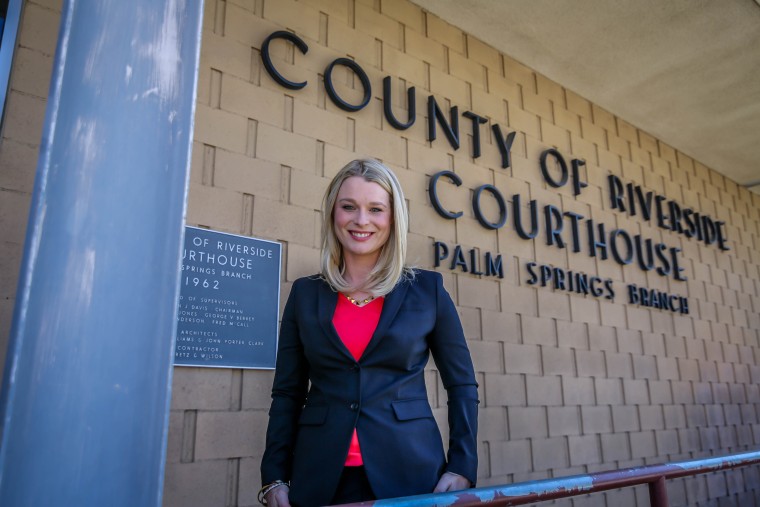 In this chaotic climate, advocates and allies on the left are looking to transgender history makers like Virginia's Danica Roem and Minneapolis' Andrea Jenkins as the heralds of a more promising future. The members of the Palm Springs City Council agree.
They also say they're just ready to get to work.
"I really believe Trumpism is a backlash from the social progress we've made over the last 20 years," Christy Holstege, an openly bisexual woman and member of the Palm Springs City Council, told NBC News. "But we're going to continue to make progress."
"Those who oppose equality have not quit ... But they are going to lose."
Lisa Middleton
It was at an election night party on Nov. 7 at the Palm Springs Hard Rock Hotel that Holstege learned she had won her race, becoming the first millennial, at 31, to be elected to the council. But she says she didn't run to be the first anything.
"We never made it about this historic moment," Holstege said of her campaign. "It wasn't until much later people realized this would be the result. We just made sure we had good allies and people who were the most qualified."
Lisa Middleton, a lesbian transgender woman, who was also elected last month, said she is proud to be a part of the nation's first all-LGBTQ city council, but that it was a result of simply electing the best people for the job.
"When I talked about being transgender on the campaign trail, I spoke of how proud I was of my city," Middleton, told NBC News. "I was evaluated on my qualifications and on my commitment to work on behalf of the people of Palm Springs."
Middleton, who hails from East Los Angeles, retired to Palm Springs with her wife in 2010 and immediately got involved in local neighborhood organization. She then decided to run for office.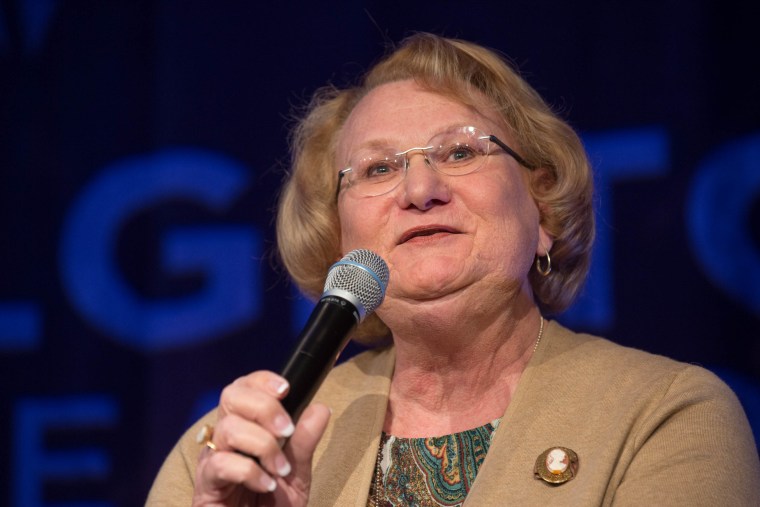 Palm Springs has had a majority-LGBTQ city council for over a decade. Ron Oden, now retired, became the first openly gay person (and the first black man) to be elected to the council in 1995. Since then, Palm Springs has become a haven for LGBTQ people, ranking first in the state and third in the U.S. for the number of same-sex couples per 1,000 households.
Middleton said she hopes the city's economic strength will send a message that diversity has benefits.
"Our record of economic success and the growth of our community demonstrates that a commitment to diversity is one of the engines of success in the 21st century," she said.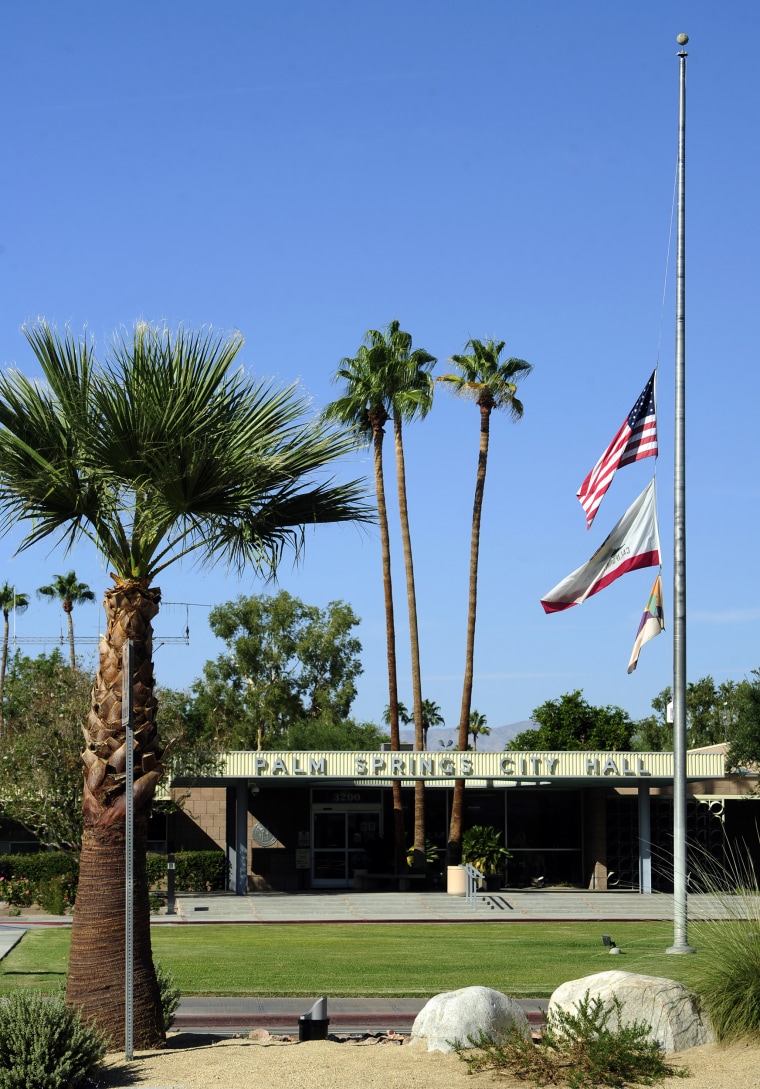 But as the latest form of culture wars rage across the country, not even Palm Springs is exempt. Holstege recounted being asked intrusive questions at campaign events by the press and even other LGBTQ people in the community.
"There is a lot of biphobia and bi invisibility," Holstege said. "In interviews I was asked about my sex life. The public was asking, including gay people, how I could be LGBTQ if I'm married to a man."
Despite some intrusive questions, Holstege said the community is "having really intense conversations" and "real" discussions about a variety of issues, "which I think is great."
The opportunity to educate and to provide positive visibility, advocates say, are just a couple of the reasons LGBTQ representation in government matters. But the city council in Palm Springs remains an anomaly. In the rest of the country, LGBTQ people remain underrepresented at every level of government. According to the Victory Institute, they hold just 0.1 percent of all elected positions nationwide, compared to an estimated 4 percent of their representation in the general population, according to a recent Gallup poll.
"There is much work to do in the big cities and on the two coasts, but true equality will not be secure until we have LGBTQ voices on every city council and in every state legislature," former Houston Mayor Annise Parker, now the president and CEO of the Victory Institute and Victory Fund, said in a statement. "I am confident we can win anywhere with strong candidates who understand and focus on the issues most important to their constituents."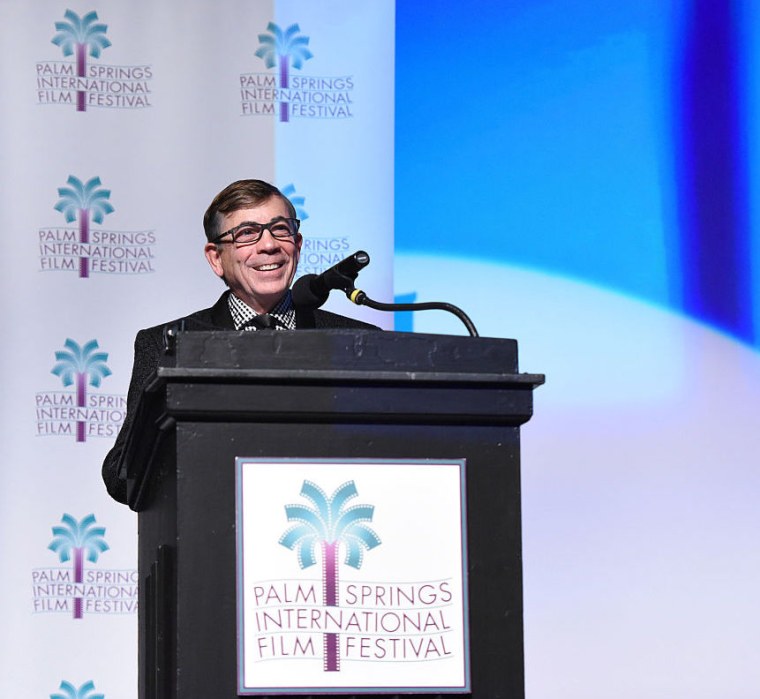 In addition to Holstege and Middleton, the rest of the Palm Springs City Council consists of three gay men — Mayor Robert Moon, J.R. Roberts and Geoff Kors. The platforms each member ran on, however, focus on issues like energy and affordable housing.
"I talked about alleviating homelessness and poverty and about the housing crisis," Holstege said. "I want to build a Palm Springs that works for all of us so young people and people with diverse backgrounds can afford to live and thrive here."
Renewable energy was Middleton's primary focus. For her, it signifies a commitment to the future at a time when the nation's future is less than certain. Middleton won her race by a 2-to-1 margin, which indicates progress on acceptance of transgender people. But, she says, there is still a lot of work to be done.
"Those who oppose equality have not quit," Middleton said. "But they are going to lose."