Prumsodun Ok remembers first being drawn to Khmer classical dance as a young boy.
"Even when I was a 4-year-old child, there was something about the dance that grabbed me," he told NBC Out.
Born in Long Beach, Calif., to Khmer refugee parents who fled Cambodia in 1979, Ok's father would often go to the local temple in Long Beach, Calif., and record the amateur dancers who performed Khmer classical dance for the community.
But instead of the traditional brass crowns dipped in gold and traditionally worn in Cambodia, the dancers in Long Beach's Khmer refugee community wore crowns made of cardboard, and costumes made of sequins instead of gold thread.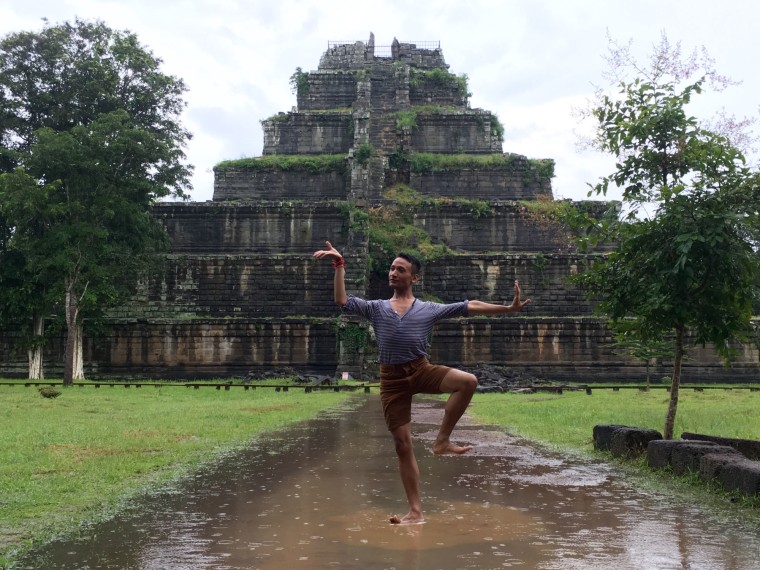 These recordings would be Ok's first exposure to Khmer classical dance — an ancient art form traditionally dominated by women and seen by many Cambodians as a symbol of national identity.
"I would put on my sister's red dress and imitate the movements from the television screen," Ok said.
Today, as an adult, and after being trained by one of the leading choreographers in Khmer classical dance, the interdisciplinary artist is making a name for himself as a caretaker of the tradition, both internationally and in Phnom Penh, where he currently lives.
In June 2015, Ok formed Prumsodun Ok & NATYARASA, Cambodia's first all-male, gay-identified dance company. The dance company draws heavily from the art of Khmer classical dance, but also creates new works that take on a very diverse approach to what the art can be and do. Notably, all the roles in the company's performances are performed by gay men, even roles traditionally performed by women.
By restaging traditional works of Khmer classical dance with gay male dancers, Ok is hoping to both preserve and give a freshness to a revered national art form, and in the process help challenge the notion that being gay means going against tradition.
"All over the world there's this idea that being LGBTQ is contrary to tradition," Ok said. "Our dance company is very different in the sense that we are taking an art form that is seen as a national art form, and carving a clear space within the tradition [for LGBTQ people]."
Ok believes offering audiences new possibilities for a well known tradition can help dispel the notion that being gay is something unnatural. "Being gay is not contrary to tradition. In fact, look at these young gay men who are taking care of this tradition," Ok said.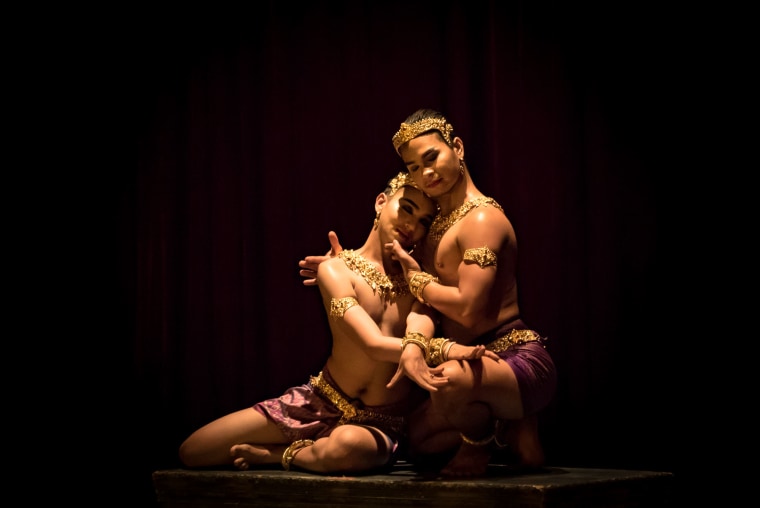 Though Ok doesn't feel the need to label himself as an activist, he does believe his identity as a gay man is naturally a source of intention in his work. "I don't know how anyone can separate who they are from their art," he said.
Ok cites incidents of violence against the LGBTQ community globally as something he often thinks about, and calls the dances his dance company performs as "something like a sweet medicine."
"Maybe it's the fact that I understand I am a gay man, and in some parts of the world [gay men] are being thrown off buildings," Ok said. "To go on stage and show people as a gay man I know what love is, it's a gesture of protest in a world of violence — but also it's a gesture of celebration and resilience."
On a local level, Ok hopes to be a source of strength to the dancers of his dance company, as they develop their identities both as gay men and artists in Cambodia.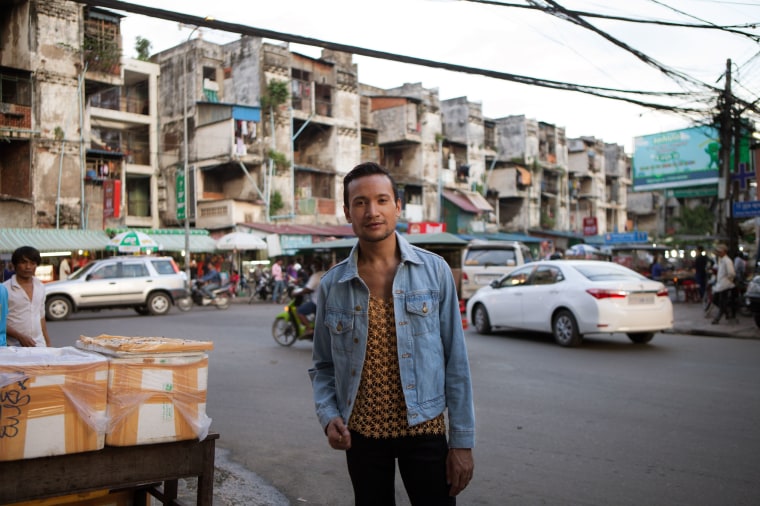 "I feel a great sense of responsibility to not only nurture their capacities as dancers and artists, but also open up their world to ideas that will make them internationally viable and recognized," Ok said.
This includes giving them a living wage and taking them to cultural events like museums and restaurants. On a personal level, it also means being there for his dancers as they go through personal hardships.
"I've held one dancer, and he's crying and apologizing to me because he just found out he has HIV," Ok said. "Here I am telling him it's perfectly possible to have a meaningful and fulfilling life with HIV."
Ok is hoping to nurture a strength and bravery in his dancers, which he says they will need in order to be successful in their performances. "When I was first auditioning, I said, 'We need brave people. We're going to go on stage and say this is Cambodia's first gay dance company. I can't have people who are not honest with themselves,'" Ok said.
Luckily, he said the response by audiences to his all-gay male dance company has been for the most part positive. "We performed at the U.S. embassy, and that video has gotten 160,000 views," Ok said. "You can really see the company is starting a dialogue inside and outside of Cambodia."
Ultimately, Ok's vision with Prumsodun Ok & NATYARASA is to continue caring for the tradition of Khmer classical dance while simultaneously pushing it in new directions.
His latest project, PRUM x POP, does just that, by setting Khmer classical dance to contemporary pop music.
"Sometimes it's using traditional dance, music and costume to depict gay love and marriage," Ok said. "Sometimes it's using the dance traditionally but setting it to pop music with new costumes."
Ok hopes to raise enough funding to film the series of dances of PRUM x POP throughout Phnom Penh, thus providing him with a medium to share his work with a global audience.
"We're offering to the LGBTQ community something different," Ok said. "This dance company is a reflection not just of Cambodia, but of Phnom Penh, and the people of the company. It's something that's a local expression of LGBTQ culture that has global resonance."
But Ok stresses it is still important to maintain the local character of the tradition.
"Sometimes you're bending and breaking the form to the point where it's no longer Khmer classical dance," he said. "But the spirit is still there."