Tucked away in a quiet corner of a community in Medellín, Colombia, is a regular, three-story house that looks almost identical to its neighbors. Over the past few weeks, it's become famous as the home of the "trio" or the "three gay husbands" as locals now call Colombia's first legally recognized polyamorous couple.
"Are you here to chat to the trio?" a resident asks. "We've seen a lot of foreigners over the past few weeks," a middle-aged woman adds. She says she's happy the three men are able to be themselves but doesn't support polyamorous relationships, explaining, "I believe marriage is something between a man and a woman."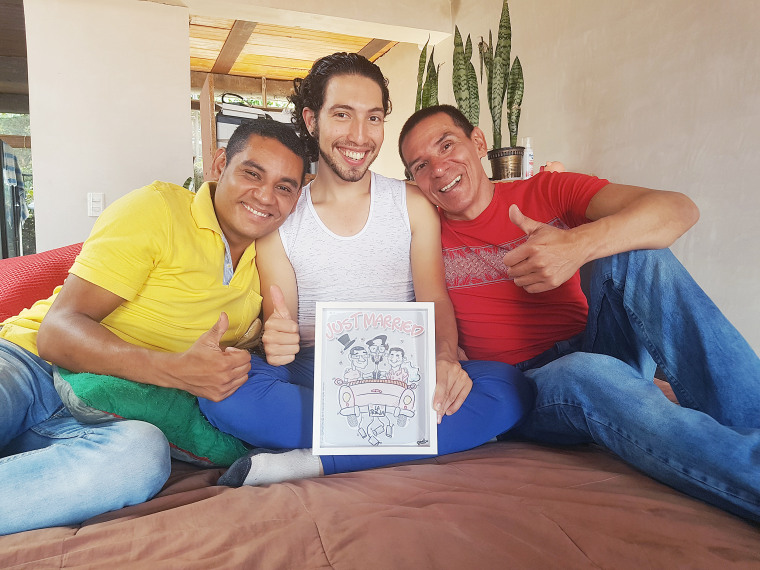 Medellín was once famous as the home of drug lord Pablo Escobar, but these days it's better known for its vibrant arts and culture scene, lively nightlife and for having what is thought to be the world's first legally recognized "throuple" — the term that describes a three-person relationship.
Manuel Bermudez, Alejandro Rodriguez and Victor Hugo Prada won a legal battle to formalize their "special patrimonial union" in June.
"Welcome to our little home!" Prada, 23, says as he opens the door. On the second floor, an immaculately kept open-plan living area leads on to a terrace with impressive views overlooking Colombia's second city. It's a calm and peaceful space with lots of homegrown herbs and plants. The walls are full of mainly gay-themed art. The most striking is a modern, sexed-up version of a muscle-bound St. Sebastian.
"We're very artistic people," Prada, an aspiring actor, explains. He guides the reporter upstairs where a king-size bed dominates another open-plan space. "All three of us sleep here, perfectly, with no problems," he says. "It's can be cold at night in Medellin so we sleep huddled together. It's really nice!"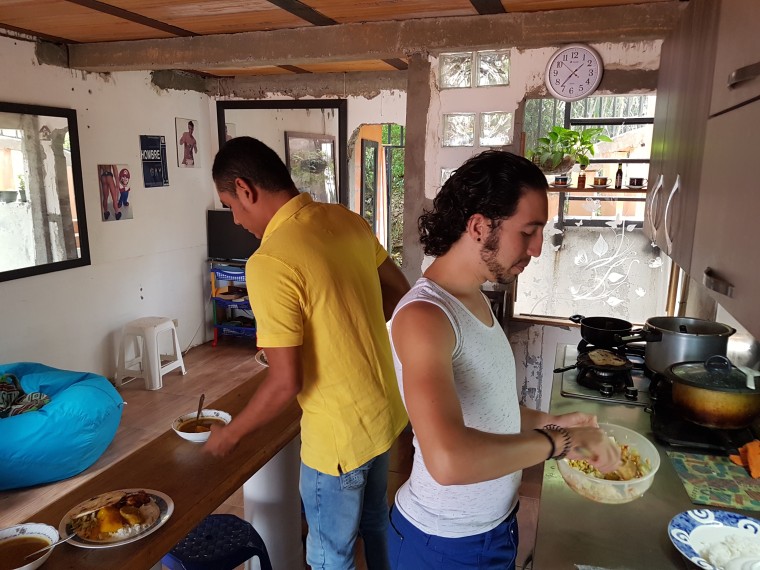 For Bermudez, Rodriguez and Prada, there's nothing unusual about their domestic arrangement. "We spend a lot of time together, but we also lead independent lives outside of the home," Prada explains. "We don't have specific roles or rules. Whoever gets up last makes the bed. Alejandro and I like to cook, and Manuel takes care of other things."
Since their union was made public, Bermudez, Prada and Rodriguez have been at the center of an intense national debate about polyamorous relationships. "It's been really crazy. The whole world seems interested in us, and it can be very intrusive," Rodriguez, a dancer and sports instructor, says.
Many people are curious about how they live and how a "throuple" works. "I tell them we're just normal professionals. We lead a quiet life in Medellín. This relationship is real and not for show. We've been together for a long time, and it works well," Rodriguez said.
The third member of this "diverse family," as they call themselves, is journalist Manuel Bermudez. The youngest of 15 boys, Bermudez describes his early life as privileged. "Nothing ever happened to me. I was never bullied at home for being gay. My family accepted me as I was," he said.
Bermudez and Rodriguez have been together for 18 years. They took on the state in 2000 fighting for legal recognition for their partnership and won. It would be another 16 years before Colombia legalized same-sex marriage. "We wanted to show that gay couples can also be in a stable, permanent and loving relationship," Bermudez explained.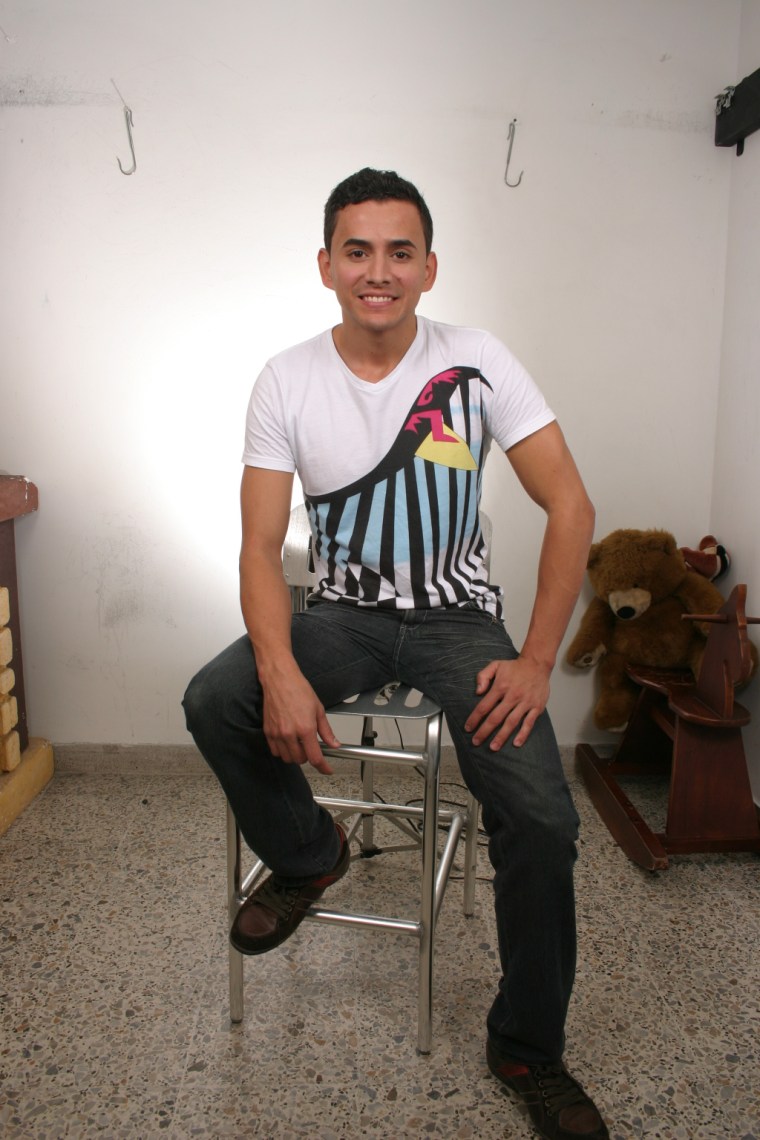 Eight years into their relationship, Bermudez and Rodriguez met Alex Zabala. All three lived together as a throuple until Alex died from stomach cancer in 2014.
Four years ago, Prada became the fourth member. He met them when he was just 18. "Our main motivation is to honor the memory of Alex, and we believe he's still with us in spirit," Rodriguez explained. "He changed our lives for the better and has been with us all the way in this process for official recognition."
Gay rights activist and lawyer German Rincon-Perfetti drew up the documents that define what the union represents. The trio were not granted a marriage, but the union has been given recognition and guaranteed legal protections. "Colombia's constitutional court wants to be seen as progressive, guaranteeing human rights and is keen to treat every citizen as equal," Rincon-Perfetti told NBC News.
He described the victory as "historic" and praised Colombia as the first country in the world to back such a union. The ruling is expected to have implications for those who do not fit the definition of what constitutes a traditional family unit.
"There's single mothers, grandparents and aunts and uncles taking care of children that will benefit. Other polyamorous heterosexual couples will now be able to come out and live openly and honestly," Rincon-Perfetti said.
Bermudez, Prada and Rodriguez, however, don't consider themselves trailblazers. "We're quiet people, and I know this sounds selfish, but we set out on this journey for ourselves and Alex and not to be part of some big campaign," Rodriguez says.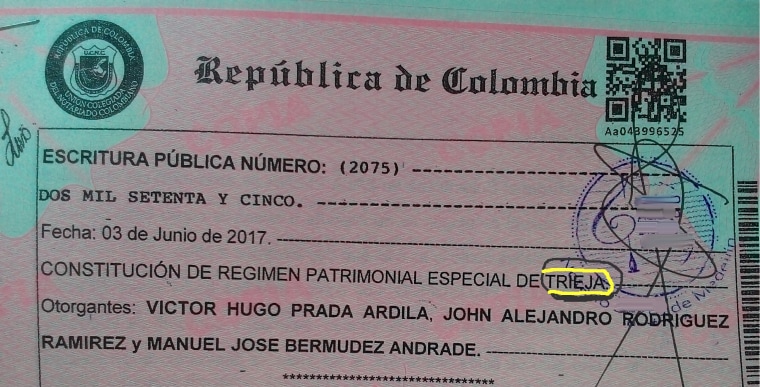 Shortly after they went public, they received messages of support from other polyamorous families around the world. "They've congratulated us for bringing attention to the reality of what it means to be part of a loving polyamorous relationship," Bermudez says. "The fear factor is preventing a lot of other throuples from coming out. They want everyone to know that love has no boundaries, and you can have a normal functioning relationship with three or four people."
Since their landmark victory, the three men have been criticized by conservative groups. They've received death threats online but don't take them seriously. "It's horrible to read some of the stuff on social media" Bermudez says. "But in real life the reaction has been fantastic. When we're out in public old women and students tell us: "Wow! How brilliant and brave we are, its something really special for us."
Related: Colombian Trans Male Band Mixes Music and Advocacy
Prado recently told his two partners he would like to be a father at some stage. Colombia's same-sex couples can legally adopt under a progressive law passed in 2015. Bermudez and Rodriguez were surprised. "I've never imagined myself as a dad. It was never part of my life plan," Rodriguez admits. "But we're part of this special polyamorous relationship, and we support each other. If the time comes when Victor decides he's ready for a child, we'll be beside him with our full support."
There's palpable excitement when talk turns to the "wedding." "Its going to be in public in a place where anyone can come along," Rodriguez tells NBC News. The ceremony, he says, will be theatrical in tone with a lot of dance and spiritual elements. It will also pay tribute to the life of Alex Zabala and will end with a three-way kiss to seal the deal.
"We're already getting wedding gifts," beams Prada, as he takes out a framed pencil sketch of himself, Rodriguez and Bermudez. They're sitting in a pink car with big, broad smiles. The words "Just Married" splashed across the front and the number plate reads "la trieja" (the trio).
When jokingly asked if they feel like they're living a bride and groom fairy tale cliché, Prada says with a laugh, "We're better than that." He adds, "We're already living our 'happily ever after."