Same-sex couple Charlie Craig and David Mullins met on the night of December 5, 2010, at a party near their home in Denver.
"On that night we were doing a benefit for a friend, and I was the emcee, and [David] was a musician in a band playing for this benefit," Craig told NBC News.
On Tuesday — precisely seven years to the day they met — the couple found themselves in a packed courtroom inside the Supreme Court. The men are ensnarled in a legal battle with a baker who refused to make them a wedding cake because they are gay.
Mullins, an office manager, and Craig, an interior designer, never thought they'd be at the center of a major civil rights case.
"I have to admit, we were really surprised," Mullins said. "The idea of going to the Supreme Court — it's not something a lot of people consider in their lives."
The men, both in their 30s, got engaged in 2011. They were cuddling on their couch, Mullins recalled, when they made the decision.
"He kind of looked at me and was like 'You know, I would totally marry you,'" Mullins said, "and I was like, 'I would totally marry you.'"
That's when Craig revealed a secret Mullins found endearingly sweet: He had been saving for an engagement ring.
"So, it was already in his mind," he said. "I got a really good ring out of that."
Since the men couldn't legally marry in Colorado at the time, they made plans to marry in Provincetown, Massachusetts. They would travel back home for the reception after saying their vows.
"We were really excited, and, like any couple getting married, we had a ton of details to finalize," Mullins said.
One of those details, the couple recalled, was a cake. Their reception planner recommended Masterpiece Cakeshop in Lakewood, Colorado. Craig's mother, Deb, who had traveled from Wyoming, accompanied them to the shop. The couple had a binder full of concepts they wanted to go over with the shop owner, Jack Phillips.
"We never even got a chance to open it," Mullins said.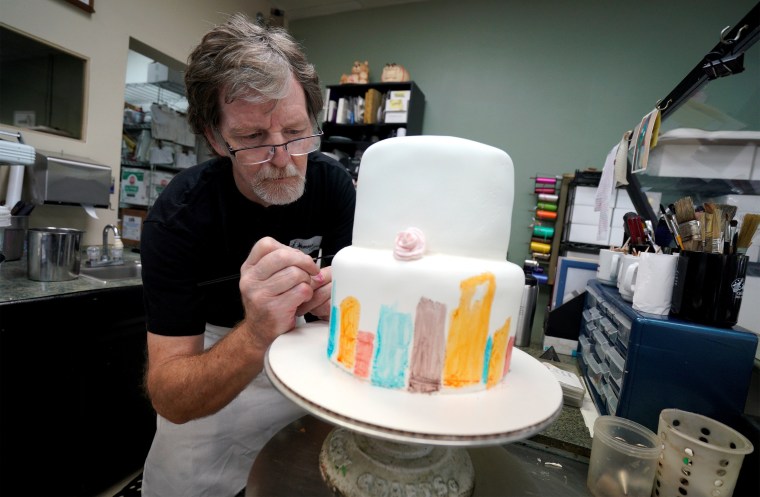 When the three sat down with Phillips, the baker immediately asked them who the cake was for, according to Mullins.
"We told him it was for us, and he immediately said he would not make a cake for a same-sex wedding," he said.
Mullins recalled a horrible silence.
"We were just mortified and embarrassed," he said.
The three quickly left.
For Craig, the interaction was devastating. He remembered how bullies had taunted him for being gay in the small Wyoming town where he grew up. He later attended the University of Wyoming, around the same time gay student Matthew Shepard was murdered. He moved to Denver after he graduated, hoping to find sanctuary in the liberal city encircled by mountains and high plains.
"I really thought that would be a place where I could be myself and express myself," he said. But the past followed him.
"I felt like the residuals of the bullying basically kind of made me have my guard up for the most part," he said. "But on that particular day, it was a really special day. I had my support system with me. I had my mom, my fiancé, and so I let my guard down. I was going into a bakery, and I was like 'What's the worse thing that could happen?'"
"Yeah," he added, "and then we got discriminated against."
The couple filed a complaint against Phillips with the Colorado Civil Rights Commission, which agreed the baker violated state law. Colorado state courts also ruled in the couple's favor.
Phillips then appealed to the Supreme Court. He argues the state law violated his First Amendment rights by forcing him to express a view counter to his religious beliefs.
Mullins and Craig married in 2012. They said the five-and-half-year legal battle has, in a way, defined their marriage.
"To this day, Dave and I still, when we go into a business, really have to think, 'Can we show affection? Can we talk about our relationship?'" Craig said.
"It's the fear of getting lesser service or denied service," he added.
The Supreme Court will make a decision by late June. Mullins said its ruling will affect more than cake and nuptials.
"It's about the right of people to receive equal service in places of public business," he said. "It's about having equal access to public life."
The couple have heard countless stories of other same-sex couples being denied service. For Craig, those stories "hit the heart strings."
"Initially, we really wanted to stand up for ourselves," he said, "but throughout this journey, I feel like we really want to recognize these other people who have been discriminated against."
It's the reason, he said, they were in the courtroom on Tuesday.
"We want to ensure that people don't have to go through the same humiliation and helplessness that we had to go through," Craig explained. "That's why we're here."