Stephen Snyder-Hill had worked hard to forget the name of the Ohio State University sports doctor who he says sexually assaulted him in 1995. But last year, while watching the news in his home in Columbus, Ohio, he saw a picture of Dr. Richard Strauss, who is accused of assaulting hundreds of former OSU students, and immediately recognized him.
"It is like a sledgehammer that hits you right in the face into a reality that you never knew existed," Snyder-Hill told NBC News. "And that's when you start — that's when you just can't stop."
Now, Snyder-Hill, 49, a prominent LGBTQ activist and a military veteran, is involved in one of more than a dozen lawsuits filed against the university — all of which are in mediation, according to OSU spokesman Benjamin Johnson.
For the past year, Snyder-Hill has been piecing back together memories from his college years. He filed a public information request to get documents from the university related to his case, reconnected with old college friends and built a timeline of events from when he was assaulted.
Snyder-Hill, who works at Columbus Public Health, where he helps people struggling with drug and alcohol addiction, said he now spends all his free time fighting on behalf of his fellow survivors.
"I just want the truth, I want resolution," he said. "I'm not going to stop until I get it."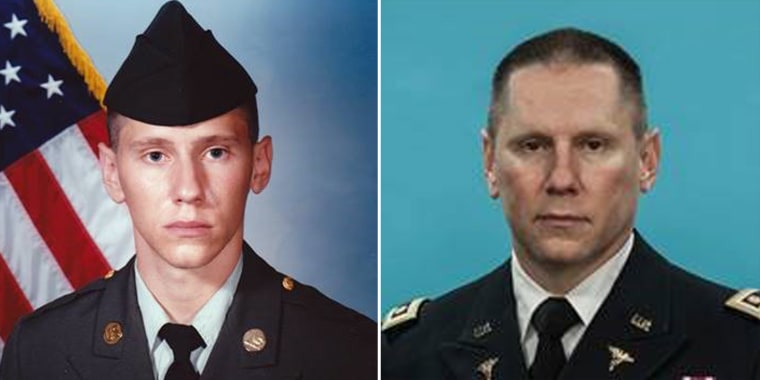 Snyder-Hill was a 25-year-old veteran of Operation Desert Storm and a student studying dietetics at OSU when he first encountered Strauss, who died in 2005. Afraid that a small lump on his chest might be cancerous, Snyder-Hill went to see Strauss for an examination in January 1995.
Snyder-Hill said Strauss asked him a series of sexual questions that got "weirder and weirder." At one point, Snyder-Hill said he mentioned that he volunteered at an HIV clinic, and Strauss then asked the student if he was gay. Snyder-Hill said he struggled to answer the question. He had only recently come out on campus, had just entered into a relationship with his first boyfriend and hadn't yet told his parents about his sexuality.
Strauss started to massage Snyder-Hill's chest, then pushed his erect penis into his side, Snyder-Hill said.
"I froze," he said. "I was sitting there and I couldn't do anything, and he just kept it pressed against me the entire time he was massaging my chest, and it's like you're just helpless. You don't know how to react with something like that."
Snyder-Hill said he went home after the appointment feeling awful, but was conflicted about filing a complaint.
"When Strauss happened, it was a really sensitive time in my coming-out period, because I wasn't out to my parents, so it was a really, really hard time for me, just basically accepting myself and trying to find a partner, and doing all this stuff that people do when they come out," he said. "Then Strauss happened, and that was really difficult, because I never told my parents about it, because I was so embarrassed by what that guy did, and I didn't want them to think gay people acted like that."
Despite his fear, Snyder-Hill filed a complaint with OSU's Student Health Services Department. According to both Snyder-Hill and a report released in May by the independent law firm Perkins Coie, a meeting was then arranged with Snyder-Hill; his then-boyfriend, whom he brought as a witness; Strauss; Dr. Ted Grace, then director of the university's student health services; and Louise Douce, the university's then director of counseling and consulting services.
Snyder-Hill alleged that during this meeting, Strauss slammed the table and screamed that Snyder-Hill was ruining his reputation. Grace, according to the report, said during this meeting Strauss "became upset and shouted" at Snyder-Hill. Grace also told investigators that Douce told him afterwards that she was "90[%] confident that Dr. Strauss was not guilty of any wrongdoing except being a terrible insensitive provider who asked inappropriate questions," according to the report, which was commissioned by a special counsel to OSU's Office of Legal Affairs.
"Basically, the bottom line is after the meeting they didn't believe me, they told me that I was confused and that I was mistaken," Snyder-Hill said.
Douce, who also spoke to investigators for the report, indicated she could not recall any details regarding her participation in Snyder-Hill's mediation, but she said she was "disturbed to hear the details" of his complaint "as summarized to her by the Investigative Team." Douce also "regretted her statement of 90[%]" after another student complained about Strauss, and had recommended Strauss undergo counseling, according to Grace's interview for the Perkins Coie report.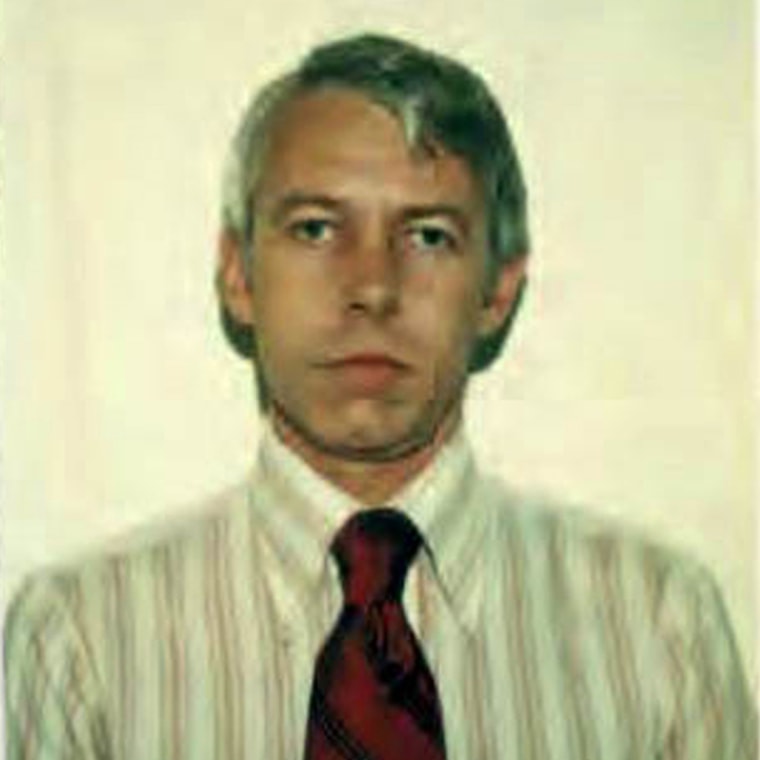 During a follow-up phone call with Grace, which is referred to in the Perkins Coie report, Snyder-Hill said he would only drop his complaint if Grace promised three things: that his was the only complaint filed against Strauss, that his complaint be kept on file and that he would be notified about any future complaints against the doctor. He also insisted Grace document his demands to him in a letter.
Two days later, Snyder-Hill received a letter from Grace. Grace's letter, which Snyder-Hill shared with NBC News, assured Snyder-Hill that there were no prior complaints against Strauss, but he made no promises to notify him about future complaints.
What Snyder-Hill didn't know at the time was that a student had complained about Strauss the same month he had, and that students had been complaining about Strauss since 1979, a year after he was hired, according to the Perkins Coie report. Their investigation found that "Strauss sexually abused at least 177 male student-patients" over the course of his employment until he retired in 1998. The actual number of victims, however, could be much higher: Around 350 men are involved in lawsuits filed against the university to date.
Grace, after receiving a third complaint about Strauss, wrote in his 1996 memorandum that Snyder-Hill had provided a "very believable report" that Strauss had "come on to him," according to the Perkins Coie report. Grace suspended Strauss that year.
Grace, now the director of the Student Health Center at Southern Illinois University Carbondale, has maintained that he "did the best I could" at the time, and he claims the Perkins Coie report misrepresented some of his actions, according to The Southern Illinoisan.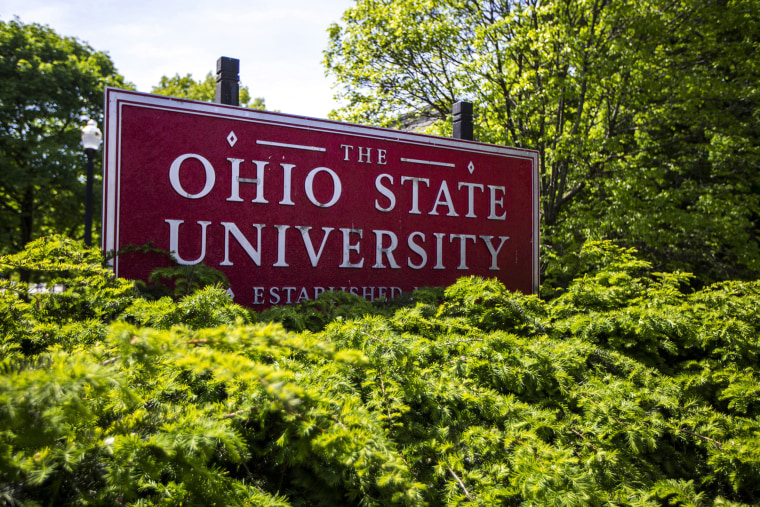 In a lengthy statement shared with NBC News, an OSU spokesperson said the university is a "fundamentally different" place than it was over two decades ago when Strauss left the school.
"For more than a year, Ohio State has led the effort to investigate and expose Richard Strauss' abuse and the university's failure at the time to adequately respond to or prevent it," Chris Davey, the university's interim vice president, wrote in an email. "We express our deep regret and apologies to all who experienced Strauss' abuse and remain actively committed to a fair resolution, including a monetary resolution."
Upon learning of allegations from decades ago in spring 2018, OSU immediately announced an independent investigation," Davey added. "The university reached out broadly to 115,000 alumni and former student athletes who attended Ohio State during Strauss' employment at the university and to 147,000 current students, faculty and staff to inform them of the investigation and encourage them to share any information they had with the independent investigators."
Davey also noted the university has "committed substantial resources to prevent and address sexual misconduct," including "new policies, programs, staffing and tools throughout the university, including athletics and the medical center."
In the years following the alleged assault, Snyder-Hill would go on to serve in the Iraq War, publicly fight against the military's "don't ask, don't tell" policy and become an outspoken advocate for same-sex marriage. He and his husband, Josh, married in 2011 in Washington, D.C., in front of the tombstone of Leonard Matlovich, a Vietnam War veteran who had been discharged by the Air Force for being gay. The couple were involved in a lawsuit filed by Service Members Legal Defense Network that challenged the federal Defense of Marriage Act (DOMA), which prevented the military from giving benefits to legally married same-sex couples, and successfully fought in court to have their surnames combined in Ohio.
Snyder-Hill was unexpectedly thrust into the media spotlight in 2011 after submitting a question during the Republican presidential debate about whether the candidates would reverse the 2011 repeal of "don't ask, don't tell." Some members of the audience booed Snyder-Hill, who submitted his question by video from his military base in Iraq. That an active-duty soldier in uniform would be booed during a presidential debate shocked and angered many Americans during a time when acceptance for same-sex marriage was mounting.
Snyder-Hill later wrote about his activism in the memoir "Soldier of Change: From the Closet to the Forefront of the Gay Rights Movement." In 2015, Ohio State University invited him to give a TEDx Talk about his achievements titled "The Power of Your Voice." The gay soldier who was once booed received a standing ovation after his talk.
Snyder-Hill retired from the military last year. Now, inspired by the #MeToo movement, he is using his voice to speak on behalf of sexual assault survivors. He is writing a second book, tentatively titled "How OSU Beat Michigan State," a reference to disgraced Michigan State University sports doctor Larry Nassar, who was sentenced to up to 175 years behind bars for sexually abusing hundreds of women and girls.
Snyder-Hill said his activism on behalf of sexual assault survivors is similar to the work he did on behalf of LGBTQ rights.
"Those stories are so powerful, and that's why you have to trust the power of your voice," he explained. "You have to tell the story, because when people live through your eyes and understand what you go through, it 100 percent changes their mind."
Snyder-Hill said his many months advocating on behalf of sexual assault survivors "isn't about me."
"It's about all the sexual assault survivors that are out there that might not have a voice," he said. "This is our fight, not just my fight."