"RuPaul's Drag Race" season 12 contestant Jan may be only 26 years old, but she's already a seasoned performer getting ready for her third appearance on national television. A veteran of NBC's "The Voice" and "America's Got Talent," Jan will be one of 13 queens vying for the crown on the upcoming season of the hit VH1 drag competition show.
We caught up with Jan — who goes by Charlie Mantione sans wig and makeup — in advance of the premiere on Feb. 28 to talk about her Kris Jenner impersonation, what she does while stopping traffic and more.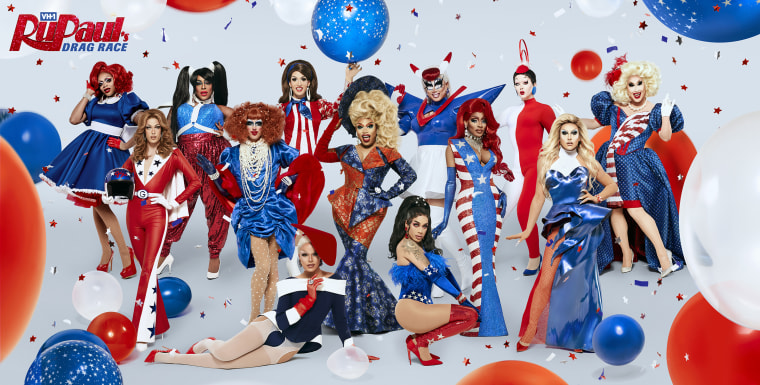 "RuPaul's Drag Race" will mark the third time you've been on national TV. When you're facing audiences this large, what are some things you do to prep or stay calm?
When I was on "The Voice" with Jessie J., there was a test rehearsal beforehand, and she was reading the body language of all of us. She said, "You're all doing great, but you seem a little nervous. My advice is to imagine that the audience is full of the people you look up to or want to impress, and they're watching you and cheering you on — and wanting you to succeed as much as you do." For some, that might actually seem like a lot of pressure, but ever since I was young, I've always wanted to sing and perform for millions of people. So anytime I get on stage, I remember that and embrace any fear I'm feeling, because, at the end of the day, this is what I wanted, and I'm grateful.
When you were a kid, what did you sing along to in the mirror with a hairbrush as a microphone?
This is a little obscure, but I used to sing along to the "American Idol: Showstoppers" CD. I think it was from Season 3, when Fantasia Barrino and Jennifer Hudson were on. I would put my ear up against the speaker of my CD player and just sing along with these tunes, because they brought me so much joy. That was also how my parents knew I wanted to sing. At the time, I was playing soccer, and that was my primary focus, but when they saw that I liked to sing, and that it brought something out in me, they suggested I try out for a musical. And I did, in fifth grade, and never looked back from there.
Was there something about listening to the "American Idol" songs that awakened something in you about wanting to be on a competition show?
I think so. I auditioned for "American Idol" in college, and I didn't get there, but I've always wanted to be on a platform like that and share my voice, because I think I do have a unique style and skill set with my performances and singing. So all of that has made me want to join a reality television competition, and now I've competed in two and appeared in three!
Before you started doing drag in New York, what was happening in your life?
I graduated college, got into a cruise ship contract, and then was living with my parents in New Jersey and commuting back and forth. I'd do my face, go into the city, perform in a drag show, ride back home at about 3 in the morning, and sleep in my car so I could open a fitness studio at 5 in the morning, and I'd do that about three or four times a week, and that proved to me that I really cared about drag. I wasn't getting any sleep, and I wasn't going to many auditions for musical theater — I was focusing on drag and trying to do everything right to make it work. I was actually up for the national tour of "Kinky Boots," and it was down to me and one other guy, and he got it, which I felt was a blessing in disguise, because I didn't want to do drag on this national tour; I wanted to do it on my own terms.
In 2016, you were doing impersonations of Kris Jenner and won New York's Lady Liberty drag competition. It's interesting that, as a singing drag queen, the main person you chose to impersonate is not a singer at all.
At the time, I didn't really know any drag outside of Kris Jenner, and I wasn't even going by Jan — I was going by "Charlie Mantione as Kris Jenner," and I didn't even know if I wanted to dive into this [larger] world of drag. And then I did Lady Liberty, and I did all Kris Jenner numbers, which carried me to the win. I think a lot of people thought it was funny, because I would do these monologues poking fun at the caricature of Kris, but then I'd come in with vocals, in a woman's key, and people didn't expect it to take that turn.
In 2018, you formed the popular drag trio Stephanie's child with fellow queens Rosé and Lagoona Bloo. What's it been like breaking out on your own again as Jan on "Drag Race?"
Well we've been on this journey together, and we've done so much, and when we get on a stage together, it's magic. But as an individual performer it was very important for me to create an individual persona, and an image for myself outside of the group, and it's been so great having them both be so supportive of me through this whole new journey. Because while I am the first of us to make it onto the platform of "Drag Race," I firmly believe that, with both of them, it's not a matter of if they're going get on the show; it's a matter of when. They're so talented and so good individually, and off stage, they're two of my best friends, and I want to continue growing with them. Stay tuned for more from us! We have some amazing things in the works as a group.
Since the "Drag Race" cast announcement, you've started posting "Jan's Jukebox" on your Instagram account, where you sing some of your favorite pop-diva tracks. Tell me about that.
As a singer, I want to lead with my best foot forward, and I thought about what I could do to appeal to audiences in a unique way I hadn't seen from previous "Drag Race" girls. I started watching the show around season 6, and I was always impressed with the girls who'd put out quality content, and I didn't want to hold back. Some people have asked why I'm putting out so much content before the show starts, but I've never wanted to rest on my laurels. If I have this platform, I'm going to use it to the best of my ability, and that involves singing. So I want to bring that to people and get them really excited about this season. And I've filmed a couple more of them, so there's more to come!
Your tagline for Jan is "The girl next door plus so much more." What can you tell us about that "so much more" part?
I think that from the outside, some people see me as a queen who just paints a pretty mug, wants to look as femme as possible, and that's all there is to it. But I like to say "so much more" because, on the inside, I'm crazy, and I'm not afraid to be that pretty girl who gets ugly, makes silly faces and gets irreverent. I'm also not afraid to do spookier things, and flip the script with alternative drag. I have another side of me that's yearning to get out. In the comedy mixes I do in New York, I roll around the ground, I run outside onto the street into incoming traffic, stop the taxis, do a cartwheel, and then run back into the venue. I love to do what's unexpected.
Are there any teasers you can give us about this season before the premiere?
What I will say is that, while I may be a little biased, because I know a lot of the girls personally, as a longtime fan of the show, I truly think that this season is going to be one that people remember — and one that makes them just say, "Wow." It's just a group of very talented individuals fighting for the crown, and I think a lot of people are gonna be pleasantly surprised by just how good everyone is. The talent is off the charts, and so are the personalities. We were all so committed to making this the best season we possibly could, and I think everyone's going to enjoy that.
Editor's note: This interview has been edited and condensed for clarity.