Exit polls show that lesbian, gay, bisexual and transgender voters overwhelming sided with Hillary Clinton on Nov. 8, with 78 percent of the community voting for the Democratic candidate. As the shock of Donald Trump's election victory sinks in, though, many may wonder—just who are the 14 percent of LGBTQ voters who support the Trump-Pence administration?
NBC OUT spoke with several gay and lesbian Trump supporters who, together, form a surprisingly diverse sampling of Republican voters. They are black, Latino and white. They range in age from just 19 to nearly 40. They live in Mississippi, Florida, California, New Jersey and the Midwest. They all have one thing in common: They believe that Donald Trump is the best choice for president of the United States.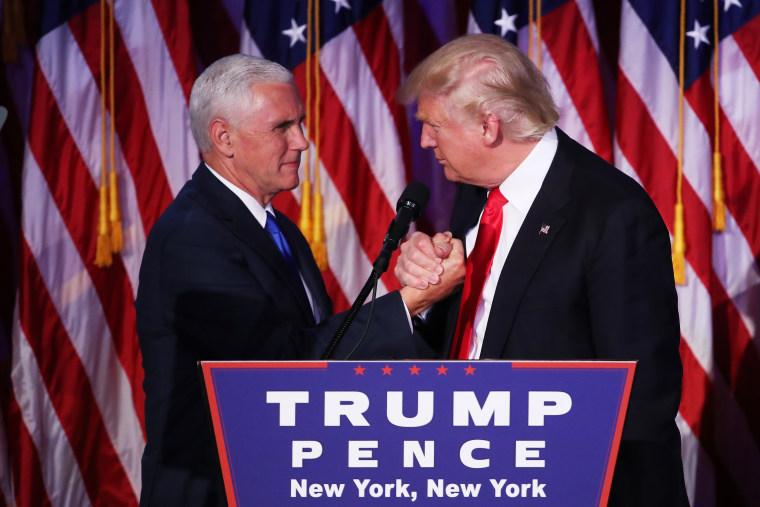 When asked why they voted for Trump and what they hoped his incoming administration would do to benefit the LGBTQ community, many of these voters echoed each other in their hopes for the future. Most also emphasized that they were less concerned with the LGBTQ-related aspects of the Trump platform than they were with general issues like national security, economy, and the right to bear arms.
RELATED: How Trump's 100-Day Plan Could Impact LGBTQ Rights
While it's clear that the majority of the LGBTQ community leans liberal—and remains fearful that the Trump-Pence administration will instigate increased discrimination and a step backward for equality—gay Trump voters don't appear to share the concerns of the larger community. In fact, they are thrilled to support a man who many Republicans say is the first truly LGBTQ-friendly GOP president.
'Gun Rights Are Gay Rights'
Anaise Hernandez is a 19-year-old college student in Florida who voted for the first time in the 2016 election. She told NBC OUT that she realized she was a Republican after a semester studying Democratic Socialism: "That changed my perspective on politics."
Plus, Hernandez added, "gun rights are gay rights."
"After the Pulse tragedy, it's important for the LGBT community to become informed about firearms," she said.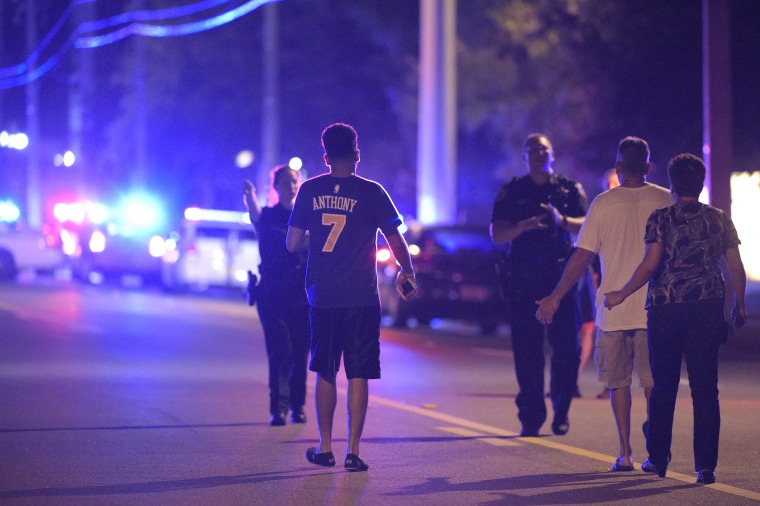 Vincent Foster, 27, is the president of the Miami chapter of gay conservative group Log Cabin Republicans, which made news this fall for endorsing Trump despite the national organization's decision not to. As a black gay man, he said, he's been called everything from an "Uncle Tom" to a "self-hating f-g" for his support of Trump.
Foster emphasized gun policy as a reason why he—and his chapter—decided that Trump was the best candidate for president.
"Gay men, lesbians and the trans community are being targeted every single day," Foster said. "Gun rights are gay rights. The best way to protect yourself is your Second Amendment right."
'Radical Islam'
Foster was also attracted to Trump's stated commitment to "Stopping radical Islamic terror by defeating ISIS and any other group that wants to bring harm to American citizens."
"When you have a group that thinks I deserve to be thrown off a building because I'm gay, I want them eliminated," Foster said.
'Keeping Jobs Here in America'
"With marriage equality settled, I want to see the Trump administration work to improve the lives of gay families," Joseph Murray told NBC OUT. "I want to see President Trump renegotiate our failed trade deals to create jobs for LGBT families."
Murray's LGBTrump Facebook page was one of the most visible pro-Trump LGBTQ groups during the campaign, with just under 6,000 followers. Murray, who resides in Mississippi, cited "sovereignty, trade, immigration and foreign policy" as his top platform concerns.
Juan Hernandez, a 38-year-old Log Cabin Republican in California, told NBC OUT that jobs were among the reasons he voted for Trump.
"I believe in keeping jobs here in America," Hernandez said. "[Trump] is an excellent businessman and know that he will make America great and strong again."
'Marriage Equality'
New Jersey resident Kathleen Griffin, 39, said her decision to vote Trump was based just as much on Clinton's background as it was on Trump's own statements.
"Bill Clinton signed the DOMA bill into to law in 1996," Griffin said. "Hillary's position on gay marriage has flipped flopped as it suited her political ambitions."
Griffin told NBC OUT she expects Trump to "leave the marriage equality act intact and continue to support all Americans without prejudice around sexual preference, race or religion."
RELATED: Trumps Says He's 'Fine' With Same-Sex Marriage
Joe Murray also cited Clinton's changing positions as a reason to have faith in the Trump administration.
"While Trump was admitting a gay couple to his club Mar-a-Lago, Hillary was declaring marriage was between one man and one woman," Murray said. "Hillary's support for marriage equality only came after the Supreme Court's decision was inevitable. It was a convenient conversion that carried little political risk."
'I Believe in the Wall'
"I believe in the wall," said Juan Hernandez of the California Log Cabin Republicans. "I believe in deporting undocumented immigrants—specifically the people in the criminal justice system, gang affiliates and drug dealers."
Hernandez also stated support for Trump's national security plan regarding Muslim immigrants: "I believe in his national security policy and having a vetting system, a strong system in place for bringing in the Muslim refugees and that we should suspend all refugee immigration until one is in place."
'Who's to Say [Pence] Won't Evolve ... ?'
While all of the LGBTQ Trump voters interviewed for this story expressed faith in Trump's interest in protecting the community, some cited insecurities around Vice President-elect Mike Pence, the Indiana governor whose reputation was largely built on anti-LGBTQ policies and the fight against marriage equality.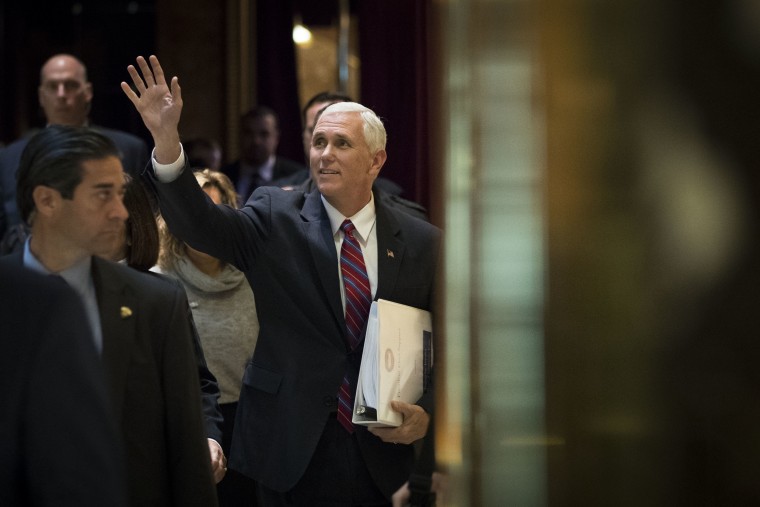 "I hope they won't treat us as outcasts and will support us as they do everyone else," 29-year-old lesbian Alyx Perna of Mississippi told NBC OUT . "I feel like we should be more concerned with Pence and his motives against the LGBT community. I believe Trump will continue to support us though."
Juan Hernandez suggested that Trump's more LGBTQ-friendly leanings could be a shield against Pence's apparent vitriol. He also expressed faith in Pence's ability to transform: "Who's to say he won't evolve just like the Democrats did?"
"If Pence begins to change discrimination laws protecting the LGBT community, I will be one of the people [in the] front row to come out and ensure the LGBT community is not harmed," Hernandez added. "Pence had already evolved as he amended his freedom of religion act in Indiana."
'Obama Abused His Executive Power'
Democratic LGBTQ voters have been blanketing social media—and the phone lines at national organizations like Human Rights Campaign—with fears about Trump's "100-day action plan." In the plan, also called the "Contract With the American Voter," Trump states his intention of overturning Obama's executive orders and memorandums. That could mean overturning some of the LGBTQ equality orders, such as protecting transgender people as an equal class under Department of Education (DOE) and Health and Human Services (HHS) policy.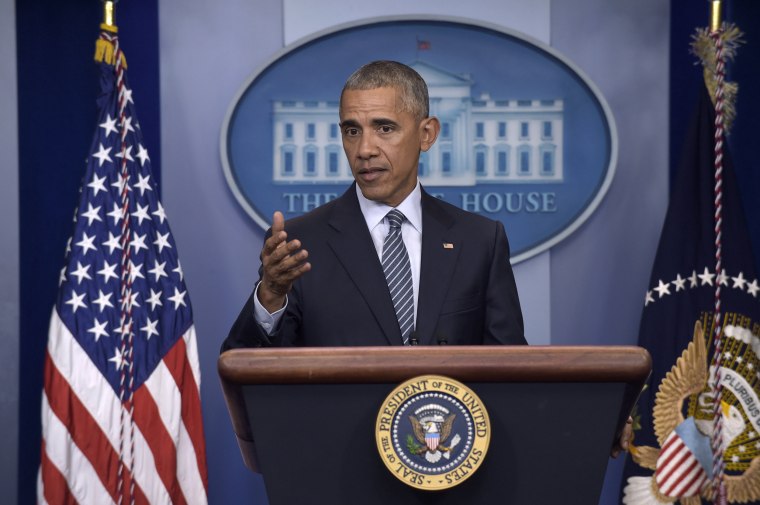 For Joseph Murray, the methodology of the Obama administration was a problem—and he's happy to see some of those orders overturned.
"President Obama abused his executive power, and while LGBT folks may have benefited from those orders, the end does not justify the means," Murray explained. "So long as LGBT folks are treated fairly, which they are, we do not need Obama's orders. Americans deserve equal treatment, not special treatment."
Juan Hernandez did not specify whether he thought Trump would overturn the DOE and HHS transgender policies, but he "truly hope[s] that Trump can support the trans community."
"Gays and trans [people] are so picked on, there needs to be protection for them with discrimination laws and safe spaces," Hernandez said. "I have faith that the Trump administration will extend their protection of the gay community to the trans [community] as well. It starts from the top."
"I'm not concerned with Trump releasing every single one of Obama's executive orders. I don't think that's going to happen," Vince Foster said, adding that he did not believe Obama's support for LGBTQ rights was sincere.
'Federally Protected' Status
While Trump's 100-day plan did not specifically refer to any LGBTQ-oriented policies, his gay and lesbian supporters expressed hopes that his administration would add sexual orientation and gender identity to the Civil Rights Act of 1964 in order to ensure LGBTQ Americans are protected from discrimination. Currently, there are no federal protections—leaving the community vulnerable to blatant discrimination in public accommodations across the nation.
"I would love for the LGBT community to be in the same federally protected statute as race, religion and nationality," Vincent Foster said. "That hasn't been a priority on the Republican side or on the Democrat side. I'm a states-rights person, but if all the other minorities are getting that protection, hell, I want them too."
Anaise Hernandez is also holding out hope for federal protections for the community under Trump, pointing to the president-elect's 2000 interview with The Advocate, where he said, "I like the idea of amending the Civil Rights Act of 1964 to include a ban on discrimination based on sexual orientation. It would be simple. It would be straightforward ... Amending the Civil Rights Act would grant the same protection to gay people that we give to other Americans—it's only fair."
'I Have Lost So Many Friends'
All of the vocal gay and lesbian Trump voters interviewed for this article said their support has come at a price.
Kathleen Griffin said that she's been threatened with violence and has had her sexual orientation questioned by other lesbians because she is a Republican.
"I came out at 19 years old in 1996 when it was not nearly as accepted," Griffin told NBC OUT. "I had my struggles with not being accepted by family and heterosexual friends. Being treated this way by members of the LGBT community makes me feel like an outcast."
Juan Hernandez said that he often hears "because I am gay and Latino that I should be a Democrat."
"They have personally attacked me verbally and on social media," Hernandez said of LGBTQ and Latino Democrats. "I have had plenty of death threats and name-calling that I should watch my back, that I am not even a citizen, that I am a sp-c and the Republican party will turn their back on me, that I will burn in hell, that I have a target on my back, that they are going to kill me ... I've had it all."
Joesph Murray's LGBTrump group is often contacted by reporters, but he said that some of the group's members "are fearful of retribution and would not do media." He said that "hateful" criticism often appears in the form of comments and posts on the group's Facebook page.
"I have lost so many 'friends' throughout this whole election process," Alyx Perna said. "I understand that most of the LGBT community feels threatened by the new President-elect and his VP, but right now all we can do is wait and see what fight we are in for, if anything at all."