"Nobody really knows out there who I am," Quince Mountain, the first openly transgender athlete to compete in the Iditarod, told NBC News just days before the "last great race" commenced. The famed annual dog sled event, which started in Anchorage over the weekend, will wind through 1,000 miles of Alaskan wilderness and end in the small village of Nome on the state's western coast.
To the villagers along the Iditarod's remote, often sunless trails, Mountain is just another musher on a sled helmed by 14 dogs. And the dogs? "The dogs don't care," he said of his trans identity. They just want to run — and they'll likely be doing so for nearly two weeks straight.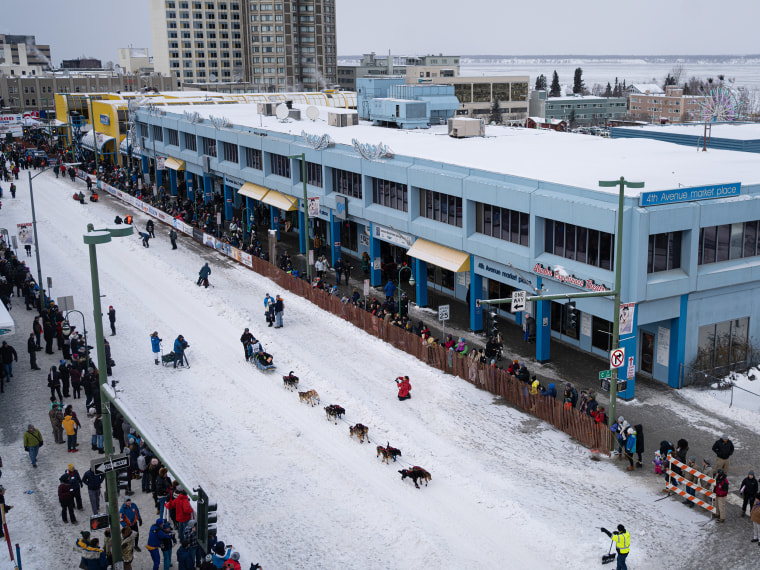 In dog mushing — a sport where both humans and dogs compete regardless of gender — Mountain, 40, has found a welcoming community. It's a privilege few trans athletes get to experience, he acknowledged, and one the musher has rarely encountered himself. Gender always posed problems for the athlete, who was assigned female at birth but described himself as a gender-nonconforming kid throughout his youth. He remembered trying out for the softball team at his Wisconsin high school. Despite being faster and more aggressive than many of the girls, he said he didn't make the cut.
"I don't know what it was, but I had a lot of trouble taking part in girls' sports," Mountain said. "I was often told that I was too aggressive, that I didn't fit in with the team, wasn't good for the cohesion of the team, that kind of thing."
As an adult, Mountain found support in the small community of dog mushing. His fans, the "Ugly Dogs," a group of mushing enthusiasts who follow him and his wife, fellow musher Blair Braverman, on social media, raised $57,000 for him to compete in the Iditarod and qualifying races. Whenever he's feeling down or discouraged, he said he can turn to the Ugly Dogs for support.
"I know that I can just log in and take solace in my online community — as long as it's somewhere with service," Mountain said.
Last year, Mountain came out as trans in the most public way imaginable — on the Discovery Channel's "Naked and Afraid" survival reality TV show where contestants compete in the nude.
"It felt like saying the unsayable," he said of coming out on national television.
"I'm in a sport where I'm wearing a big parka, you know, most people didn't even know I was trans," he said of his life before "Naked and Afraid."
Even now, however, he isn't sure how many people in the wider mushing community know about his gender identity. Overall, he thinks they would be supportive. But transphobia, like the Alaskan wilderness, can be unpredictable and unforgiving. It's another reason for the musher to stay tough and keep an open mind.
"I can understand transphobia, because it took me so long to accept myself," Mountain, who transitioned in his late 20s, said. "And I have every incentive to accept myself. When I just meet somebody and they find out I'm trans, they have very little incentive to accept me. I mean, maybe a little, but nothing in comparison to the incentive that I had to accept myself, and it still took a couple decades to figure out. So, I tend to give people the benefit of the doubt."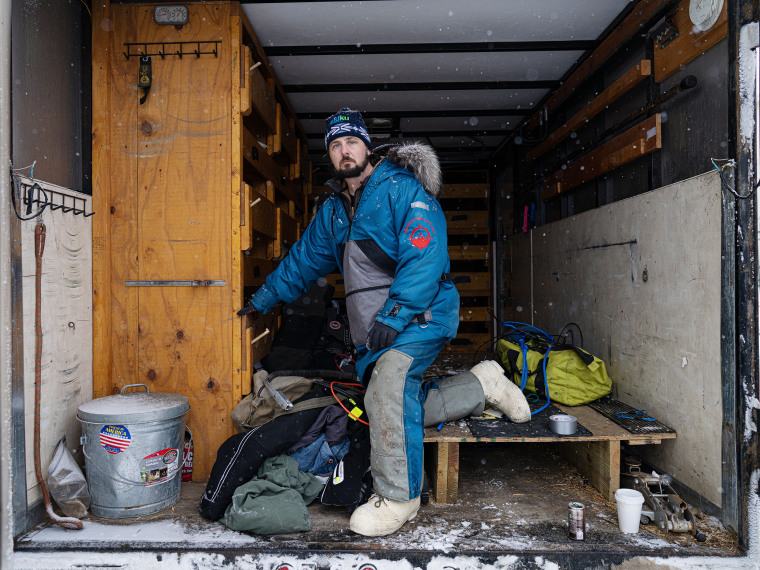 While Mountain appreciates his human companions, he said he was looking forward to being alone with his dogs in the wide expanses of Alaska.
"I'm on the trail with my dogs, and it's quiet, and when it happens, all the thoughts are gone, the doubts are gone," he said. "You're just out there."
Mountain estimated his journey will take at least 12 days. Leading his pack are two sled dogs he trusts most: Senior, a shy rule follower who does what he's told, and King, an outgoing leader with a tendency to follow his own instincts (and when he does, Mountain said, "he's usually right"). While Senior and King manage the front of the line, Mountain will keep an eye on the back, controlling the sled and the team's pace as they travel over fast-changing terrain and unpredictable weather.
"Whether it's on sea ice, where you can't see anything for miles and miles and miles and the wind is blowing, or where you can see a great expanse away for miles and ice — it looks like nothing," Mountain said. "The wind is blowing, or there's a fog, or there's so much snow you can't see two dogs in front of you. It's night, it's day time, you're going over mountains, you're going up a mountain, you're going down a mountain, you're going over open water because there was a stream that opened up and you have to jog through it, pulling the sled."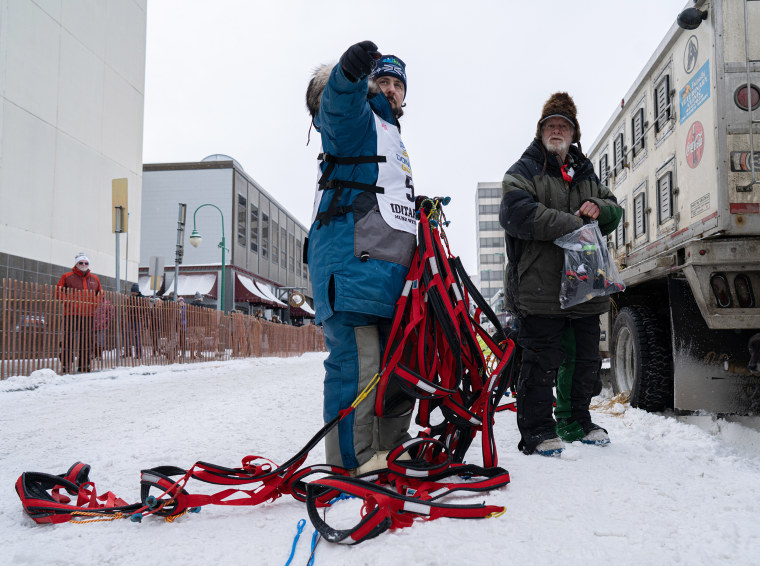 Mountain has faith in his dogs, many of which have been trained by his mentor and friend Raymie Redington, 75, the son of Joe Redington Sr., who is considered to be the founder of Iditarod.
"The dogs are good at trying to find safe ice to go on," he said, noting that the Iditarod trails are not always well-defined. "Anything can happen with the weather, and they're trying to find the best footing, so those lead dogs have a ton of jobs, and many jobs and they need to be able to perform them over varying conditions."
Growing up in Wisconsin, Mountain never anticipated competing in the Iditarod. Instead, he thought his future was in the military. After he graduated high school, he joined the Wisconsin National Guard, where he served as an Army medic for eight years. After a long struggle coming to terms with his gender identity, he received an honorable discharge, and began the process of transitioning in his late 20s. In June 2016, the military announced plans to lift its ban on transgender troops serving openly, and he briefly considered rejoining sometime after that, but the Trump administration rescinded the policy a year later.
"Service has always meant something to me," Mountain said. "I sort of toyed with that idea, but then no sooner than Trump was elected … that was rolled back, and I can't rejoin the military even if I wanted to."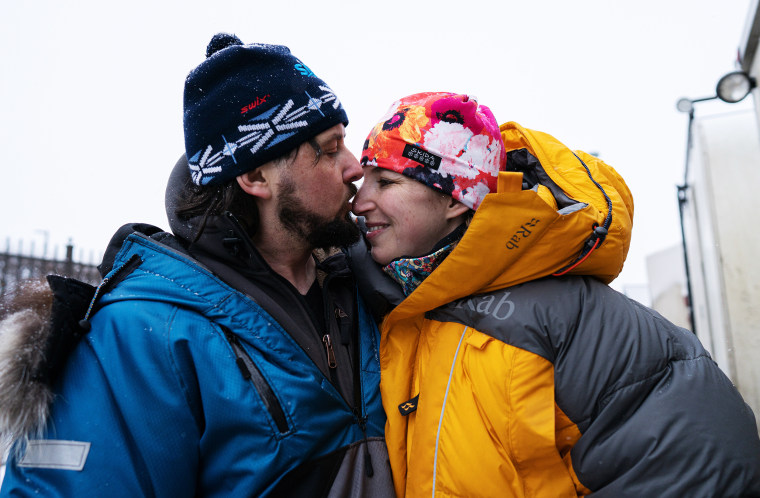 By then, Mountain had fallen in love with Braverman, a popular adventure writer and the author of "Welcome to the Goddamn Ice Cube: Chasing Fear and Finding Home in the Great White North," a memoir. The couple met while studying creative writing at the University of Iowa in 2011. Mountain, an avid horseback rider, and Braverman, a dog mushing enthusiast who competed in the Iditarod last year, bonded over their shared love of writing, animals and the great outdoors. Braverman, he said, introduced him to dog mushing and taught him everything she knew about the sport.
"She's the person I want to be stuck on a desert island with," he said of his now-wife. In 2016, fearing that same-sex marriage might be overturned in the wake of Trump's election, the couple traveled to Nevada and got married in a Las Vegas drive-thru. Now full-time writers and dog mushers, they split their time between the woods of northern Wisconsin and Alaska.
After helping Braverman train for the 2019 Iditarod, and completing in a number of qualifying races this year and last, Mountain qualified for the 2020 Iditarod. While he is in good physical and mental condition, Mountain insisted that the "real athletes are the dogs." His No. 1 job, he said, is to look after them.
"I'm also kind of an athletic trainer and a sports psychologist and a human resources director deciding who should work with who and where, and deciding who's partnered with who in what place in the line," he explained.
During the numerous rest stops on the way to Nome, Mountain will diligently look after his team — laying down straw for them to rest on, preparing their meals, massaging their muscles and putting fresh booties on approximately 56 paws each night. If he's lucky, he'll get to sleep for a few hours.
"I might take off my boots, and go in a big, oversize sleeping bag right out on the sled, or lie down right in the straw with the dogs," he said.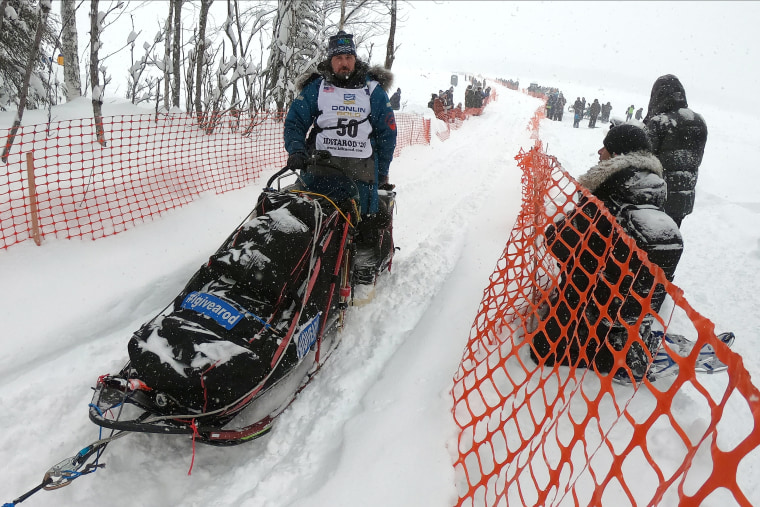 Back on the trails, the musher will need to calculate the team's rest-run cycles — the number of hours they need to run versus rest, and the pace they'll need to keep for a decent finish, which can be a challenge without enough sleep, he said.
"That's probably the biggest challenge — sleep deprivation and also doing math," he said. "You get back on the runners, and you're trying not to fall asleep, then figure out how far to the next checkpoint, how fast, how slow do we need to go, when should I stop and snack, how many miles have I gone."
Mountain has done all of this before on shorter races, but never for 1,000 miles (which is about the distance from Boston to Atlanta). The longest race he completed, the Kobuk 440, in April, stretched for more than 400 miles above the Arctic Circle. On the shorter Tustumena 200 last January, which traversed Alaska's Caribou Hills on the Kenai Peninsula, Mountain said he hallucinated due to lack of sleep. At one point, he thought he heard a musher shouting from behind that a sled dog had cut loose from its line and was sprinting up the trail. Mountain prepared to catch it, but realized there was no dog and the voice was in his head. He expects the 48th annual Iditarod, where he'll be one of 57 mushers, to test his endurance even further, and in ways he can't anticipate.
"I've never done it for 1,000 miles," Mountain said. "Iditarod will be my first trial of that."
Mountain is more worried about his dogs than himself. He recalled a scary incident during the Willow 300 in January, when late at night, his sled got snagged on the trail. When he yanked it loose, the dogs bolted.
"I thought the dogs were going to go straight the way they were lined out, and they turned left," he said, "and I just fell off." He jogged after them in the dark " terrified that the dogs would be tangled or hurt or something would be wrong." A fellow musher came up the trail and gave him a ride. They found the pack resting in the snow about 11 miles away. Another musher had seen the team running alone, caught the dogs and pinned them to the trail. Mountain was relieved, but losing his team left him shaken.
Mountain said his goal isn't to be the first rookie to cross the finish line this year or even the first — and only — transgender athlete to complete the Iditarod. Instead, he said it's all about his canine teammates: Will he be able to protect them along one of the most punishing terrains on earth, in wind speeds of 60 to 100 miles in hour, and still make it to Nome?
"That's the question," he said. "My goal is really to just do as well as I can with my dogs."