Every time Vinodh Philip tried telling his mother why he didn't want to marry a girl, he said she would innocuously ask, "Have you joined a choir in Mumbai?"
"This was her way of averting an uncomfortable discussion, and she tried this trick at least a dozen times!" Philip laughed as he recalled the conversation.
Now 42, Philip said he had been part of a church choir since the age of four. But after moving in 2012 from his hometown of Chennai to work in Mumbai, he left his choir life behind.
To please his mom, he decided to revisit his singing talent in 2014. But when he asked his friend Sibi Mathen, a gay-rights advocate, for an LGBTQ-friendly church choir in the city, Mathen was so astonished that he turned around and said, "Are you joking?"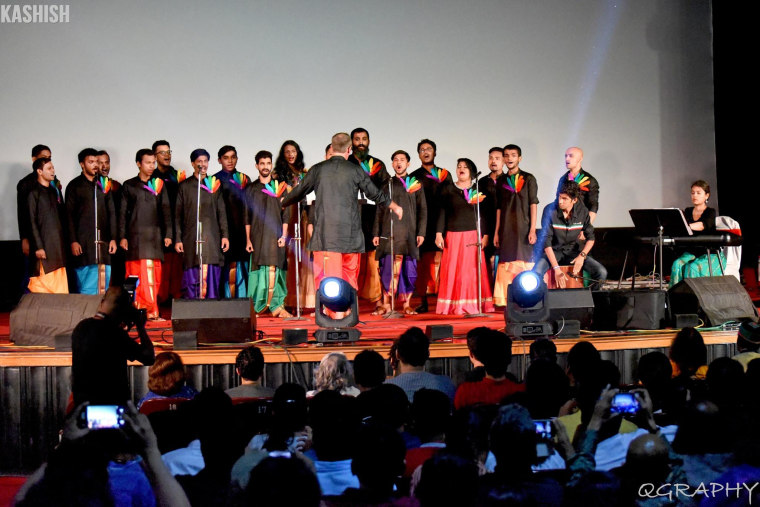 That's when the idea of Rainbow Voices Mumbai (RVM), India's first LGBTQ choir, was born. The duo launched the ensemble with a performance by 22 singers in the summer of 2014. Today, they are a team of 40, and they have been practicing assiduously for one of their most ambitious concerts.
On January 27, as part of Mumbai Pride Month, RVM will team up with singers from LGBTQ choirs around the world — including those from the U.S., the Netherlands, England, Australia and France. The theme for the concert, "Mile Sur Mera Tumhara," which is Hindi for "Let Our Voices Unite," is a reflection of their deeper vision for the community.
"India believes in unity in diversity, and we want to extend that thought to sexuality as well," Philip said. Each song in their choral repertoire is inspired by the belief that music has the transformative power to construct a future devoid of oppression and discrimination.
India has still not warmed up to the idea of homosexuality and considers it a Western import. However, earlier this month India's Supreme Court agreed to review Section 377 of the country's penal code, a Victorian-era law that penalizes "carnal intercourse against the order of nature" with a 10-year prison sentence.
"This brings a ray of hope to the LGBTQ community," said Ashish Pandya, one of the oldest choir members, who works for a branding agency.
Choir director David Williamson, an American citizen based in India, said he feels very fortunate to be part of India's fight for LGBTQ rights, especially through a creative medium like Rainbow Voices Mumbai.
"Here I get the real sense of what the struggle is," he said, adding that he finds the fight for LGBTQ equality to be more tangible in India than in the U.S. "To see that struggle and celebration through the eyes of the choir members is incredible," he added.
Manasi Manoj, 24, said she joined the choir to be a part of the cause. "We want to show that we're regular people and sing the same songs that touch everyone's heart."
Jnanasiddhy Bommisetty, a 30-year-old patent analyst who joined the choir more than two years, said, "If people can enjoy our music, why can't they treat us as equals? Why do they deny us our rights?"
The choir's membership is not limited by age or training. Members vary between 18 and 55 years old. Some are trained, while others are good singers who never went to music school. For every member, however, Sunday afternoon rehearsals appear to hold a special place.
"I love the ritual of meeting every Sunday," said Bommisetty, who initially joined Rainbow Voices Mumbai due to his love of singing but said he eventually found a family there. "It is the only place where I can drop all guard, talk, laugh and trade silly lines; it gives me a sense of a community."
Post-rehearsal discussions about relationships, coming out, acceptance and other topics that cannot be discussed openly outside the community (especially by those in the group who are closeted) are a significant part of the weekly gatherings.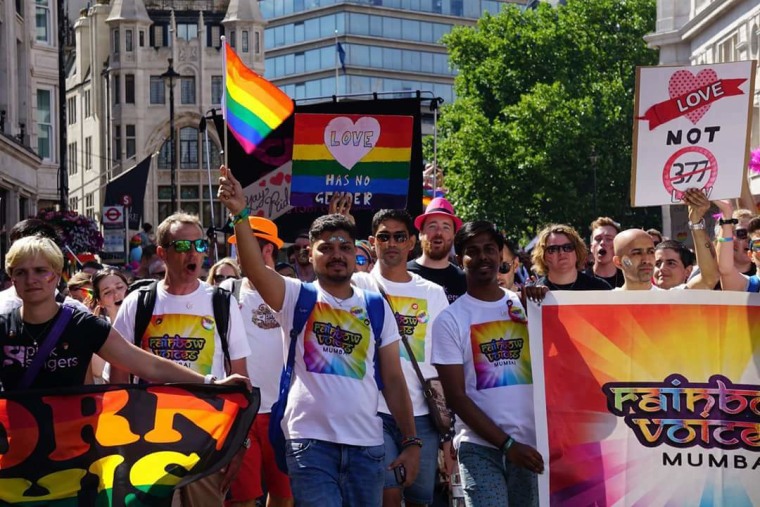 Rainbow Voices Mumbai's first acknowledgement from the international LGBTQ community came when the Pink Singers, Europe's longest-running LGBTQ choir, got in touch with them to perform in India last January and later invited them to sing during the London Pride celebrations in July.
In London, Bommisetty observed how easy it was for the Pink Singers to get on with their lives, because they didn't need to hide their sexuality. "It's such a relief when people don't have to .... reorganize their thoughts or body language before approaching a new person," he said.
Manoj said she was fascinated that the Pink Singers could openly celebrate their love. "I would love to see that happening in my country."
Following their Mumbai Pride collaboration, RVM already has another international collaboration lined up: an upcoming album with Petter Wallenberg, a Swedish singer, music producer and founder of Rainbow Riots, an organization advocating for LGBTQ rights.
"We are coming together as a force for change and breaking stereotypes about the gay community by demonstrating what we can achieve artistically as a group of LGBTQ singers," Williamson said of the collaboration.
Philip, who called the creation of Rainbow Voices Mumbai "my coming out story to my parents," said he hopes the group continues to change hearts and minds across India and the world. And one day, he added, maybe RVM can even perform in a church.