"When I first saw him at the airport, I was unable to control my emotions," recalled Amar, referring to the moment he met his now-husband, Tanmay, in Mumbai. "I turned and started walking back, but he ran behind and hugged me."
"Will you be mine?" Tanmay asked Amar during that first in-person encounter. "I already am," Amar replied to the man he had been dating long-distance for five months.
Now, more than a year after they first connected online, the two men are married. However, Mumbai-based Amar, 29, and Vancouver-based Tanmay, 26, are still living part, even though they've been married since October. Amar said he plans to move to Vancouver next year.
Amar, who declined to share his last name to protect his privacy, said if it were not for the Arranged Gay Marriage Bureau (AGMB), an India-based agency that connects LGBTQ people for marriage and long-term monogamous relationships, he would not be a married man today.
"I'm so introverted that had I met Tanmay separately, there was no chance I would have even spoken to him," Amar told NBC News.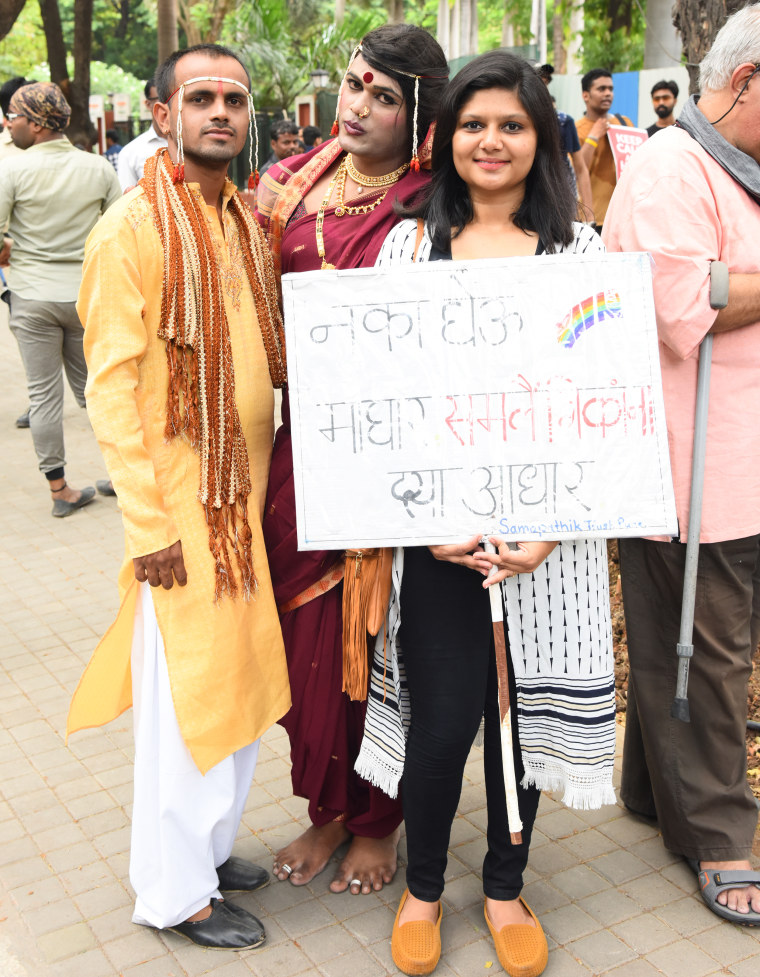 More than 80 percent of marriages in India are arranged — even among millennials — but same-sex marriages have no legal status in the country. In fact, gay sex is still illegal in India under the colonial-era Section 377 of the country's penal code. But despite the long list of challenges — from legal to social — Urvi Shah is helping LGBTQ people in India and beyond meet their match.
Shah, who identifies as straight, first launched AGMB in December 2015 when she was a student in India. She said she got the idea to start a marriage agency for LGBTQ while she was working on a transgender employment project in graduate school.
"I met a group of homosexuals over 30 years of age who wanted to settle down but were unable to find like-minded partners," she recalled. "Dating sites, they said, were only good for hookups."
After initially registering her business in Chicago, Shah consulted legal advisers who assured her it would not be illegal to register and run her organization in India. She then moved AGMB to her home country.
AGMB now has more than two dozen employees and approximately 2,400 subscribers, according to Shah. She said most, but not all, of her subscribers are based in India, and the majority of them are gay men, though a sizable amount of subscribers are lesbians and transgender. Each applicant is screened by Shah and her team, and in order to be approved and granted access to the site, applicants must be looking for marriage or a long-term monogamous relationship, financially independent and at least 24 years old.
"Younger than that, people are rarely interested in settling down with one partner," Shah, 24, explained.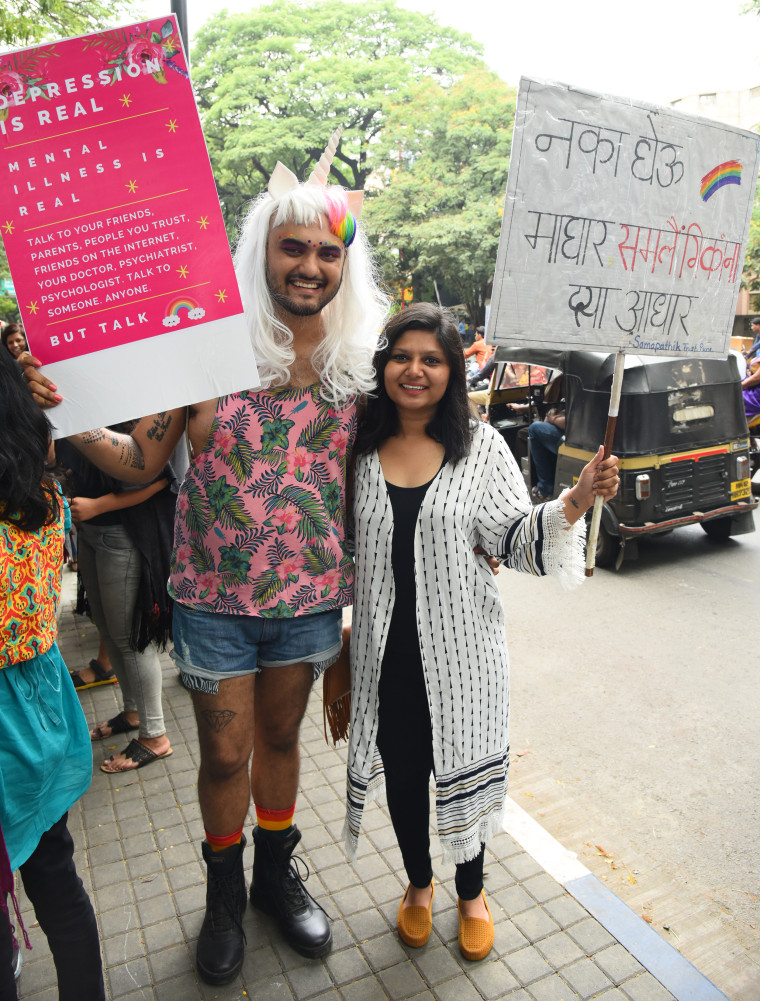 While Shah finds her work fulfilling, she said it is not without risks. She said she has received death and acid-attack threats from families of AGMB subscribers. "They think I am spoiling their kid," she said.
Shah also noted that her own family and some of her friends have not been supportive, and she said she has lost some friends due to her work. But despite the challenges, she soldiers on. Shah said her agency has matched 119 couples so far — 42 of them, including Amar and Tanmay, have tied the knot — either legally or symbolically.
Amar said after he registered for Shah's paid service last year, he received one profile every week from the AGMB team before approving the 30th one — Tanmay's.
"I had a long list of requirements, so it was a bit hard for them," he laughed. Once he approved Tanmay's profile, AGMB connected the two men virtually, and they dated online for several months before meeting in person.
Prior to signing up for AGMB, Amar said he had been using dating sites like Tinder and Grindr, but he said most of the guys he met weren't looking for a serious relationship. After being single for five years, Amar said he was ready to settle down.
"One day, I woke up and said, 'I'm done fooling around,'" he recalled.
Amar first came across AGMB on Facebook, but said he was initially unsure of its authenticity. "I wasn't ready to believe such a service existed, because, come on, this is India!" he said.
Shah said her mission is to find her clients "a compatible partner, husband, wife or best friend forever."
"My agency helps them in every way possible," she added, noting her agency even helps find counseling for some clients and their families or a priest who is willing to wed a same-sex couple. When clients are nervous or shy, Shah said she helps set up their first meetings, as she did with Amar and Tanmay.
Last September, when Tanmay, a marketing manager, flew down to India to meet Amar, a software engineer, everything was planned meticulously. "Urvi even selected my outfit for the meeting," Amar said.
Tanmay's two-week vacation turned into a month. When it was time to leave, Tanmay said, "Let's give our relationship a name," Amar recalled. The two tied the knot in Amar's Mumbai apartment in a traditional ceremony conducted by a priest. Amar's parents, however, did not attend.
"Urvi tried counseling my parents, explaining to them the concept of homosexuality, but it was difficult; they are old and God-fearing," Amar explained.
Shah said many parents, like those of Amar, "are worried that their kids will get into trouble by breaking the law, so we need to explain that's not true."
Harish Iyer, a well-known LGBTQ activist in India, explained that while same-sex marriage has no legal sanction in the country, "no one can get punished for it." However, same-sex sexual activity is still illegal under Section 377 of the country's penal code and is punishable by up to 10 years in jail.
But while Amar said he once feared the law and the hostility of others, "It was love that conquered all."
"I'm not afraid of anyone anymore," Amar said.
Iyer applauded the courage of Amar, Tanmay and others in India who follow their hearts despite the risks. "When the environment is hostile, extraordinary courage emerges, and with any kind of limitation, resilience takes birth," he said.
Married life, however, is not without its difficulties, Amar warned. "Two men means double ego. We fight without reason," Amar laughed. "But in the end, all is OK, and that's what I care about right now."