Four years after a rocky coming-out process, transgender teen Syd Sanders is now Harvard-bound and graduating at the top of his class at Belfast Area High School in Maine, making him the state's first known out trans valedictorian.
"I try my hardest and go hard at everything," Sanders told NBC News. "I'm just that sort of person."
When Sanders transferred to the midcoast Maine school in 2016 for his freshman year, he hoped to start over "as a boy" after struggling to come out as transgender the year prior.
Sanders said when he was 13, in eighth grade, something just clicked. "It was like, 'Oh, that's why I always felt so empty and weird inside,'" he said of realizing he's trans. He dreamed up a coming-out process that he thought would be difficult, but doable. Then nothing went according to plan. He described his coming out experience as "horrible" and said he ended up alone and isolated.
When he transferred to Belfast Area High School, Sanders hoped he could leave his "horrible" coming out behind and enter his new school as confidently male as he knew himself to be. Or so he thought.
"I still felt like I had to be someone else," Sanders said. At first, he said, he tried to pass as a cisgender (nontransgender) male and found himself "conforming to all of the toxic masculinity standards" — behaviors he thought would allow him to blend in.
"I was trying to do it stealthily," he said. "It worked for a while."
But eventually, in part because of Sanders' outgoing presence in a slew of extracurricular activities such as the Gay Straight Trans Alliance, the civil rights team, the debate team and the Climate Crisis Club, he said his classmates figured it out.
"I'm just comfortable enough that it didn't bother me," he said. "I wasn't bullied or anything, and I was still at that point not super well known."
After 10th grade, when his close friend Laila Al-Matruk died in a bicycling accident, he said he had a moment of realization that helped him to emerge from a depression. He vowed to be more like her, someone who he said was always trying to make the world better. He said this helped him get in touch with his feminine side and discard the idea that he needed to behave like anyone other than himself.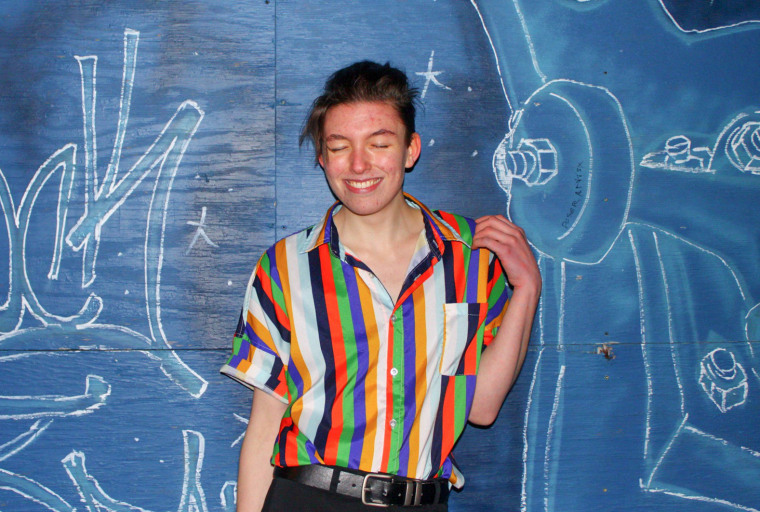 Now a graduating senior, Sanders is more comfortable in his own skin than ever, with his teachers describing him as "extraordinary," "undaunted" and "fearless," according to a profile in the Bangor Daily News. Needless to say, he has had an unconventional senior year, thanks to the coronavirus pandemic. He said his school has been closed since mid-March, and the remainder of the school year will be virtual. Because his rural school is so "physical" — binders and books and physical classrooms — Sanders said it was a "rough" transition to online schooling, but he said "everyone's getting it together now."
Sanders said he's looking forward to his graduation ceremony next month, even though it won't be in person and will lack "all the pomp and circumstance." As the valedictorian, he'll have the opportunity to deliver a virtual speech to his classmates.
"Before you ask, I haven't written it yet," he said.
After he's an official high school graduate, he'll begin counting down the days until he can start at Harvard, though he's worried the start of his college life will begin online — and in his parents' garage, where he now lives — due to the pandemic.
"Obviously, the health of the nation comes before mine, and we should be doing whatever we can, but it would be personally devastating to have to keep living in a garage," he said.
He's planning for an "optimistic" valedictorian speech "to frame our quarantine graduation positively by talking about how it will be a common experience we can use to find the solidarity to solve the problems we have to fix as a generation."
And does he know what he wants to do after Harvard? Sanders said he is considering a career in politics and said his ultimate goal is to be the United States ambassador to the United Nations.
When asked for his advice for other trans students, Sanders said, "Even if you don't see the light and you're not sure why you're working hard or why you're doing things … just keep going."