The only noticeable difference between Ethan and Aiden Dvash-Banks, 2-year-old fraternal twins from Los Angeles, is their hair: Ethan's is black, Aiden's sandy blond.
But from the perspective of the U.S. government, the boys, who were born in Canada, are irrevocably different: Aiden is American, and Ethan is not.
Until last month, their parents, Andrew and Elad Dvash-Banks, a same-sex married couple, thought their long legal battle over Ethan's U.S. citizenship status was over.
They had gone to court to challenge a State Department decision to award U.S. citizenship to only Aiden, because he, unlike Ethan, is the biological child of Andrew Dvash-Banks, and Andrew is an American citizen. Ethan is the biological son of Elad Dvash-Banks, who is a citizen of Israel. Both boys were born via surrogacy in Canada in 2016.
In February, a California judge sided with the Dvash-Banks family and ordered the government to produce a passport for Ethan, and the government complied.
"We were so thrilled and so excited," Andrew Dvash-Banks told NBC News, "and just relieved that this two-year nightmare that we had been living was over."
"Let's move on with our lives," Andrew recalled thinking. "Let's now focus on the temper tantrums and all the other fun stuff that you get to do as a parent."
Their relief, however, was short lived. Just as the deadline was about to close, the Justice Department filed yet another appeal of the judge's passport decision in early May with the 9th Circuit Court of Appeals in San Francisco.
Only the court knows when a decision on the government's appeal will be made, but on Thursday, more than a dozen Democratic senators sent a letter to Secretary of State Mike Pompeo decryinga policy that would result in such a situation.
"In the case of Andrew and Elad Dvash-Banks, your policy has threatened to separate two twin brothers born just four minutes apart," the senators wrote, urging the State Department to revise its policy because the Dvash-Banks family's case is "not an isolated case."
"Stories after stories have recently been chronicled of same-sex couples being told by your department that their marriages are, by definition, invalid, and that any children they may have abroad risk becoming stateless," the lawmakers continued.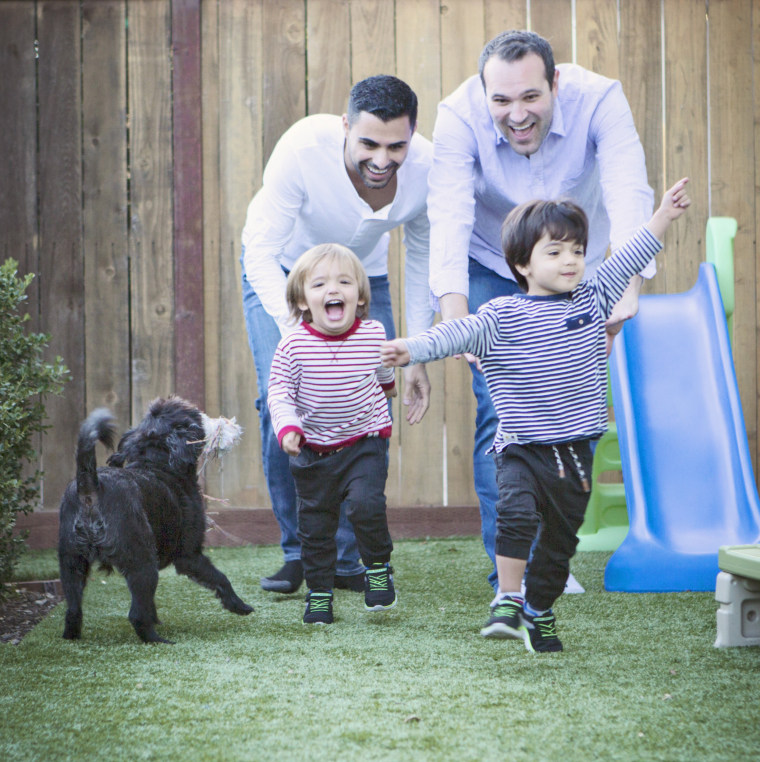 In an interview, the Dvash-Banks family recounted their quest to ensure that they are the last same-sex family to face legal trouble in seeking something that heterosexual, binational couples do not need to prove in order to acquire automatic citizenship for their children: genetic relation.
"We don't want other couples to have to go through that in the future," Elad Dvash-Banks said. "It's something that's really important for us that our family will be treated equally, and all other families will be treated equally."
They're embarking on this unknown legal journey with the assistance of Immigration Equality, a group that advocates for LGBTQ immigrants.
"What is very clear is that the law, the Immigration and Nationality Act, makes the distinction between unmarried couples and married couples," Elad Dvash-Banks said. "They didn't tell us they didn't recognize our marriage. They didn't say, 'Oh, this is invalid.'"
"But the law itself," he continued, "seems like they classify us as a nonmarried couple, because their only way of justifying their decision of not granting Ethan U.S. citizenship is by saying he was born out of wedlock."
That's because the text of the Immigration and Nationality Act, which was written in 1952, did not foresee the future we now live in — one in which fertility treatments, surrogacy, sperm donors and same-sex parents complicate the question of who gets birthright citizenship.
"We're not a heterosexual couple, and so they didn't give us that same presumption of parentage," Andrew Dvash-Banks explained. "We feel we are being treated differently because we are a gay couple."
A heterosexual married couple with children are typically assumed to be the biological parents and not asked to prove a genetic relationship. That assumption is obviously not made with a same-sex married couple, hence the request to prove a biological relationship.
Elad Dvash-Banks said it should not matter "how we created our family."
"It's a family that was created after the couple was married — within wedlock," he said. "The boys are twins. They were born four minutes apart. We were in the delivery room. That's it. That's where it needs to end."
The Dvash-Banks are optimistic about how their case will play out, but Andrew Dvash-Banks said they are also "very scared because the other side isn't stopping."
"We know what's right," he said. "We know that we've been wronged."
When asked for comment on the Dvash-Banks case, a State Department spokesperson said the department does not comment on pending litigation.
Guidance on the department's website, however, says "a child born abroad must be biologically related to a U.S. citizen parent" in order to acquire U.S. citizenship at birth.