When Minnesota-born twins Corianna and Brianna Dotson officially launched Coco and Breezy in 2009, their goal was to turn their passion for eyewear into a viable business and help consumers find their individual style. They had no idea, however, music legend Prince would part of their company's history.
Corianna, known as Coco, and Brianna, known as Breezy, started designing eyewear as protective shields to avoid eye contact with their self described "haters" in high school.
At just 19 years old, after enduring years of bullying from their peers in suburban Apple Valley, Minnesota, the twins packed their bags for New York. They had just finished high school, had no job and hardly any money in their pockets, but what they did have was an unstoppable work ethic that catapulted them onto the downtown fashion scene.
Breezy looks just like her identical sister Coco - down to the tattoos, septum piercing, and voluminous hair. But for the first time, Breezy is proud to share one big difference that she has kept close to her heart. "I've started dating women," she shared with NBC OUT. "For me, sexuality is about being fluid and doing what you want to do. I came to the conclusion that you have to be happy."
Breezy describes her personal style as "androgynous but in touch with [her] feminine side," and she's not afraid of a good red lipstick.
Coco is straight but says she supports her twin sister and best friend unconditionally.
When it comes to their burgeoning brand, which now also includes apparel and accessories, Coco leads on business matters while Breezy proudly manages all things creative and design.
Everything changed for Coco and Breezy when they received a series of Facebook messages last year that Prince wanted to work with them.
"We ignored the messages… we didn't think it was Prince, Prince. We would never think that," Breezy told NBC OUT. But it was a phone call from their friend, YouTube personality Shameless Maya, that confirmed it was the "real Prince" and urged the girls to follow through.
So the girls called the number on the mysterious message and learned from a member on Prince's team that the iconic singer had watched their YouTube videos. He saw one video of the girls doing a choreographed dance and decided he wanted them to dance with him on stage at the Essence Music Festival.
It had been six years since the girls had danced but how could you say no to Prince? It was the experience of a lifetime, plus all expenses paid and one room for each of the girls at The Ritz-Carlton New Orleans hotel. "That was so cool because he treated us like individuals [for the first time]," Breezy shared.
Backstage, following the performance, the rock 'n' roll icon told the twins, "You're going to make me famous." Laughing, they replied, "'No, Prince, you're going to make us famous.'"
Coco and Breezy became "like family" to Prince following that weekend and began getting late-night invites to his legendary private dinner parties, where no cameras or cell phones were allowed. They would receive a text after midnight from a Prince staff member and a car service would be waiting outside of their modest Bushwick, Brooklyn apartment.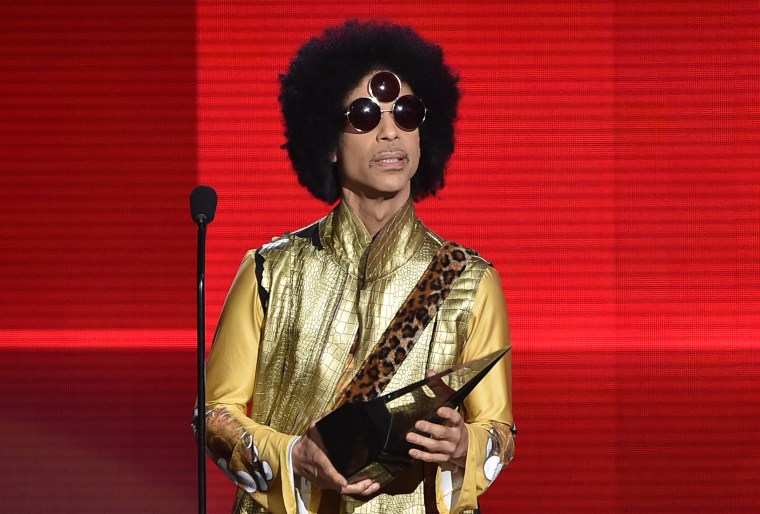 At one dinner, Prince asked Coco and Breezy to mimic the cover graphic from his album HITnRUN Phase One and design the Third Eye sunglasses he would later wear during his November 2014 Saturday Night Live and November 2015 American Music Awards performances.
But the process of designing and manufacturing custom lenses can take up to five weeks. "[The sunglasses] literally arrived to our apartment the morning of the SNL performance and we rushed them to him," Breezy told us.
"It wasn't guaranteed he would wear the glasses," they shared, but Prince still extended an invite for Coco and Breezy to sit in his section of the audience with about ten others (a squad he affectionately called the "Purple Family"). As the lights came up for his performance, Prince was wearing the sunglasses, and Coco and Breezy immediately "realized [they] were a part of history."
Following the Saturday Night Live performance, at another after-hours dinner, Prince asked why the twins had not yet put the glasses up for sale.
"We wanted to do an official collaboration with his brand, so we were waiting to hear back from his legal team," Coco explained. "But Prince told us -- 'Don't go through my team. Sell the glasses on your own and buy yourself a house. Just save me a room.'"
Five days before his untimely death on April 21 of this year, Prince tweeted a link to the Coco & Breezy website where the limited-edition Tres collection ($499) sunglasses are now on sale.
"We hadn't spoken to him in about a year," Breezy told NBC OUT, but his support was unwavering.
Today, their eyewear has solidified a spot in pop culture and has been worn by Beyoncé, Nicki Minaj and Lady Gaga.