It wasn't just the fact that they were winning that earned them scores of new fans, co-captain Megan Rapinoe says, it's that the U.S. women's national soccer team "brought every slice of America to the party" on the way to World Cup victory.
Millions around the world watched as the outspoken U.S. athletes, who aren't afraid to fight for themselves on and off the field, racked up win after win while using their platforms to spread a message of equality.
"I think female athletes in general are at the forefront of every protest in general because we're gay, we're women, we're women of color, we're sort of everything all at one time," Rapinoe, one of five openly LGBTQ players on the team, told NBC News on Tuesday.
"We're unfortunately constantly being oppressed in some sort of way. So I feel like us just being athletes, us just being at the pinnacle of our game is kind of a protest in a way and is sort of defiant in and of itself."
Earlier this year, the U.S. women's team filed a federal lawsuit, accusing the U.S. Soccer Federation of engaging in "institutionalized gender discrimination" reflected in differences in pay, medical care, travel arrangements and overall workload between the men's and women's teams.
The U.S. national men's soccer team has never won a FIFA World Cup in its almost 100-year history and did not qualify for last year's tournament.
The lawsuit claimed that American female players were paid a total of $1.725 million in bonuses after winning the World Cup in 2015. But in 2014, the same federation doled out $5.375 million in bonuses to the American male players, the lawsuit claimed.
After the 2-0 victory over the Netherlands on Sunday in France, the crowd began to chant "equal pay."
And Tuesday, West Virginia Democratic Sen. Joe Manchin announced a bill to withhold federal dollars for the men's 2026 World Cup, which the U.S. is co-hosting, unless the U.S. women's national soccer team receives pay equity.
In an interview with MSNBC's Rachel Maddow on Tuesday, Rapinoe expressed optimism that the team has won the argument, if not the fight, on equal pay.
"I think everyone realizes now it's ... time for the next step," she said.
"It's time to move to the next phase and I think everybody wants that, nobody wants this contentious fight all of the time."
"We're not just looking for our own paycheck, we're not just all about the money," Rapinoe told NBC News.
"We do things the right way, we talk about things the right way. We're here to be collaborative and work with FIFA, with our federations, with other federations around the world to make this right."
Rapinoe, who once called herself "a walking protest," has rarely backed down from a chance to speak out on what she sees as right.
In 2016, she took a knee during the national anthem to support former NFL quarterback Colin Kaepernick's protest of racial injustice. She was also the first out lesbian to pose for the Sports Illustrated swimsuit edition.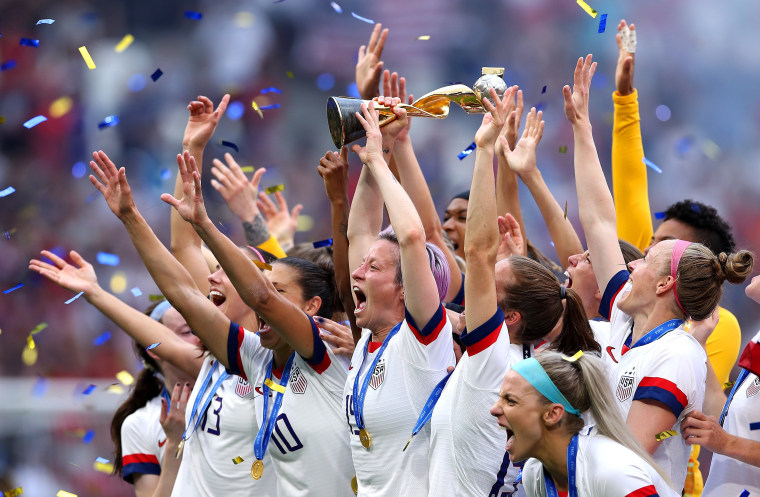 And all eyes were on the protest — and athleticism — during the World Cup tournament.
Sunday's final drew more than 14 million viewers, making it the most-watched soccer event in the U.S. since the 2015 women's final, according to Fox Sports, which cited data from media measurement company Nielsen.
"I just feel it's so much more than soccer at this point," Rapinoe said. "We've mobilized the soccer fans and the sort of casual fan now, people are watching it because they think that we're changing the world. And they're inspired by us on the field to do what we're doing off the field in their own lives."
Part of what mobilized even casual soccer fans is the team's representation of women across multiple walks of life, Rapinoe said.
"We have managed to capture a lot of people and a lot of people see themselves in us where maybe they didn't see themselves in someone else or any other major sports personality at the time," she said. "I feel like we've brought every slice of America to the party."
During the tournament, she made headlines — and drew a heated response from President Donald Trump — when she declared in a clip that went viral, "I'm not going to the f---ing White House."
"I am a big fan of the American Team, and Women's Soccer, but Megan should WIN first before she TALKS! Finish the job!" Trump wrote in a series of tweets, at first tagging the wrong Twitter account for Rapinoe.
"We haven't yet invited Megan or the team, but I am now inviting the TEAM, win or lose," Trump added. "Megan should never disrespect our Country, the White House, or our Flag, especially since so much has been done for her & the team. Be proud of the Flag that you wear. The USA is doing GREAT!"
Rapinoe and her teammates did in fact finish the job Sunday, winning a a second consecutive World Cup. (Along the way, Rapinoe, 34, became the oldest player ever to score in the tournament's final.)
So as far as she's concerned, there's nothing left to say about a White House visit. The team has been invited by both the House of Representatives and the Senate to visit the Capitol.
"We're definitely excited to go to Washington at some point and meet with the leaders of our country there, but we don't want to go and have the message co-opted and lend the platform that we've worked so hard to build to someone who doesn't fight for the same things as us," she said.