PALM SPRINGS, Calif. — NLGJA: The Association of LGBTQ Journalists issued an apology on Sunday after an emcee at its annual conference welcomed a crowd of lesbian, gay, bisexual, transgender and queer news professionals as "ladies and gentlemen, things and its."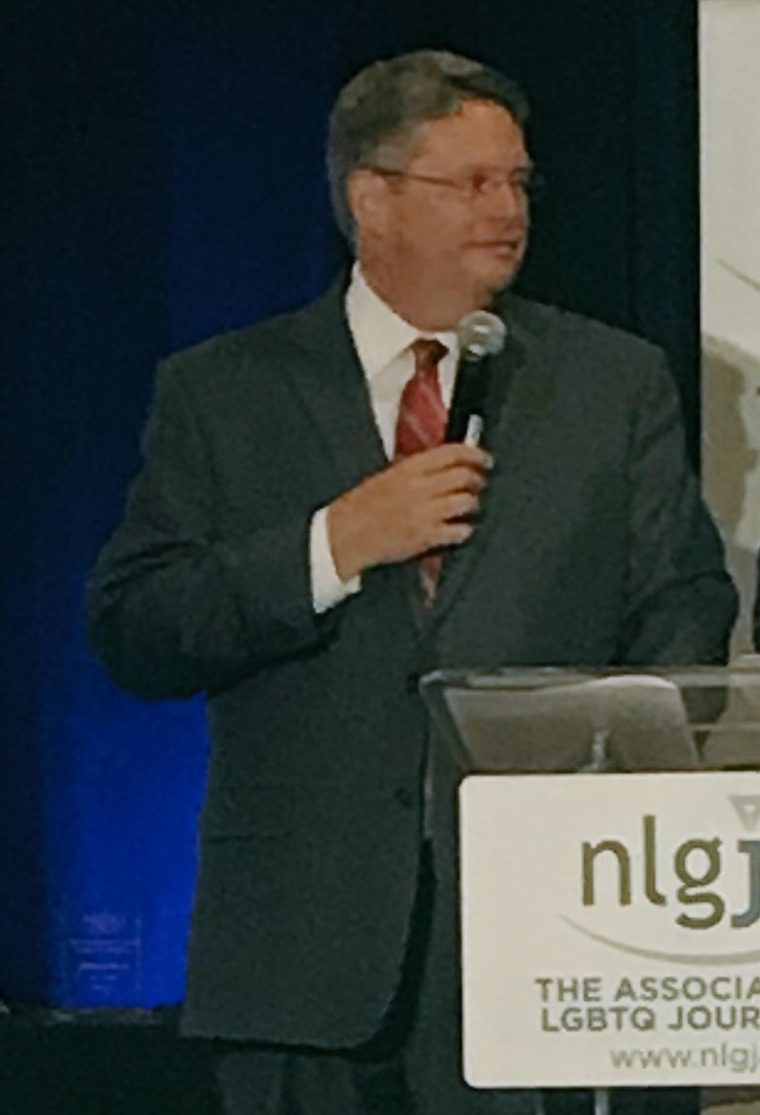 "We've worked hard for many years to make NLGJA an inclusive organization for transgender and nonbinary journalists," the organization said in a statement. "People were understandably hurt and offended by last night's remarks. As journalists, we understand uniquely that words matter. We apologize and are committed to working to make NLGJA more inclusive and diverse."
Marshall McPeek, chief meteorologist for Sinclair Broadcast Group-owned Fox 28 and ABC 6 in Columbus, Ohio, made the offending remarks on Saturday evening during the conference's closing reception, which was sponsored by Fox News. McPeek apologized later that same evening for his comments and resigned his NLGJA membership shortly thereafter.
News of the incident spread beyond the Palm Springs conference after reporter Mary Emily O'Hara, who was in the audience, captured the moment in a widely shared tweet.
McPeek's remarks cast a pall over the event and several attendees walked out. Monica Roberts, a transgender writer from Houston who was present during Saturday's closing reception, wrote about the incident Monday on her blog, TransGriot.
"While I am happy McPeek came back later and apologized and NLGJA an organization I've been a member of for several years has released a statement about it, the damage was still done," Roberts wrote. "No Mr. McPeek and by extension, NLGJA and FOX News, there were no 'things and its' in that Hotel Zoso room that September 8 night. There were trans, gender non-conforming (GNC) and non-binary (NB) people in there. There were your trans, GNC and NB media colleagues in that room."
NLGJA, a nonprofit founded in 1990, has been holding annual conferences for more than 25 years in order to bring together LGBTQ journalists from across the U.S. and beyond. This year's four-day conference was held in Palm Springs, which is widely viewed as one of the country's most LGBTQ-friendly cities.
In her blog post, Roberts said Saturday's incident presents a new opportunity for NLGJA, which will host its 2019 conference in New Orleans.
"NLGJA has been handed a moment in which it can be a leader in addressing and helping to solve the dearth of trans journalists problem," she wrote. "The question is will we see progress on increasing the abysmal numbers of trans, NB (non-binary) and GNC (gender-nonconforming) journalists before we gather again a year from now in New Orleans?"
Tony D'Angelo, general manager of Fox 28 and ABC 6, condemned McPeek's comments "to the highest degree," calling them "hurtful and offensive."
"Marshall's comments in no way reflect the values of Sinclair Broadcast Group," D'Angelo said in a statement emailed to NBC News. "We are an inclusive workplace that prides itself on all employees feeling comfortable and welcome. Sinclair has supported the important work of NLGJA and its member journalists and we were saddened by his comments."
Fox News, which sponsored Saturday's reception, did not immediately respond to NBC News' request for comment.