Activist Julio Salgado is using art to educate people about the unique challenges of being queer and undocumented in the United States.
In a self-portrait, the Mexican-American artist depicts himself as a Monarch butterfly, his wings outspread. "I EXIST - YO EXISTO" is scrawled across his bare torso.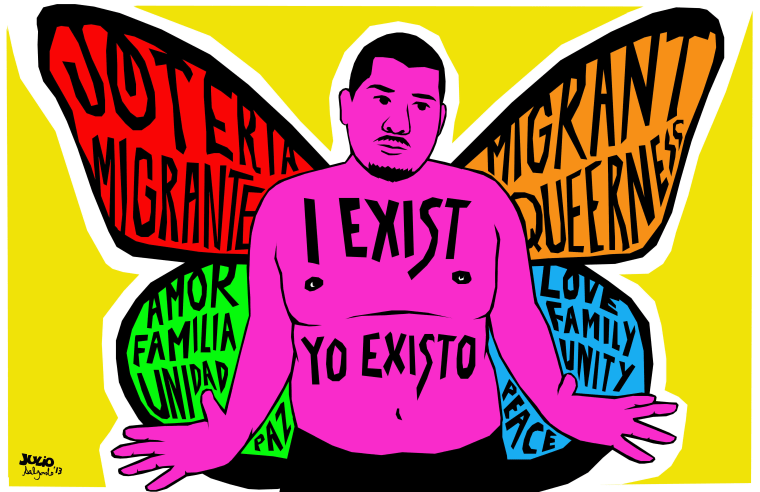 "I made that image specifically because there's times when as a queer person, as an immigrant person, you feel like you don't have power," Salgado told NBC News.
The monarch migrates from Mexico across the United States into Canada, then flies home. To undocumented artists, the insect is a symbol of freedom, Salgado explained.
"What my art tries to do is [express], 'No, I'm actually going to tell you I exist — that I'm all these things — that I'm f---ing beautiful,'" Salgado said.
In 2016, the artist sketched a widely-shared political cartoon based on a now-iconic photo. It depicts a young boy who blocked an anti-gay marriage parade in Mexico. The boy waves a flag that reads: "From Mexico's Future, With Love!"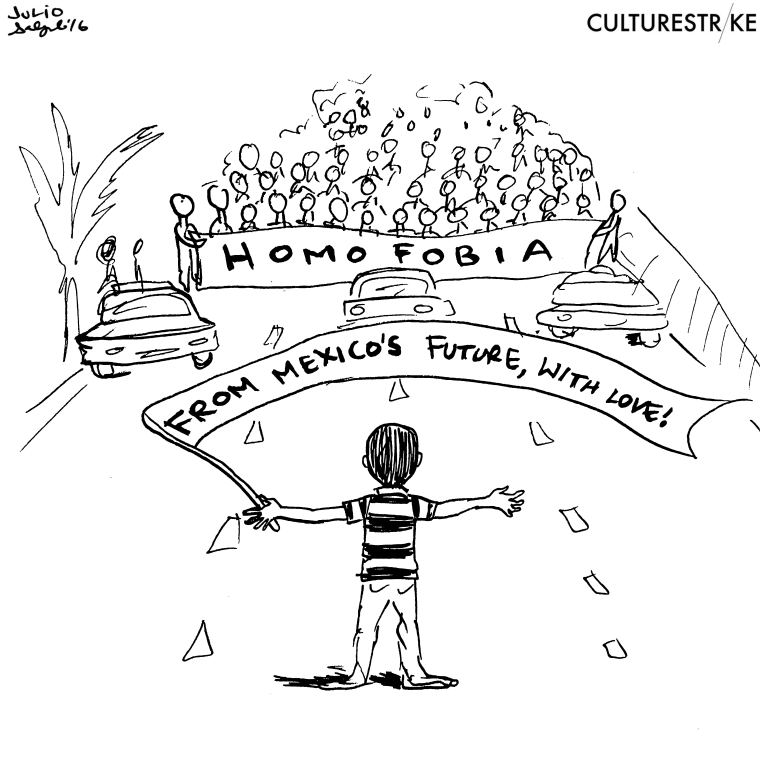 "Being Mexican and queer myself, when I saw that image I felt that I needed to honor that image by recreating it and putting in my own twist," the artist told NBC News at the time.
The 34-year-old has been bringing visibility to LGBTQ undocumented immigrants and people of color since the mid-2000s, when he drew political cartoons for his local community college newspaper. In 2010, he began creating portraits of fellow queer undocumented immigrants with the statement "I am UndocuQueer" — a term that merges the unique experience of being undocumented and queer.
Related: DACA Reversal Could Be 'Death Sentence' for Some LGBTQ Immigrants
His colorful, politically charged illustrations rapidly spread among young activists online who were rallying around a legislative proposal known as the Dream Act. The legislation would have given undocumented minors known as "dreamers" a pathway to citizenship.
"I started making those images because I wanted people to not forget who was behind this," he said, noting many people in the movement were LGBTQ.
The legislation never passed, but it influenced President Obama's decision to issue Deferred Action for Childhood Arrivals, or DACA, in 2012. The executive action allowed 800,000 undocumented youth, including Salgado, to temporarily stay in the U.S. On Tuesday, President Trump ordered an end to the Obama-era program.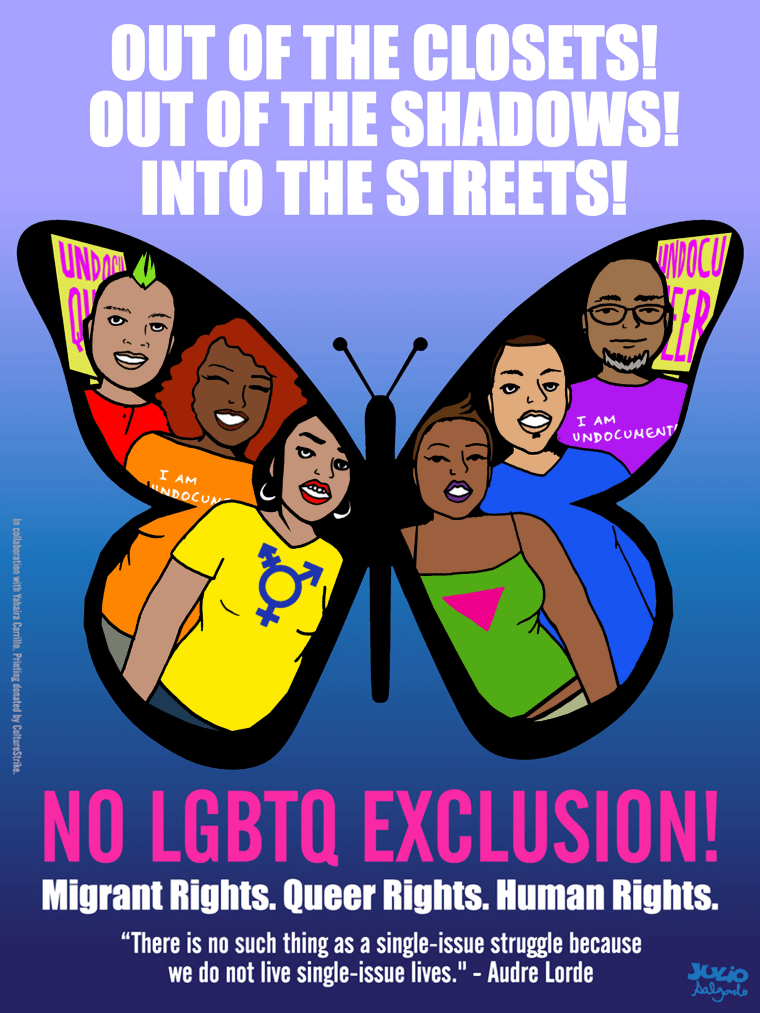 In the years leading up to DACA, Salgado's illustrations helped the UndocuQueer movement gain traction across social media.
"We had a lot of religious people who were hella down for immigration, but when it came to being queer, you were told 'Don't talk about that,'" the artist recalled. He started including the UndocuQueer label on his portraits to emphasize the work of LGBTQ activists in the movement.
Salgado said his art also highlights undocumented people in the LGBTQ community. He wants people to know that gay rights are about more than being able to get married and join the military — that many in the community are immigrants and people of color.
"A lot of us are in danger of being deported," he said. "A lot of us have to deal with this thing that people don't like us. People want to get rid of us because we're undocumented."
Salgado said his family came to the U.S. from Mexico in 1995. They were visiting Los Angeles, he explained, when his younger sister developed a deadly kidney infection. Doctors told his parents she would likely die if they brought her back to Mexico. They moved to Long Beach, Calif., he said, so she could receive treatment in the U.S.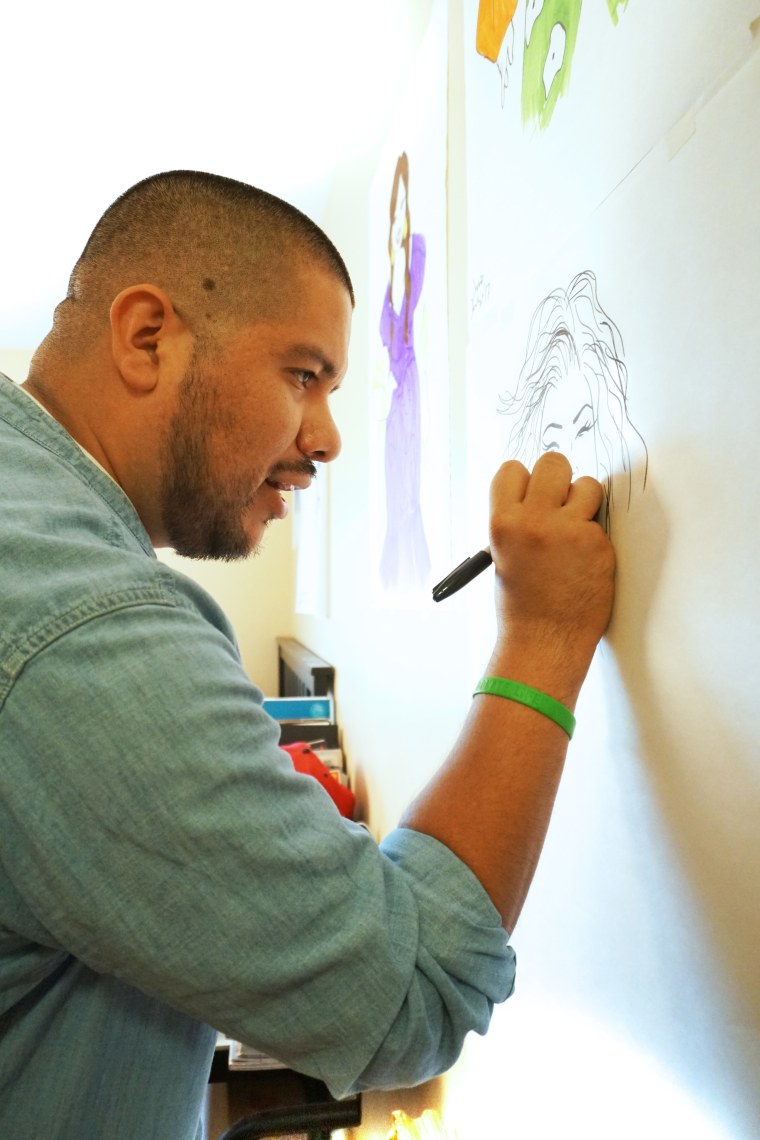 Suddenly, the chubby 11 year old found himself in a new school where he did not know anyone or speak the language. But he didn't have trouble making friends.
"I would draw and the other kids would be like 'Oh my god, you can draw, let's be friends!'" he recalled. "So I realized at a young age how you can communicate with art."
Salgado co-founded the undocumented youth media group Dreamers Adrift in 2010. He is also currently a project manager for CultureStrike, an organization that collaborates with artists to challenge anti-immigrant sentiment in the U.S. He splits his time between his job in Los Angeles and lecturing.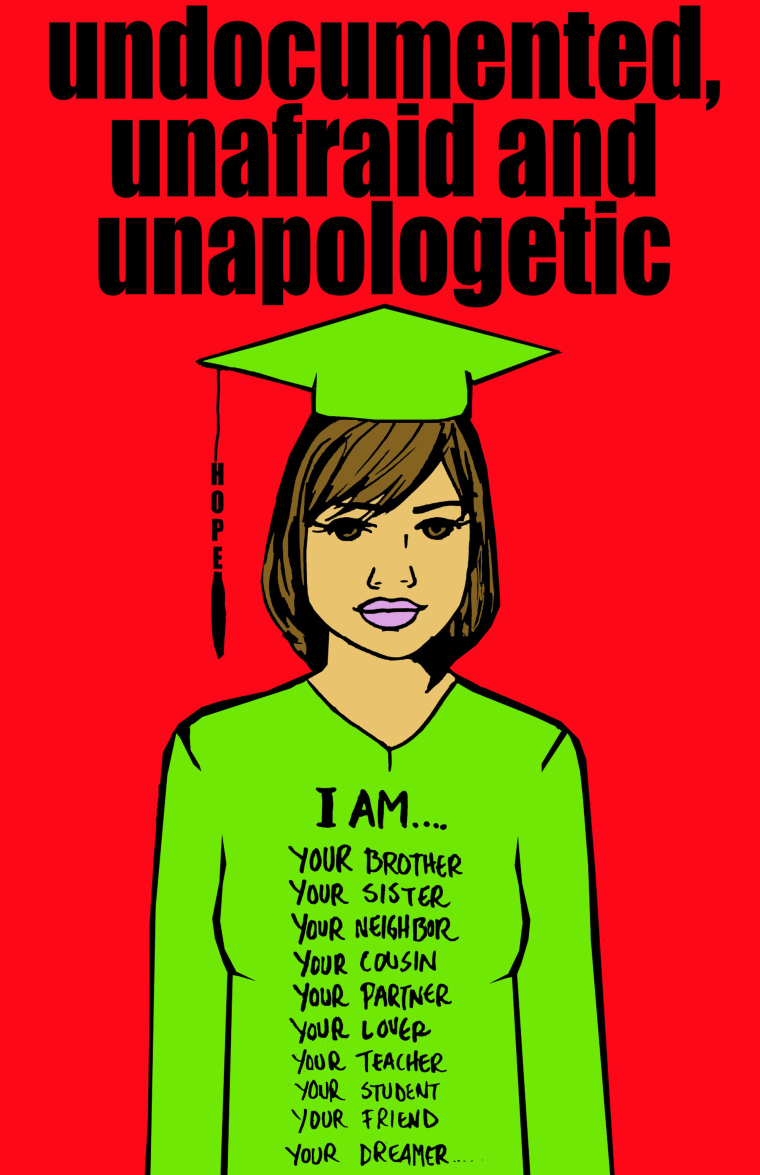 "I'm traveling to different universities and just sharing my story about being undocumented and queer," he said.
Salgado said he was angered by President Trump's decision to end DACA. But he said he has no intention of going back in the closet, be it as an undocumented immigrant or as a gay man. He said he does not differentiate between the two identities.
People stay in the closet because they are afraid, he explained, and come out when they are ready to be free.
"This is a situation that I can't change," Salgado said on being queer and undocumented. "But this is not going to totally define me. It's going to help me liberate myself instead."