Just one day after he was announced as a new member, former Republican presidential candidate Mike Huckabee resigned on Thursday from the board of the Country Music Association Foundation, the charitable arm of the organization that runs the annual CMA Awards and the CMA Festival. His resignation followed swift criticism from members of the country music community who took issue with his anti-gay and pro-gun views.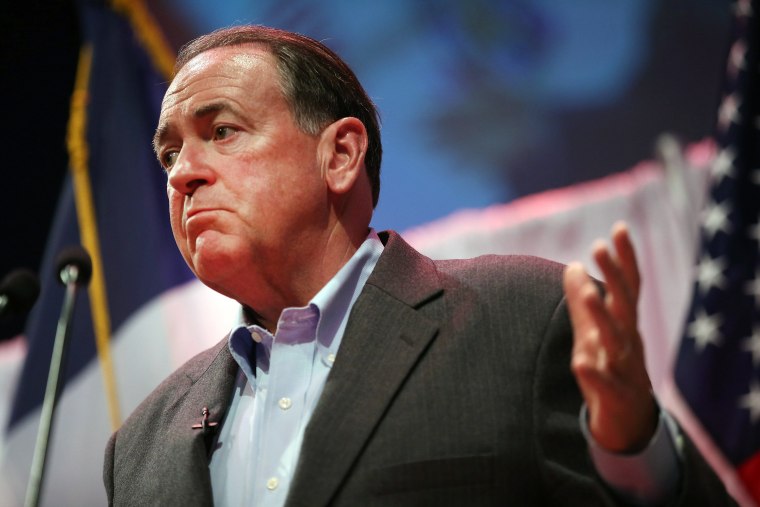 In his resignation letter to the CMA Foundation, which was obtained by several news outlets, Huckabee called his critics bullies and said he was resigning to end "unnecessary distraction" to the foundation.
"If the industry doesn't want people of faith or who hold conservative and traditional political views to buy tickets and music, they should be forthcoming and say it. Surely neither the artists or the business people of the industry want that," Huckabee wrote.
"I hope that the music and entertainment industry will become more tolerant and inclusive and recognize that a true love for kids having access to the arts is more important than a dislike for someone or a group of people because of who they are or what they believe," he added.
In a Wednesday press release announcing Huckabee's election to the board, CMA Foundation Chairman Joe Galante praised the former Arkansas governor for his "policy experience with education reform," but it wasn't long before the criticism poured in.
Jason Owen, the openly gay head of Monument Records and Sandbox Management, which represents artists like Little Big Town, Faith Hill and Kacey Musgraves, sent a letter to CMA CEO Sarah Trahern and CMA Foundation Director of Community Outreach Tiffany Kerns on Wednesday calling Huckabee's appointment "heartbreaking." Owen also said his clients would no longer support the foundation "in any way."
"This man has made it clear that my family is not welcome in his America. And the CMA has opened their arms to him, making him feel welcome and relevant." Owens wrote in the letter, which was obtained by Music Row.
"Huckabee speaks of the sort of things that would suggest my family is morally beneath his and uses language that has a profoundly negative impact upon young people all across this country. Not to mention how harmful and damaging his deep involvement with the NRA is. What a shameful choice," Owen added.
Whitney Pastorek, an artist manager who represents Kristian Bush of Sugarland and who also criticized the board's election of Huckabee, said his resignation was the right move.
"It shows that they listened to the overwhelming outcry within the country music community and realized that his presence as a member of the CMA Foundation Board would do more harm than good towards their mission of music education for everyone," Pastorek said in an emailed comment. "I am proud to be a CMA member and even prouder to see our industry stand up and say that hatred has no place in country music, or anywhere else for that matter."
The Human Rights Campaign, a national LGBTQ advocacy group, praised the country music community for speaking up against Huckabee, who has called homosexuality a "sinful lifestyle" and has compared same-sex marriage to incest.
"Mike Huckabee has staked his entire political career on undermining the rights of LGBTQ people and our families. His cynical political attacks and discriminatory views do not represent the diversity of country music, and we thank all of the musicians, industry leaders and fans who spoke out against his appointment to this important role."