/ Source: Associated Press
RUTHERFORDTON, N.C. — The lawyer for a North Carolina minister accused of orchestrating the beating of a gay congregant said Monday that he might not call any defense witnesses.
Brooke Covington, 58, a longtime minister at Word of Faith Fellowship in Spindale, North Carolina, is accused of leading the 2013 beating of former member Matthew Fenner to expel his "homosexual demons."
After the state called its last witness, defense attorney David Teddy told the judge that he did not plan to call any witnesses. But under questioning from the judge, Covington said she needed to discuss with Teddy during a lunch break whether she wanted to testify on her own behalf.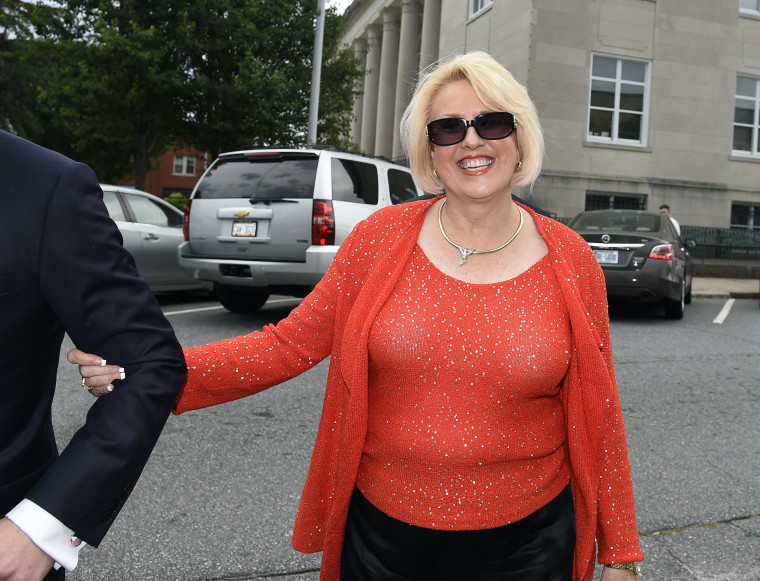 Covington, who pleaded not guilty, is the first of five church members to face trial in the case. Each defendant will be tried separately.
Fenner, 23, said he was leaving a prayer service Jan. 27, 2013, when nearly two dozen people surrounded him in the sanctuary. He said they slapped, punched, choked and blasted him — a church practice that involves intense screaming — for two hours as they tried to expel his "homosexual demons."
Fenner testified last week that he had cancer as a child and had a biopsy one week before he was assaulted.
"I'm frail and in my mind, I'm thinking, 'Is my neck going to break, am I going to die?'" Fenner said.
Teddy painted a different picture during his opening statements.
Teddy said the congregation gave Fenner routine prayer that lasted no longer than 15 to 20 minutes. When the prayer was over, Fenner "hugged everybody and left the church," Teddy said.
During questioning of prosecution witnesses, Teddy asked if Fenner ever told the congregants to stop assaulting him or if he tried to leave.
The last state witnesses to testify, Rachel Bryant, said Monday that she had seen a number of people being blasted while she was in the church and that trying to leave only made it worse.
"I've seen people try to do that. It does not end well. They bring in ten people to hold you down," she said.
Bryant said she was present when Fenner was attacked. She also said it was obvious the group was upset with Fenner because they thought he was homosexual.
She testified that Covington said, "The way you hold your hands, the way you cross your legs, that's all homosexual devils and we are going to get it out of you."
As part of an ongoing, two-year investigation into abuse of Word of Faith Fellowship congregants by church leaders, The Associated Press interviewed four former church members who said they witnessed Fenner's assault.
Based on exclusive interviews with 43 former members, documents and secretly made recordings, the AP reported in February that Word of Faith Fellowship congregants were regularly punched, smacked, choked, slammed to the floor or thrown through walls in a violent form of deliverance meant to "purify" sinners by beating out devils.
Fenner said he joined the sect with his mother and brother in 2010. He fled after he said he was attacked.
Over the last few years, there had been numerous delays in the case.
At first, the five defendants were represented by the same attorneys — all members of Word of Faith Fellowship. Assistant Prosecutor Garland Byers Jr. filed a motion in 2015 to disqualify the law firm, citing conflicts of interest. A judge agreed, but the church appealed. A year later, though, the church attorneys withdrew the appeal, and the defendants got their own new attorneys.
One of the defendants, Sarah Anderson, left the church in 2015, saying her 1-year-old son was being abused.
Anderson testified on Friday that she participated in the assault and Covington was the ring leader.
The AP's investigation also revealed that congregants were ordered by church leaders to lie to authorities investigating reports of abuse and that two assistant district attorneys and a veteran social worker were among those who coached congregants and their children on what to say to investigators. After the AP report, the prosecutors, including one who is a son-in-law of a church founder, left their jobs, and the social worker resigned.
During her testimony Friday, Anderson confirmed what the AP reported: that the assistant district attorneys, Frank Webster and Chris Back, were involved in meetings to discredit Fenner.
The sect was founded in 1979 by Jane Whaley, a former math teacher, and her husband, Sam, a former used car salesman. Under Jane Whaley's leadership, Word of Faith Fellowship grew from a handful of followers to its current congregation in North Carolina, and another nearly 2,000 members in churches in Brazil and Ghana. It also has affiliations in other countries.