Tuesday night's vice presidential debate left lesbian, gay, bisexual and transgender advocates stunned, after 90 minutes of questioning failed to address a single LGBTQ issue.
"Mike Pence has made a career of singling out LGBT people for discrimination, and it is disappointing tonight's debate did not address his long record of using public office to advance his backward views," Aisha C. Moodie-Mills, president of the Victory Fund, the nation's largest LGBTQ political action committee, said.
The debate between Democratic Virginia Senator Tim Kaine and Republican Indiana Governor Mike Pence was moderated by Elaine Quijano, who made history as the first Asian-American journalist to moderate a presidential debate. While Quijano asked both candidates about their religious views—opening a possible door to Pence's record of using "religious freedom" laws to discriminate against the LGBTQ community—the questioning quickly pivoted to abortion and reproductive policies.
"A society can be judged by how it deals with its most vulnerable … the unborn," Pence said in response to the line of questioning about abortion.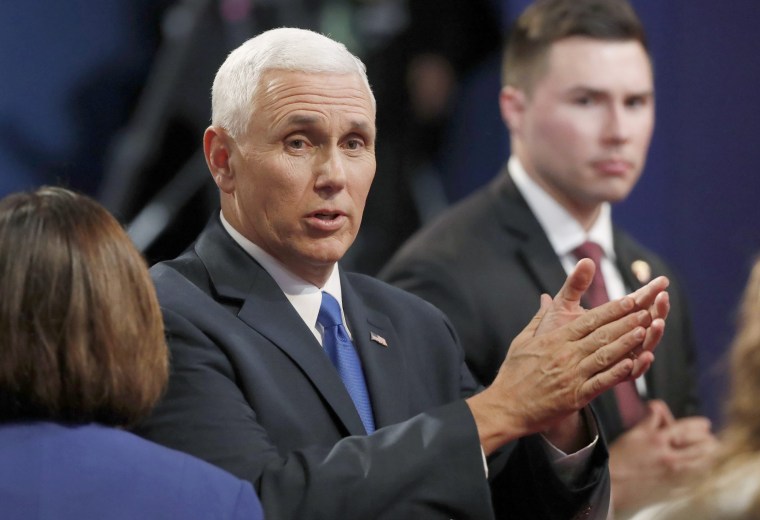 But Pence's own record as one of the most anti-LGBTQ governors in the nation was never addressed during the debate. That record includes passing one of history's most restrictive "religious freedom" laws, leading state and city leaders nationwide to ban travel to Indiana until Pence was pressured to rewrite the law in April 2015.
Pence is also known for suggesting that HIV funding would be better spent on anti-LGBTQ conversion therapy, insinuating gay couples would bring on "societal collapse," opposing the addition of sexual orientation to the federal hate crime law, attempting to alter Indiana's state constitution to ban same-sex marriage and stripping state funding for Planned Parenthood altogether—affecting healthcare access for women and transgender men, and STD testing for everyone.
The history of Pence's work against the LGBTQ community is a long one. As president of the ultra-conservative think tank, Indiana Policy Review Foundation, in the early 1990s, Pence's name was on the masthead of a journal that regularly published anti-gay articles. A 1993 article published in the "Indiana Policy Review" advocated against allowing women and LGBTQ service members in the military—going so far as to say that gays shower "in the urine of others" (and that was one of the less graphic accusations).
Tuesday night's debate failed to address any of Pence's anti-LGBTQ history.
"[Pence] has built a career on anti-LGBTQ policies," HRC President Chad Griffin told NBC OUT. "But there wasn't a single question about his hateful views. The 10 million LGBTQ voters—and our allies—in this country deserve answers and tonight was a missed opportunity to demand them."
Toward the end of the debate, the hashtag #LGBTQ trended on Twitter as thousands of tweets questioned why the topic was ignored.
The lack of questioning came as a surprise to many who had learned earlier on Tuesday that Kaine invited a lesbian couple to attend the debate. The presence of Carol Schall and Mary Townley, who had been plaintiffs in the Virginia case that overturned that state's same-sex marriage ban, seemed to indicate that at least the topic of marriage equality—and Pence's record of opposing it—would be raised.
RELATED: Tim Kaine Invites Lesbian Couple to VP Debate
"Pence opposes recognition of our relationships, opposes LGBT soldiers serving openly in the military, and opposes prohibiting restaurants and other businesses from refusing service to LGBT customers," Moodie-Mills told NBC OUT. "It is important the Trump campaign's extremist anti-LGBT positions be exposed in future debates—along with its attacks on women, immigrants, Latinos, Muslims and veterans recovering from war."
"Their entire campaign has been built on fear and bigotry," Moodie-Mills continued. "And we believe voters will reject their attempts to turn back the clock on progress."
Tuesday's debate was the only scheduled vice presidential debate. The next presidential debate will be on Sunday, October 9, at Washington University in Saint Louis, Mo.