A Mississippi State University student who was denied a permit for a gay pride parade in Starkville, Mississippi, said she intends to sue the city — and a powerhouse gay-rights lawyer has agreed to represent her.
Starkville's elected leaders, known as the Board of Aldermen, voted 4-3 on Tuesday to deny the pride event a permit. The permit was requested by Starkville Pride, a local LGBTQ group that hoped to hold the event on March 24. None of the city leaders who voted against the permit have explained their reasoning.
Bailey McDaniel, a Mississippi State student and a member of Starkville Pride, said she contacted the Campaign for Southern Equality following the permit denial in order to seek a lawyer. The campaign connected her with Roberta Kaplan, a national leader in LGBTQ-rights litigation and the attorney who represented Edith Windsor in the 2013 landmark Supreme Court case that brought down the Defense of Marriage Act.
A spokesman for Kaplan confirmed she will represent McDaniel.
While the city's leaders didn't reveal their motives for denying the pride permit, some Starkville residents were more forthcoming. Resident Dorothy Isaac said she was against the parade because "God created Adam and Eve."
"Do not turn our city into a sin city," Isaac said. "It should not be this."
Starkville is located in northeast Mississippi and is home to a portion of Mississippi State University. It has never held a gay pride parade.
One supporter of the city hosting a pride event is Mayor Lynn Spruill, who said Starkville is more accepting of gay people than the aldermen vote indicates.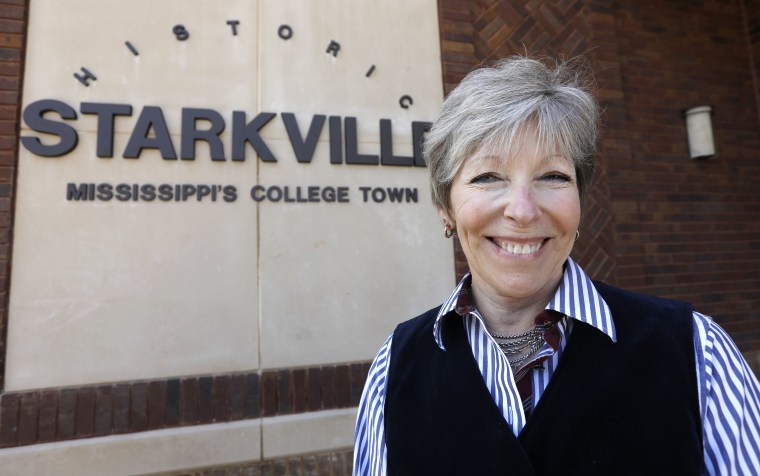 "We are diverse, we are not divided in my opinion, and I don't want to start having that view of us now," she said in an interview with the Starkville Daily News.
Jennifer Riley-Collins, executive director of the ACLU of Mississippi, called on the city of Starkville to "act swiftly" in approving Starkville Pride's request, and said the city's elected leaders violated the First Amendment and the Equal Protection Clause of the Fourteenth Amendment in denying the event a permit.
"The government cannot prevent a parade or event simply because it promotes LGBTQ pride or because its organizers and marchers are LGBTQ," Riley-Collins said in a statement sent to NBC News. "In addition, the government cannot treat people unequally because they are LGBTQ. This is exactly what the Board of Alderman did, and that is discrimination, plain and simple."