The mother of a 9-year-old boy said bullying he endured after coming out as gay led him to kill himself last week.
Jamel Myles was a fourth-grade student at the Joe Shoemaker Elementary School in Denver. His mother, Leia Pierce, told The Denver Post that he came out as gay this summer and began wearing fake fingernails on Aug. 20, the first day of school.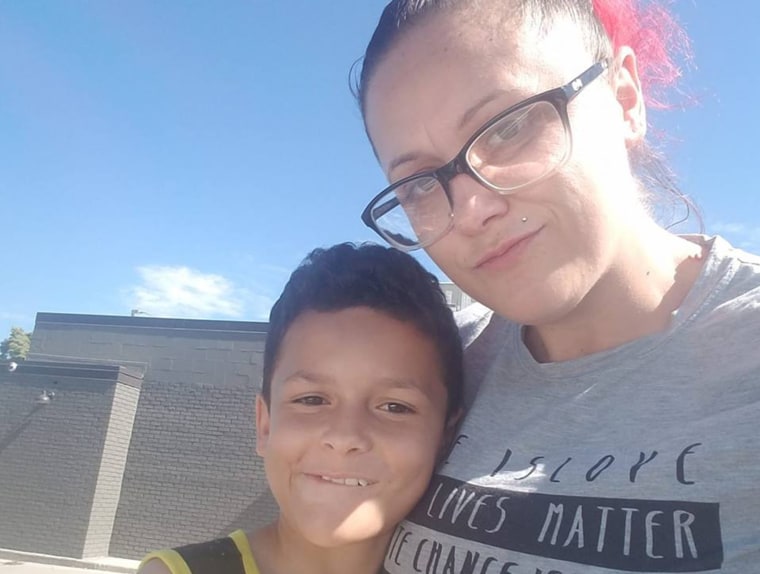 Pierce found her son's body on Thursday, just three days after school had started, and tried to revive him. He was pronounced dead at the Swedish Medical Center, according to a report from the Denver Office of the Medical Examiner. The manner of death, according to the report, was suicide and did not involve a firearm.
Pierce, who told both the Denver Post and NBC's local Denver affiliate that her son was bullied for being gay, took to Facebook to express her pain and plead for an end to bullying.
"I lost a reason to breathe ... my heart, my sunshine, my son... he was being bullied and i didnt know. Not till it was to late.. i wish i knew everything so i could've stopped this... i shouldn't be having to bury my son he is only 9," Pierce wrote in a public Facebook post on Aug. 24, a day after her son's death.
"I want justice for my son and the only way to get that is to touch people's hearts and tell them if we love more it will be harder to hate," Pierce wrote in another Facebook post. "I taught all my kids we are all the same and he treated people as equals because he was taught love.. so teach your kids love please.. stop bullying."
A day after Jamel's death, Christine Fleming, the school principal, sent a letter to parents expressing "extreme sadness" over this "unexpected loss for our school community."
"Our thoughts are with the student's family at this time," Fleming said. "We will continue to process this sad news as a school community."
Then on Monday, the district sent out a statement saying it is "deeply committed to ensuring that all members of the school community are treated with dignity and respect, regardless of sexual orientation, gender identity, or transgender status."
"It is critical that our students receive all the supports they need to learn and thrive in a safe and welcoming environment. Our formal policies and practices reflect this commitment to ensuring that our LGBTQ+ students can pursue their education with dignity — from policies and training to prevent and stop bullying to formal policies and guidance materials that fully respect gender identity (including use of preferred pronouns and restrooms)," the statement continued.
Jane Clementi, co-founder of the Tyler Clement Foundation, which works to end bullying in schools, workplaces and faith communities, spoke out against the pervasiveness and dangers of bullying and harassment. It is named after her son, Tyler, who was gay and killed himself in 2010 after enduring online bullying.
"Over and over again we see that vicious harassment can and does result in death," Clementi told NBC News. "It should not take the death of a child for us to do the right thing and treat every human being with respect, kindness and the dignity they deserve."
"All adults, but especially, teachers, coaches and school administrators, must take action to protect the safety of its students," Clementi said. "The Tyler Clementi Foundation encourages all school districts to develop a plan to prevent bullying and stop this cruelty before it starts."
Clementi also said it is important for parents to "create a safe, encouraging and loving home environment for their children," a space where they know they have "their parents' support to be who they were born to be, able to love who they were created to love."
Kristina Furia, the founder and executive director of both Emerge Wellness and Philadelphia LGBTQ Counseling, echoed Clementi's advice to parents.
"Children are most likely to thrive when they have the physical and emotional space to learn about who they are and when they are empowered by supportive adults to embrace their various, unique attributes and identities," Furia said.
"It's very difficult to say that parents or teachers should do X to ensure that more tragedies like this one don't keep happening, because it isn't about one thing that can be done or said when a child comes out to an adult," Furia added. "Instead, it is about an ongoing environment of support and acceptance for the identity of every individual by both peers and adults."
In addition to families and schools, Clementi said religious organizations can also play in helping put an end to bullying — especially anti-gay bullying.
"I would also encourage faith communities to stop perpetuating the misguided teachings and traditions of basis, dogma and discrimination that devalues the human spirit and causes so much pain and despair," Clementi said. "I believe that love does not harm, and it should not be used to make someone feel broken, less than or separated from God because of who God created them to love. This would have a huge impact on our LGBTQ+ youth."
The Trevor Project offers multiple resources for LGBTQ youth in crisis, including the TrevorLifeline, a nationwide, 24/7 crisis and suicide lifeline: 1.866.488.7386.