Since they married in 2015, Jonathan Hobgood, 37, and his husband, Kerry Johnson, 36, have wanted to be dads. At first, the couple saw adoption as the best path to parenthood, but South Carolina, where they live, is one of 10 states with religious exemption laws that make it more difficult for same-sex couples to foster and adopt, and they worried that adopting would set them up for a legal nightmare down the road.
"Our concern was that if we did a private adoption and the birth mother decided a couple of years later that she wanted her child back, we would be in for a rather extensive legal battle to try to keep the child," Hobgood told NBC News. "So we just decided, 'Well, let's take ourselves down the surrogacy path from there.'"
In reality, a court-ordered private adoption would have provided the secure, legal parent-child relationship Hobgood and Johnson were looking for, but it is common for prospective parents to have misconceptions about how the law treats parental rights, according to Denise Brogan-Kator, chief policy officer at Family Equality.
The couple did their research. The cost of hiring a female surrogate, they learned, would be steep — $120,000 to $150,000, a price that Hobgood, a project specialist for a medical insurance company, and Kerry, a management analyst with the U.S. Department of Veteran Affairs, could hardly afford. But it did not deter them.
"I knew I wanted to be a child's father," Hobgood said. "I really just wanted to go through and enjoy bringing up this wonderful child who is a part of our family."
Hobgood and his husband are among an increasing number of lesbian, gay, bisexual, transgender and queer people in the U.S. planning to have children, according to data released this year by Family Equality, a national nonprofit that advocates for LGBTQ families. And despite the additional financial barriers for many prospective parents in this group, this increased desire to have children was found across income levels, according to a report the group released this month, "Building LGBTQ+ Families: The Price of Parenthood."
Family Equality polled 500 LGBTQ and 1,004 non-LGBTQ adults, and found that the desire to become parents is nearly identical among both lower- and higher-income lesbian, gay, bisexual, transgender and queer people. Forty-five to 53 percent of LGBTQ people between the ages of 18 and 35 are planning to become parents for the first time or add another child to their family (compared to 55 percent for their non-LGBTQ counterparts, a gap that has narrowed significantly compared to older generations).And those making less than $25,000 a year plan to have children at a similar rate to those making over $100,000, according to the report.
Amanda Winn, the organization's chief program officer, was surprised by the findings.
"I was expecting that folks who were living at the poverty line would report lower rates of wanting to bring children into the home knowing that finances were tight, but that's not the case," Winn told NBC News. "That innate, strong desire to have families exists regardless of income levels."
LGBTQ prospective parents are more likely to face financial hurdles than their heterosexual peers, according to the report. Reasons include their relatively lower annual household incomes and the additional costs associated with having a child using an option other than sexual intercourse, which is considered by only 37 percent of LGBTQ people planning to start their families or have more children.
Assisted reproductive technology: 'an impossible barrier' for some
Thanks to advancements in assisted reproductive technology (ART), such as artificial insemination, in vitro fertilization and surrogacy, more LGBTQ people can have children through nontraditional methods, and interest is growing. Forty percent of LGBTQ people are considering such technology to conceive children, according to a Family Equality survey published in February — but many of these prospective parents will pay for it out of their own pockets, and the technology can be expensive.
"Most LGBTQ+ individuals will learn that their health insurance plan does not cover the cost of fertility treatments at all, and, if they do, the individual or family unit must prove that they have been 'trying' to conceive for 6-12 months before coverage begins," the Family Equality report states. "This stipulation in the policy results in high monthly expenses for some and creates an impossible barrier for others."
The report outlines the diverse array of options now available to lesbian, gay, bisexual, transgender and queer people looking to have children, and the costs associated with them, which can range from less than $300 for those using a known sperm donor to over $150,000 for those pursuing gestational surrogacy.
Same-sex female couples typically rely on artificial insemination with donated sperm to conceive children, which usually costs several thousand dollars and is not always covered by insurance. If two women choose to have a child through reciprocal in vitro fertilization, where the fertilized egg of one partner is implanted in another, the cost is higher — typically from $12,000 to $15,000 for a basic cycle, according to Internet Health Resources.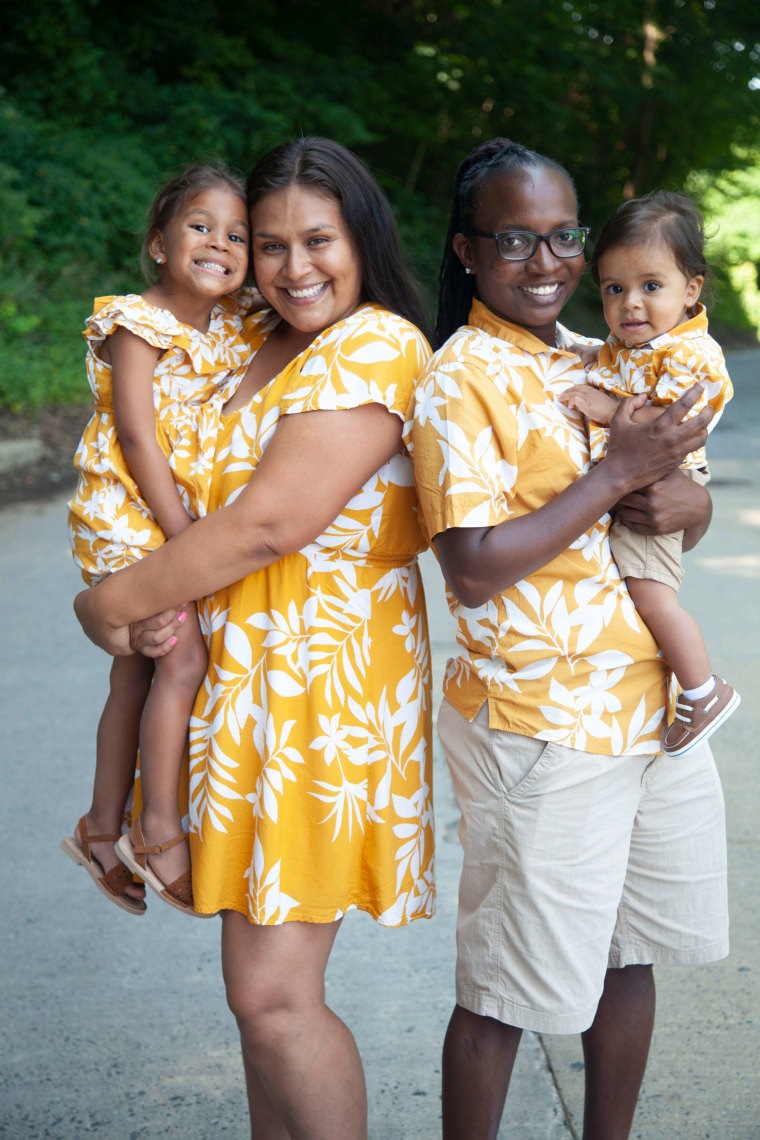 Chandra Chester, 40, and her wife, Lynn Doyle, 37, both social workers who live in Maryland's Baltimore County, conceived two children — a daughter, 4, and a son, 1 — through artificial insemination without IVF.
Chester said their insurance covered some of the cost, but she estimated they spent about $6,500 out of pocket for their pregnancies, including one that ended in miscarriage. Additionally, the sperm, which came from the same anonymous donor for both children, cost $500 yearly to store, she said.
On top of fertility care and doctor visits, the couple pays $30,000 annually on day care for both kids. Along with food, clothing, diapers and other necessities, paying for their children consumes at least 50 percent of their gross annual income, said Chester, who works two jobs to make ends meet and will soon get a third. She said in hindsight, she wishes she had saved up more money for the fertility expenses and day care before having kids.
"I knew it was going to be expensive," Chester said, "but I had no clue it would be this expensive."
Impact of 'religious freedom' adoption laws
State laws that limit gay couples' ability to adopt can make the process even more difficult and costly, with some prospective parents opting to relocate to more LGBTQ-friendly states to adopt or pursue fertility treatments.
Kenneth Livingston and his husband, Ashley Redmond, both in their 30s, moved from Mississippi to Boston in 2013 so they could adopt a child. Livingston said it would have been too difficult to adopt in Mississippi, where adoption agencies could legally turn them away and where their marriage wasn't yet legally recognized.
"We moved away from Mississippi not just to adopt, but to raise our child in a state that embraces diversity and inclusion, and we would never have that in Mississippi," Livingston said.
At least nine states permit state-licensed child welfare agencies to refuse to place children with LGBTQ families if doing so directly conflicts with their religious beliefs, according to the Movement Advancement Project, an LGBTQ think tank. In November, the Trump administration proposed a rule that would allow faith-based foster care and adoption agencies to continue receiving taxpayer funding even if they exclude LGBTQ families and others from their services based on religious beliefs.
Foster care is the least expensive route to parenthood for most LGBTQ people, and typically costs no more than $2,600, according to the Family Equality report, but many can be turned away in states with religious exemptions.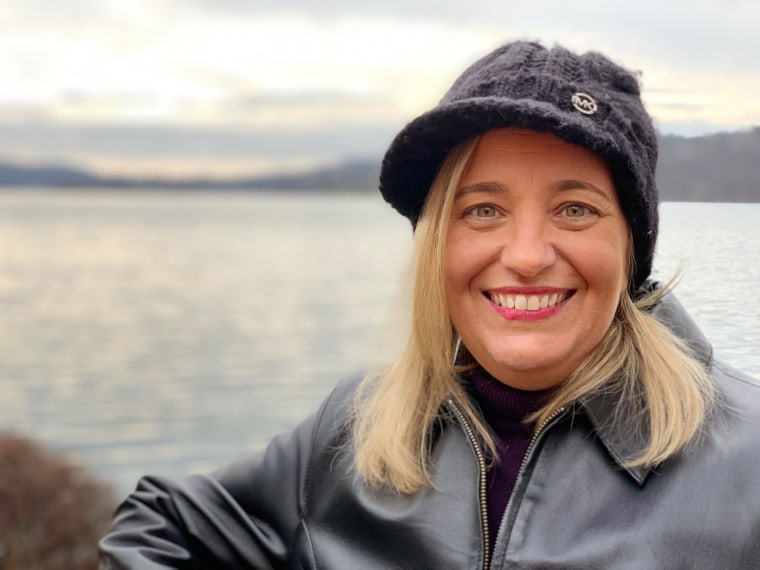 Kelly McGlasson, 43, a single lesbian in northern New Jersey, always wanted to be a mom, but she didn't have an insurance policy that covered fertility and couldn't afford private adoption. So McGlasson, an early childhood coach for a nonprofit that advocates for children, decided to adopt through the foster care system in New Jersey, one of seven states that explicitly prohibits discrimination against LGBTQ people in foster care and adoption.
"It was something I knew I needed, to be a mom, and time was running out," she said. "So I made that choice."
Helping to offset the 'price of parenthood'
A number of programs have emerged in recent years that help LGBTQ people offset the relatively high cost of building their families.
When LGBTQ couples choose to privately adopt a child without going through the foster care system, the cost can be $20,000 to $70,000, depending on whether the adoption is domestic or international, according to the "Building LGBTQ+ Families: the Price of Parenthood" report.
Even in Massachusetts, Livingston and his husband have struggled to adopt a child. Ashley, a freelance event planner, has had difficulty finding steady full-time employment. Livingston, a contract specialist, is the couple's main source of income. The couple, who have been waiting to adopt since January 2018, saved as much money as they could since their move, obtained a no-interest $10,000 loan through a charity that works with their Massachusetts-based adoption agency, and qualified for a $15,000 grant from Help Us Adopt, a nonprofit that helps people adopt children regardless of "race, religion, gender, ethnicity, marital status or sexual orientation."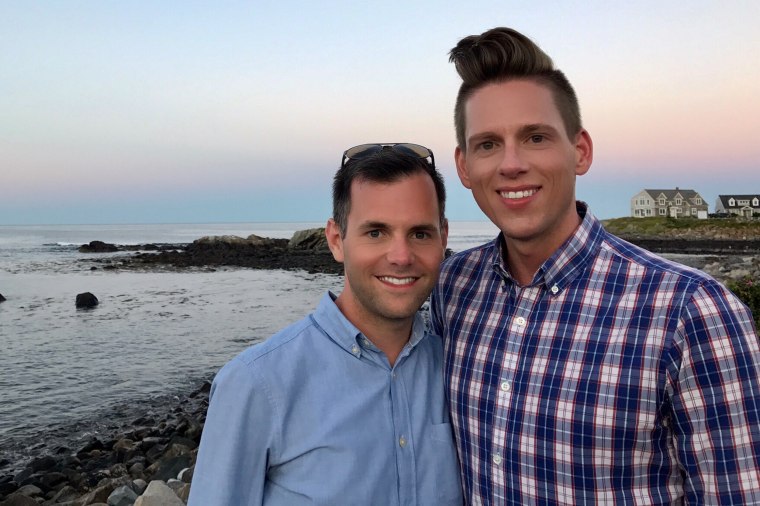 Livingston said adopting would be "extremely difficult" for him and his husband without the financial assistance.
"It's just helping us avoid further debt, and helps us fulfill our wish of becoming parents, and allowing us to focus more on preparing for a child and less time worrying about finances," he said.
Interest among same-sex male couples who wish to have biological children through surrogacy is growing, but few can afford it, according to Lisa Schuster, a program manager for Men Having Babies, a nonprofit that provides financial assistance to men who want to become parents through surrogacy. Annual applications for financial assistance rose from 157 in 2014, when the grant program began, to over 450 applicants in 2019, Schuster said.
"The demand is huge, and there is also a growing trend of younger and younger men who are wanting to start families and are looking to surrogacy," she said.
When Hobgood and his husband, who live just outside Columbia, South Carolina, learned they qualified for financial assistance to pursue surrogacy through the Men Having Babies program, they were thrilled.
"At first, I was in that shock mode," Hobgood recalled.
The program also helped connect the couple with a surrogate, and it is helping them navigate through the complex medical and legal process of surrogacy.
Even with the financial assistance, Hobgood and his husband will pay about $70,000 — roughly half of what they would pay without the assistance, according to Hobgood. But the couple's journey to fatherhood is far more certain than ever before, and will likely end with a trip to Iowa, where their prospective surrogate lives, to witness the birth of their child.
That's the "most exciting part," Hobgood said — "just having our family grow."