Indian filmmaker Sridhar Rangayan has always felt the pain and loneliness of parents who have been confronted with their LGBTQ children's sexuality and society's rejection. Having seen his own family struggle when he came out to them in the '90s, it is a matter close to his heart.
"My mother found it very difficult to understand and accept me, because she neither had the information nor the resources — and absolutely no support from her peers," said the Mumbai-based director, whose repertoire focuses on LGBTQ issues.
Unfortunately, not much has changed over the years for parents in India, according to Rangayan. In the absence of empathetic support, he said many feel isolated and find it difficult to accept their lesbian, gay, bisexual, transgender and queer children within the doctrines and moralities imposed by their families and society.
To demonstrate the struggles of a parent who is confronted with the sexuality of her son, Rangayan directed "Evening Shadows," a feature film premiering at the Mardi Gras Queer Film Festival in Sydney, Australia, on February 25. Set in small-town India, the movie exhibits the turbulence and the ravaging effects of a son's coming out on his relationship with his mother.
"For us, as important as making the film was creating a platform to support parents faced with such a situation," Rangayan said. Therefore, part of the funds raised for the movie have been fueled into organizing a support group for parents in Mumbai: Sweekar-The Rainbow Parents.
Sweekar, which means acceptance in Hindi, is the first group in India's most populous city for parents of LGBTQ people. The group held its very first meeting last February, a year before the release of Rangayan's film, and it currently has 17 members from a variety of cultural and economic backgrounds. At the group's first meeting, the parents discussed common issues they face and how they can assist each other and those outside the group who are struggling to understand their children's sexuality or gender identity. At the second meeting in December, the group created a logo, a Facebook page and a secret WhatsApp group. They are now planing to hold regular meetings going forward.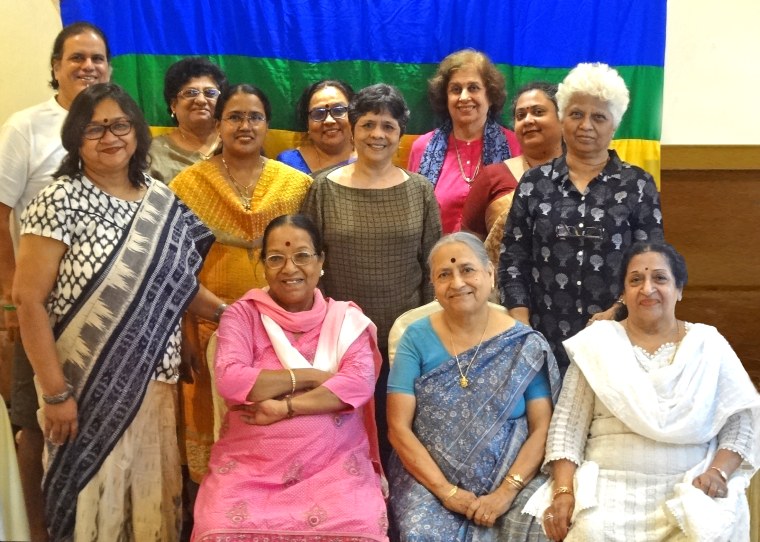 Padma Iyer, mother of Mumbai-based equal rights activist Harish Iyer, said she is happy Rangayan took the initiative to put together the group and then left it to the parents to give it their own direction. "We parents were always looking for a platform to work together," she said.
Several of the group's members said they felt pushed into the closet after their kids emerged from it.
"It's that time when parents are doing some soul-searching and may feel lost if there is no support," said Arundhati Sanyal, whose son Debendra Nath Sanyal recently bagged the second runner-up title at this year's Mr. Gay World India contest.
Chitra Palekar, whose daughter is a lesbian, shared a similar sentiment. "When it appears that you are even slightly different from others, you do feel disturbed," she said. "Many people need support to find their way through that."
Even parents who have long accepted their child's sexuality or gender identity have anxieties they are unable to share with their friends and relatives. Sweekar seeks to bridge that gap.
"Sweekar provides that safe and confidential space where we listen to everyone and do not belittle even a single concern," Palekar explained.
Sanyal added, "What's discussed remains within the group."
In India, barriers to LGBTQ acceptance are numerous. Apart from gay sex being a punishable offense, many are concerned with what other people will will say or think. Iyer said she had this apprehension, but once she acknowledged her gay son's identity, she said she stopped caring about naysayers. "Parental acceptance can be empowering for children and gives them the courage to be what they want," Iyer added.
Mangala Aher, mom to transgender-rights activist Abhina Aher, said she felt guilty when her child told her years ago that she wanted to live as a transgender woman. "I blamed it on my upbringing, just like a lot of other parents do," she said. What changed her mind was the thought that if she didn't support her child, no one would. Aher, now 70, dances with her trans daughter's troupe to create awareness about transgender issues.
The fear of religion often comes in the way of acceptance, too, some of the Sweekar parents explained.
"I have been told by parents that their caste, religion or community will never accept homosexuality, so there's no point in taking the conversation any further," said Iyer, who stirred controversy in 2015 when she placed a matrimonial advertisement in a local newspaper to find a suitable man to wed her son.
Patient conversations can work wonders, according to Sanyal, who said her mother-in-law, Meera, learned to accept her grandson's sexuality despite having no prior knowledge of homosexuality. After a few months of patient conversations and watching a few films on some aspects of homosexuality, Meera started understanding what it meant for her grandson to be gay. She now welcomes his partner whenever he visits her and also attends Sweekar meetings. She is a role model for the elderly, Sanyal said.
"I did worry about what people would say, but my grandson is more important to me than others," Meera explained.
Sweekar members participated in Mumbai Pride for the first time earlier this month and marched under their own banner. They said they wanted the world to know they stand behind their children. Next on their agenda is a workshop with a trained counselor who will help them counsel other parents about their apprehensions. They also said a helpline for parents may be underway in the future, too.