YANGON - When police in Myanmar's biggest city Yangon arrested Chew Su Khin, a young transgender woman, for the third time in a year, they removed her hair extensions and set them on fire, stripped her naked and took pictures for their amusement.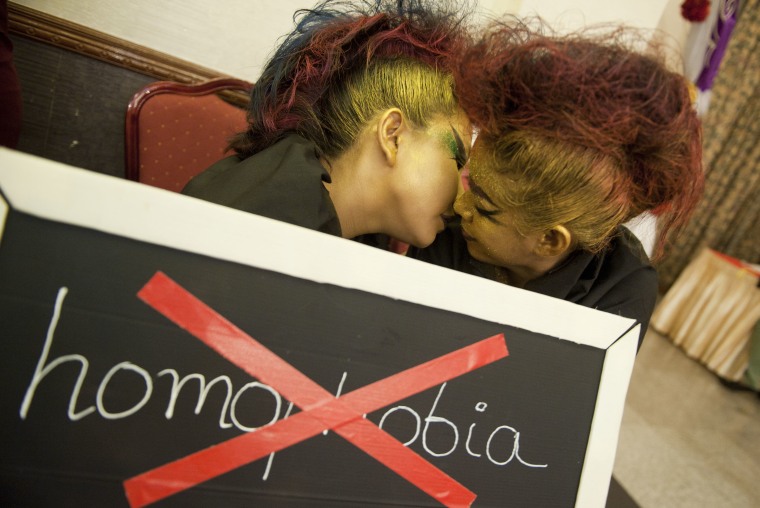 "They made me remove all my clothes and perform sexual acts with other prisoners while they filmed it on their phones with the threat of more violence," the slight 20-year-old told the Thomson Reuters Foundation in Yangon's Bahan township.
She had to pay a fine of 35,000 kyat ($27) to be released the next day.
Before that, Chew Su Khin was detained under the so-called "shadow law", which allows police to arrest after sunset anyone they believe is acting suspiciously.
She was kept in a male jail cell where she was raped by fellow prisoners as guards looked on.
Campaigners say lesbian, gay, bisexual and transgender (LGBT) people routinely face abuse, violence, intimidation and harassment from police officers who extort money and sexual favours from them in a country where homosexuality is banned.
The police deny harassing LGBT people. But activists say police officers use Article 377 of the Penal Code, a relic of British colonial law, which forbids "carnal intercourse against the order of nature" to persecute LGBT people.
The law, which carries a 10 year prison sentence for convicted offenders, is however rarely enforced.
When Aung San Suu Kyi's party, the National League for Democracy (NLD), swept to power after a landslide election win last November, pledging to fight for human rights and democratic change, many activists hoped the victory would enable LGBT people to come out of the shadows.
But a year on, many have been disappointed by a lack of progress in the socially conservative Southeast Asian country.
RAPE
Win Htein, an ally of Suu Kyi, said earlier this year he was "not interested" in tackling LGBT rights abuses, and that gender issues imported from the West were not important in Myanmar.
Before the historic 2015 election, Myint Kyu, the border and security affairs minister in Mandalay's regional government, said homosexuality was "unacceptable" and threatened to detain and "educate" gay men.
Leading local LGBT rights group, Colours Rainbow, estimates that police intimidation led to 65 cases of wrongful arrests of LGBT people in three of Myanmar's 325 townships last year.
But the real figure is likely to be much higher because many victims do not report police mistreatment, fearing further arrests, the group's programme coordinator, Hla Myat Tun, said.
In many cases, LGBT people are sexually assaulted, or beaten up by a group of police, he said.
"Some of them were even raped by police officers in the police compound, at the back of the police station building under the banana trees," he told the Thomson Reuters Foundation.
The Yangon police refuted allegations of abuse against them.
"Whether you are male, female, homosexual or transgender, we act according to the law," a spokesman told the Thomson Reuters Foundation.
Despite the scale of abuse, justice is seldom pursued, campaigners say.
A report this year by Colours Rainbow, Equality Myanmar, one of the first organisations to provide legal assistance to the LGBT community, and USAID found that "all too often, reporting a case of abuse ends up worsening the suffering of a victim".
'STRUGGLE WITHIN A STRUGGLE'
Hla Myat Tun said NLD lawmakers have shown greater respect of human rights, including LGBT rights, than the previous military government which ruled the former Burma for almost 50 years.
But lawmakers in favour of greater freedoms and rights "do not have enough confidence to raise the issue in parliament because they need more allies", he said.
Many members of the country's democracy and human rights movement think fighting for LGBT rights is not as important as other concerns, such as political prisoners, freedom of religion and expression, according to Aung Myo Min, the founder of Equality Myanmar.
"They forget to see the LGBT community is also affected from these laws," he said.
"They think the LGBT issue is different, that it's not a priority. It is a struggle within a struggle."
Human rights activists have long expressed concern about the oppression of the country's Rohingya Muslim minority.
In recent weeks, Suu Kyi's government has come under mounting international scrutiny for its handling of a crisis in northern Rakhine State, where soldiers have blocked access for aid workers and are accused of raping and killing civilians in the Muslim-majority area.
The government of Suu Kyi, a Nobel Peace Prize winner, denies any abuses have been committed.
Transgender woman, May Zin Oo, hopes the government will eventually turn its focus towards protecting people like her.
The 25-year-old was standing outside a bar when she was arrested by police last month. She had to wash other prisoners' clothes to earn enough money to eat and pay a bribe to be released from jail.
"We just want jobs and get on with life. I want to be able to walk in the street without violence," she said.
"We just want to be considered human. We just want to be considered equal."