A nationwide coalition of 153 evangelical Christian leaders released a statement Tuesday affirming their conservative beliefs regarding human sexuality.
"We did not make ourselves. We are not our own. Our true identity, as male and female persons, is given by God," the manifesto's preamble states. "It is not only foolish, but hopeless, to try to make ourselves what God did not create us to be."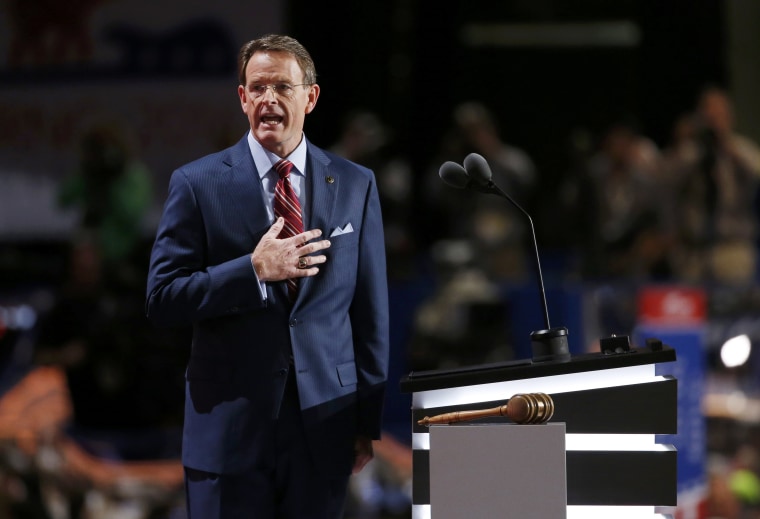 Many of the 14 listed beliefs included in the Council on Biblical Manhood and Womanhood's "Nashville Statement" take direct aim at the lesbian, gay, bisexual, transgender and queer (LGBTQ) community.
"We deny that God has designed marriage to be a homosexual, polygamous, or polyamorous relationship," the first bullet point of the statement reads.
"We affirm that it is sinful to approve of homosexual immorality or transgenderism and that such approval constitutes an essential departure from Christian faithfulness and witness," the manifesto continues.
Six of the Nashville Statement's 14 listed beliefs directly mention the words or phrases "homosexual," "transgender" or "sexual attraction for the same sex." Other beliefs listed take aim at infidelity and sex before marriage.
Several members of President Donald Trump's Evangelical Advisory Board are among the document's 153 signatories. They include James Dobson, founder of Focus on the Family; Ronnie Floyd, senior pastor of Cross Church; Richard Land, president of Southern Evangelical Seminary; James MacDonald, founder and senior pastor of Harvest Bible Chapel; and James Robison, founder and president of LIFE Outreach International.
Two of the groups represented on the list — the Alliance Defending Freedom and the Family Research Council — are listed as anti-LGBTQ "hate groups" by the Southern Poverty Law Center, which tracks hate activity across the U.S.
Family Research Council President Tony Perkins, one of the Nashville Statement's signatories, has called pedophilia a "homosexual problem" and has compared gay legal advocates to terrorists.
A number of LGBTQ advocates and Christian leaders spoke out against the listed beliefs in the Nashville Statement. Eliel Cruz, a faith organizer and member of the Human Rights Campaign Foundation's Religion Council, was among them.
"While the theology espoused in the Nashville Statement is not new, the recommitment to anti-LGBT theology continues these Evangelical leaders' violence against LGBT people," Cruz said in a statement. "Christians and non-Christians alike must unequivocally condemn this statement. We cannot stand for this demonization of LGBT people to go unchallenged."
Nashville Mayor Megan Barry was also among those who opposed the Christian manifesto.
"The [Council on Biblical Manhood and Womanhood's] so-called 'Nashville Statement' is poorly named and does not represent the inclusive values of the city & people of Nashville," Barry said via Twitter.