Though it was passed nearly eight months ago, the shadow of North Carolina's House Bill 2 -- which restricts bathroom access for transgender people -- looms large over the Tar Heel State's governor's race.
The National Organization for Marriage (NOM), a notoriously anti-LGBTQ group, released a new video attacking Democratic gubernatorial candidate Roy Cooper, claiming that his stance on bathroom access for transgender people would allow sexual predators to target their victims, including children, with ease.
"Any man at any time could enter a woman's bathroom simply by claiming to be a woman that day -- no one is exempt. Even registered sex offenders could follow women or young girls into the bathroom or locker room," the NOM video claims.
Republican Governor Pat McCrory hastily signed the bill hours after it was introduced. However, according to the Charlotte Observer, there has been little to no evidence indicating there was a rise in sexual assault in public bathrooms in cities where transgender people are permitted to use the bathroom that matches their gender identity.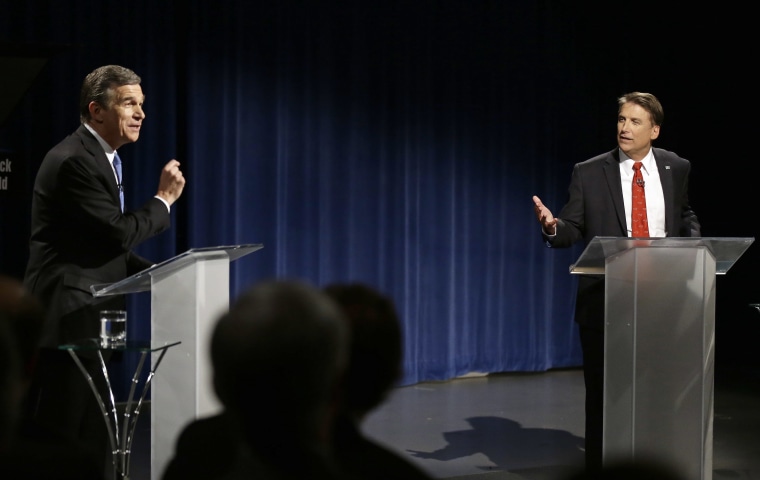 The National Organization for Marriage first entered the public eye when Proposition 8 was introduced in California. Since then, the group has gained notoriety for their videos opposing the expansion of LGBTQ rights, including their viral anti-same-sex marriage video, "Gathering Storm." Their actions have been well-documented by the Southern Poverty Law Center, which monitors hate-based and discriminatory activity throughout the nation.
Though Gov. McCrory was originally favored to win his race, the fallout from HB2 has caused his poll numbers to fall in comparison to Cooper's, who is now leading.