A Native American tribe in northeast Oklahoma voted to legalize same-sex marriage this week, becoming the latest in a small number of Indian Country tribes to do so over the past several years.
Citizens of the Osage Nation, one of Oklahoma's larger tribes, voted Monday to legalize gay marriage with 52 percent of the vote, according to unofficial results posted by the tribe's newspaper, The Osage News. Of the tribe's approximately 15,000 registered voters, about 1,470 citizens cast their ballots, according to the results.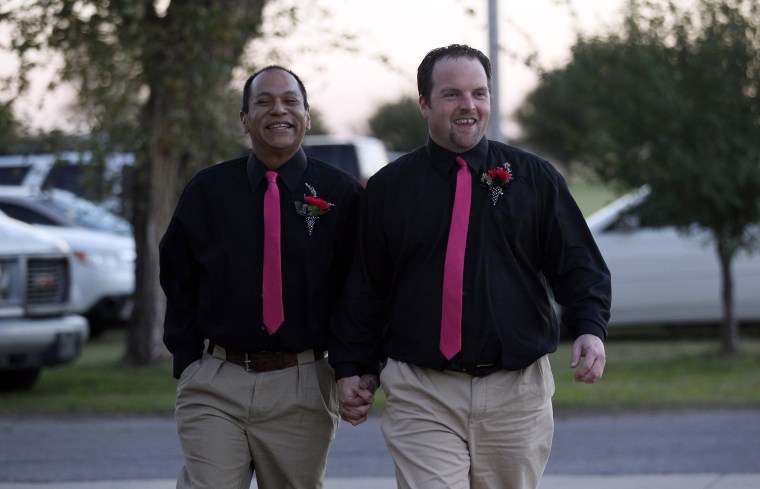 "I know that for a lot of people it was a controversial issue, but for me, it was not," said Osage legislator Alice Buffalohead, the measure's author.
"To every Native kid just beginning to understand who they are inside, the tribe has made it clear we support and love them."
Formal opposition to the measure did not emerge, but some in the tribe felt allowing gay marriage would undermine the tribe's cultural heritage.
Henry Roanhorse Gray, who co-created a Facebook group called Osage Citizens for Marriage Equality, said he was surprised but "incredibly excited" about the outcome.
"I knew (the vote) was gonna be a huge challenge to get a typically conservative and religious electorate to pass marriage equality, so it being such a close race was no surprise," he told NBC Out through a Facebook message. "It really shows the importance of voting -- history was truly made by the ones who showed up."
Gray said he was disappointed only 9 percent of registered voters in the tribe cast their ballots in the election. Nevertheless, he said, the outcome goes beyond just marriage equality.
"To every Native kid just beginning to understand who they are inside, the tribe has made it clear we support and love them," he said.
The 23-year-old Tulsa resident said he is optimistic the Osage Nation vote marks a turning point for same-sex marriage in all of Indian Country.
Across the U.S., there are more than 567 federally recognized tribes. Oklahoma is home to nearly 40 of them.
Though the U.S. Supreme Court legalized same-sex marriage in 2015, it did not extend to federally recognized tribes, because they are sovereign nations with their own governments.
"As self-determining, sovereign governments, Indian tribes can determine and resolve these internal issues themselves," Michael McBride, chair of the Indian Law & Gaming division at Crowe & Dunlevy Law, told NBC Out through email.
McBride said the U.S. Congress can pass a law specifically directing tribal governments to recognize same-sex unions, but he said he doubts Congress would take such a step.
The Osage Nation joins a handful of other prominent tribes that conduct or recognize same-sex marriages, including the Cherokee Nation and the Cheyenne and Arapaho Tribes.
According to LGBTQ advocacy group Freedom to Marry, the Coquille Tribe of Oregon was the first Native American tribe to approve same-sex marriage. It did so in 2009.