The ancestral home of DeLesslin "Roo" George-Warren's tribe is along the banks of the Catawba River, near the modern border of North Carolina and South Carolina. Thousands of years before first contact with Europeans, they called themselves Ye Iswąˀ, or "people of the river."
When George-Warren pulled up to his sister's house in Rock Hill, South Carolina, after spending the past few years in D.C., much had changed. His tribe was known as Catawba, and their language, from which words like Ye Iswąˀ had come, had fallen into disuse. The last fluent speaker died in 1964.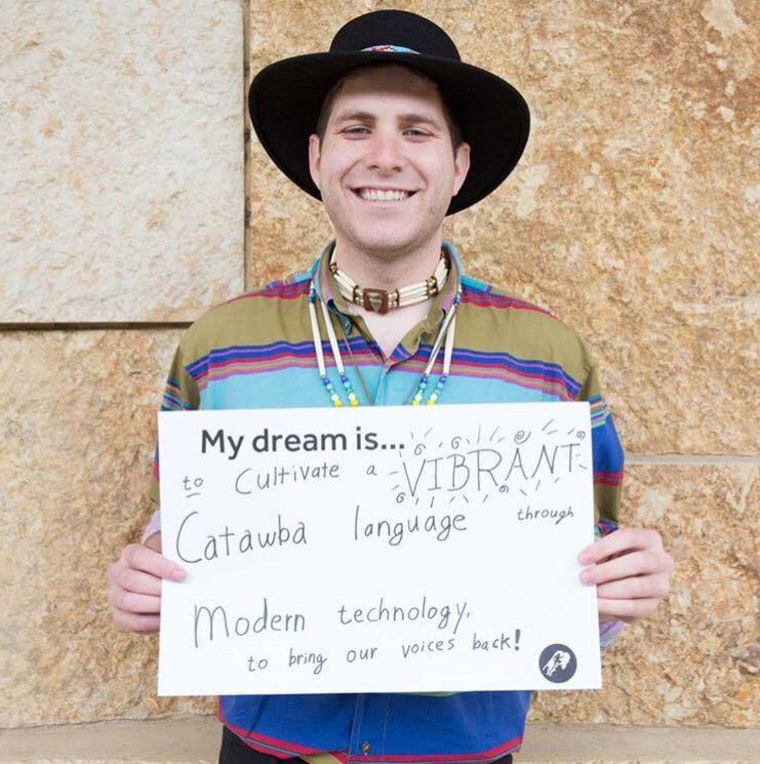 "In 1989, our tribe discussed our priorities, and one of them was revitalizing our language," he said in a phone interview with NBC Out. "That was two years before I was born."
George-Warren was born in Atlanta but grew up in Rock Hill, South Carolina, a short distance away from the Catawba Reservation. He was selected this year as a recipient of the Dreamstarter grant program for Native youth, headed up by the nonprofit Running Strong foundation. After being selected, he packed his things in Washington and moved back home to begin the Catawba Language Project.
"My dream is to cultivate a vibrant Catawba language using modern technology," he said. "I'm creating a learning app for the language and bringing Catawba words into material culture for the tribe."
Related: Native American Two Spirit Uses Drag to Connect to His Roots
The reintroduction of the Catawba language into everyday use isn't his only goal. There is a more immediate one as well. Across various tribes in Indian Country, youth suicides are reaching epidemic levels. George-Warren believes teaching Native children about their language could save lives.
"Several communities have declared a state of emergency, because so many kids are attempting suicide," he said. "Study after study has found that in Native communities, having a sense of culture is one of the best preventions of suicide."
But his decision to move back to rural South Carolina wasn't an easy one to make. Part of why he moved away in the first place was because he didn't feel safe or accepted as a queer person in the area.
"I was kind of done with my community," he admitted. "I wasn't saying it out loud, but I was happy to get out. I often heard very explicit statements of homophobia and anti-queerness ... It wasn't just in Catawba Indian Nation, but also in the surrounding areas."
It was technology and language that ultimately helped him contextualize his identity as a queer indigenous person, a revelation he hopes to bring to other members of his tribe with his project.
"Through modern tech, I've been able to read words from Native writers and connect with people from my community in ways I never could before," he said. "It helped me to be able to see anti-queerness as a product of history."
George-Warren identifies as Two Spirit, an indigenous concept that isn't completely translatable into the Western lexicon of gender and sexual orientation.
"It fits into the spectrum of LGBTQIA identities, but the thing that distinguishes it from these other identities is that it's tied in to a role in my community," he explained. "It's not something I can be outside of a relationship with my tribe." He says his identity as a Two Spirit and as a queer person is intimately linked with his mission to revitalize the Catawba language.
"Throughout colonization, language has been the battlefield on which norms are created," he said. "When you look at explorer journals, they say they saw men dressing and acting as women, and they were called degenerates. Language was so fundamental in imposing Western understanding on indigenous folks."
In many indigenous traditions, Two Spirit people are said to have both the spirit of a man and of a woman, and are able to travel freely between binaries. This is significant for George-Warren, who must often travel between seemingly irreconcilable forces to realize his goal.
Between Catawba and English, there are few cognates, and some sounds are foreign to the English tongue. He uses technology to bridge these divides, creating his own Catawba keyboard and digital flashcards to assist students of the language.
But perhaps the most significant binary he must navigate is that of past and present. For many marginalized groups in the United States, forward is the direction of progress. With eyes on the future, justice is linear. For indigenous people, however, it's more like a circle, according to George-Warren.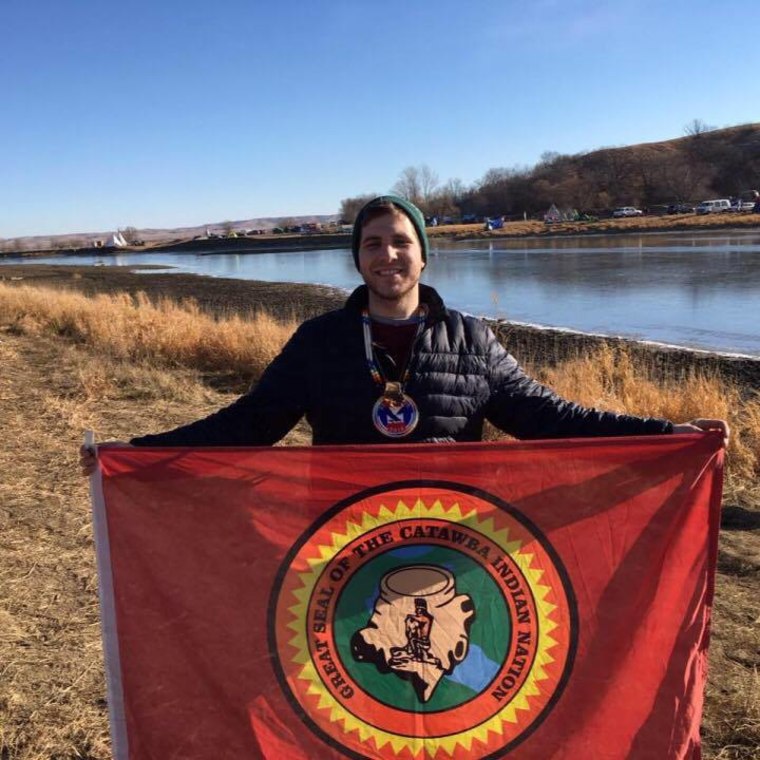 "We don't necessarily see progress as the goal, because we see the good time as 1491, the time of equality, prior to colonization," he said. "I think that's an important point to make, because most of the LGBT history I read completely leaves out indigenous folks."
For George-Warren, going back means going forward, and reviving an ancient language means incorporating technology. It might seem paradoxical on its face, but as was seen at Standing Rock, where tribes gathered under the rallying cry of "mni wiconi," or "water is life," the answers to the problems of the present lie in the past for many indigenous people.
"We're not just trying to preserve the language," he said. "We're trying to preserve our people."