"I'm weaving a basket right now," George Soctomah Neptune tells me over the phone. His boyfriend of one year, Matthias, is in the house with him. Occasionally, George pauses our interview to talk to him.
"The controller is right there," George says to Matthias. "Yes, right in front of your face."
George has no problem talking and weaving at the same time. He's been practicing basketry since he was four years old. Seven years ago, at the age of 20, he earned the title of master. Drag is a bit more recent: He started competing in shows as his alter ego, Lyzz Bien, in 2006 as a freshman at Dartmouth.
But long before Lyzz, there was George, his grandmother and baskets.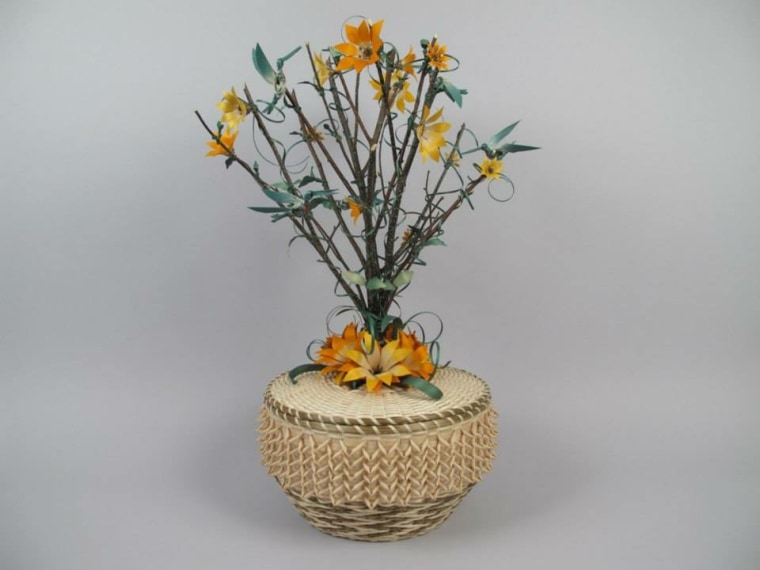 For the Passamaquoddy tribe in Indian Township, Maine, a reservation of less than 700 people, sweetgrass basketry is a living history, one that tells the story of a people who have had to adapt to survive. The tradition dates back to before recorded history, when baskets had a primarily utilitarian function. But European colonization and economic hardship spawned a new tradition, "fancy baskets," which were decorative in nature and marketed to white tourists.
It was George's grandmother, Molly Neptune Parker, who brought him into the tradition of fancy baskets.
"Typically, men would make the utility baskets and women would make fancy baskets," George says. "But my grandmother was a fancy basket maker, so at four years old I became one of the first men to make baskets in that tradition."
George is a Two-Spirit. The concept is another ancient tradition among many indigenous tribes in America, as much an identity as it is a philosophy. It typically refers to people who are born with the spirit of a man and the spirit of a woman in one body. These sacred people are able to freely travel between binaries.
"We balance two polarities, two energies in our bodies, two energies in the same spiritual place," George says. "Those two polarities are not supposed to be able to coexist, but that's why Two-Spirit people exist. We bring them into balance."
George explains that Two-Spirit identity doesn't exactly fit into Western concepts of gender or sexual orientation. "It's often narrowly interpreted as transgender," he says. "But I think the more accurate colonial term would be gender-nonconforming or non-binary.
"Two-Spirit has many manifestations," he adds. "It means something different to every Two-Spirit."
For George, weaving baskets with his grandmother and the women of his tribe was a sacred thing, a crucial first step in understanding his identity. But the journey wasn't always easy.
He still stood out in Indian Township, where the government-issued houses are identical down to the linoleum. He says the elders of his tribe told his grandmother that he was Two-Spirit early in his life, and she didn't immediately approve. She, like many in the Passamaquoddy Tribe, was devoutly Catholic, an enduring legacy of intervention by French explorers and missionaries.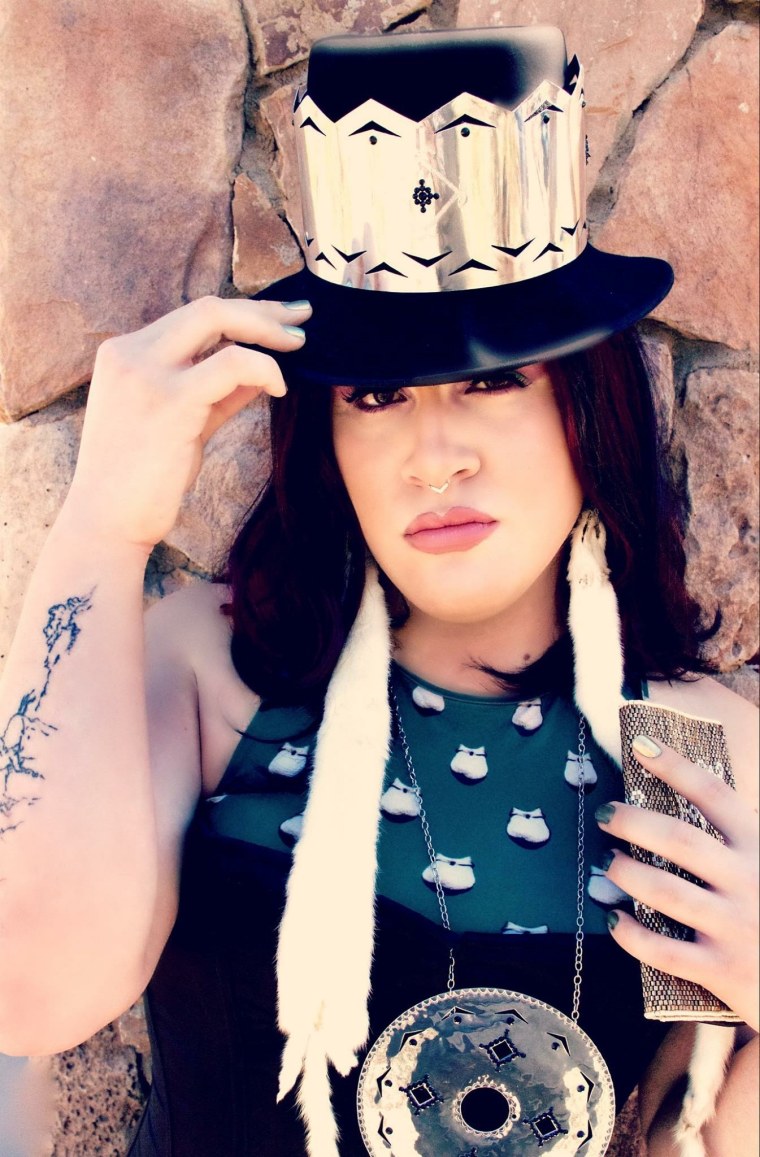 It wasn't until George left Indian Township and went to Dartmouth that Lyzz was born. He put on a wig, gave his alter ego a playful name and started competing in shows. For George, Lyzz was simultaneously new and old, a creation and a tradition, a conduit for something he had struggled to express.
"Drag is very old, and Two-Spirit is even older," he says. "Drag was my opportunity to take a step back and allow that female spirit to take control."
His transformation is jarring. George is 6'3" and weighs 275 pounds, but after shaving his facial hair and painting his face, he is able to channel Lyzz.
She prefers to wear Native fashion, George tells me, to support Native artists and to help fight the rampant cultural appropriation of Native designs. "It's my way of saying we're more than buckskin and feathers and fringe," he says.
I ask him about Lyzz's favorite pieces.
"I finally have a few pieces by Bethany Yellowtail," he says. "A fantastic designer. I have a few of her dresses and scarves. I have a collection of Jamie Okuma's work, and jewelry from Tammy Beauvais.
"I don't have a ton of fashion, though," he adds. "Because of my size."
Regardless of what she's wearing, the Lyzz that appears in photos is confident, provident, at times stoic and, at times, exuberant. It's tempting to try to parse out which parts are George and which parts are Lyzz, but perhaps that's missing the point of Two-Spirit identity, which is both and neither, separate and the same, one being expressed in different ways.
Today, George works at the Abbe Museum, dedicated to the Wabanaki people of which the Passamaquoddy are a part, in Bar Harbor, Maine. They have a collection of his baskets there. His primary focus is educating non-Native visitors about his people and their culture.
For George, life as an indigenous person is about the past and the future, preserving a history that was nearly destroyed while inventing the present. He travels between these worlds daily, with the help of Lyzz.
"I make baskets that are traditional in their form and materials, but with very contemporary flair to their design and aesthetic," he says. "I take traditional baskets, even antique baskets, and to try to recreate it but also make it my own and somehow stay true to my tradition."
I ask him if he sees Lyzz that way.
He laughs.
"You know," he says, "you might be right."