When "Queer Eye for the Straight Guy" premiered on Bravo in 2003, the series — which centered on five gay men who provided makeovers for relatively unfashionable and uncultured straight men —became an instant success. The show even won a Primetime Emmy Award in 2004 for Outstanding Reality Program. The series ended its five-season run in 2008, but now — a decade later — "Queer Eye" is back with a new "fab five" and a shortened name.
"The original show was fighting for tolerance. Our fight is for acceptance."
Tan France
Bobby Berk, Karamo Brown, Antoni Porowski, Jonathan Van Ness and Tan France will star in the Netflix reboot of the series, which premieres Wednesday. The new "fab five" will advise a variety of straight men (and one gay man) on fashion, grooming, food, culture and design. And instead of focusing on the Big Apple, like the original show, the new series is "on a mission to make over Atlanta — and challenge notions of what it means to 'be a man.'"
Most importantly, perhaps, the show has a broader goal. "The original show was fighting for tolerance," France, the fashion guru, said in the show's trailer. "Our fight is for acceptance."
"With this being a legacy show, there's a great importance on making sure we represent and fill the shoes of the original cast. However, we are so different, so it's comparing apples and oranges," France told NBC News.
"We're so diverse, we come from different walks of life, and we're in the South, which is so different than where the show filmed last time. The one similarity though is that it's super light-hearted, super fun and hopefully represents our community and shows a different side that I think most people don't see," France added.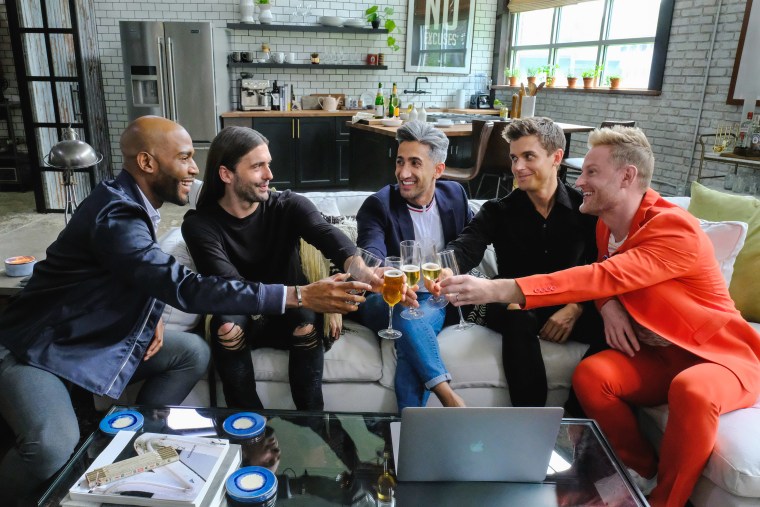 The show is decidedly not political, but in this partisan environment it seeks to connect people who one may assume have walked very different paths in life. For example, one episode features Brown, the culture expert, helping a middle-aged, Trump-supporting police officer looking to find ways to connect with his family. The exchange starts out uncomfortable, but it ends up being transformative and enlightening for both men, who are now friends and speak regularly.
LISTEN: Brown shares surprising backstory of one of series' most intense moments
"We already know the things that make us different," Berk, the interior design expert, said, so "we went really into this trying to find the things that made us the same."
In addition to the reboot's new cast and Southern flair, there's another noticeable distinction: no advertisements. Van Ness, the show's grooming expert, said the lack of ads and product placements gives him and the other members of the "fab five" the freedom to recommend any products they want without fear of an advertiser conflict.
"Do I want to do a Garnier Fructis hair commercial? Yes!" Van Ness said laughingly while playing with his long locks. "But I do an egg white peach mask on my face once a month, so we got to do that on the show," he added.
LISTEN: Full interview with new "Queer Eye" cast
THE 'OG' FAB FIVE
So, what do the original "fab five" think of the reboot and their successors? NBC News caught up with all of the "Queer Eye for the Straight Guy" alumni — Carson Kressley, Kyan Douglas, Thom Filicia, Ted Allen, and Jai Rodriguez — to find out.
Ted Allen, the show's original food and wine expert, is perhaps even better known now as the host of the Food Network's hit show "Chopped." He revealed that he had a hand in picking his "Queer Eye" successor.
"A very interesting quirk about this team is that Antoni Porowski worked for me for more than three years," Allen said, speaking of the new food and wine expert, whom he actually introduced to the show's producers. "I feel kind of like a proud papa, because my former assistant and chef, and someone who's cooked a lot of stuff for me, is now going to be teaching people the same way I was."
LISTEN: Full interview with Ted Allen
The famously gregarious Carson Kressley, the original fashion guru, has made his mark as one of the quintessential voices of fashion over the past decade. The "RuPaul's Drag Race All-Stars" regular said he has briefly met the new "fab five" and has high hopes for the new series.
"I think all of us former cast members just wish them the very best," Kressley said. "We would love to gay it forward — pun intended — and have a new group of guys experience all of the fun and rewarding things that came from doing the show."
LISTEN: Full interview with Carson Kressley
Jai Rodriguez, the culture expert, joined the original "fab five" while on a hiatus from starring in Broadway's "Rent." His break from the stage lead to national fame, but acting was always his love. He's had roles on shows like "Grey's Anatomy," freshmen Fox series "The Resident" and Netflix hit "Grace & Frankie."
"I thought it was so smart to not try to cast another Carson, another Jai, another Kyan," Rodriguez said, adding that he enjoyed the new cast's chemistry. "I don't think anyone [on the new cast] reminded me of anyone [from the old cast], which I loved."
LISTEN: Full interview with Jai Rodriguez
Kyan Douglas, the original culture connoisseur, is still on the TV circuit, appearing regularly on "The Rachael Ray Show" to help guests transform their style and their lives. Douglas looks at the return of the show with a new cast as an important opportunity for young people to see themselves.
"Knowing that there are these five amazing gay people that are going to be streaming on Netflix for young people to clock and reference, [to know] 'I'm not alone,' I think that's really important, especially now."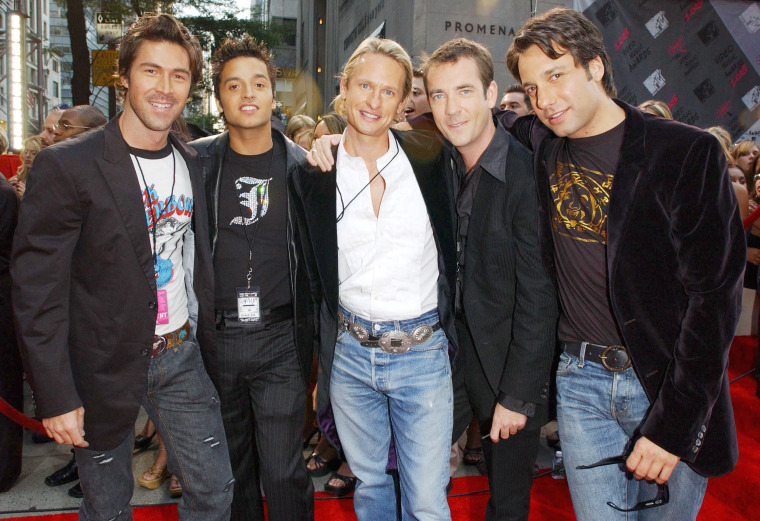 Thom Filicia, the interior design expert, currently runs an eponymous commercial and residential design firm with a small army of designers and a New York showroom. Filicia says the old show, for him, felt like it never ended, but was the start of a momentum that hasn't slowed down.
"I think the guys now are picking it up, evaluating what the situation [of our current culture] has evolved into and taking that and running with it," said Filicia. "I think that's what we brought to the table back then and I think that's what the guys are going to bring to the table today."
LISTEN: Full interview with Thom Filicia
While the original cast members have passed the torch on to a new class of refined gay men, rumor has it we may see the 10 of them together...somewhere...sometime. But the "fab 10" are tight-lipped about the details.
The entire eight-episode season of "Queer Eye" starts streaming Feb. 7 on Netflix.