The third annual RuPaul's DragCon in Los Angeles had a record-breaking 40,000 attendees at this year's event, but perhaps more notable was a new addition to the world's largest drag queen gathering: a kid zone. Stocked with coloring books, a bounce house and drag queens reading children's books, the children's space was introduced for the first time this year to accommodate families with children.
"It's always been a family affair. In previous years we noticed many kids bringing their parents along," said Randy Barbato, co-founder of World of Wonder, the production company behind "RuPaul's Drag Race" and an organizer of DragCon. "It just seemed to make sense to have a place for the youngest kids to play, so the whole family could come."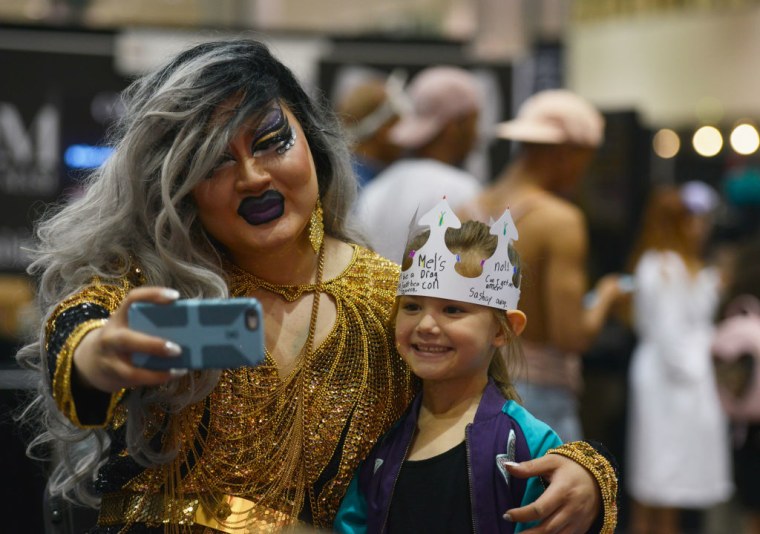 Traditionally, drag has been out of reach for youth due to its existence in predominantly nightlife spaces. The 21-and-over restrictions at most nightclubs have largely excluded young adults and children from drag, which has historically been an important artistic expression in the LGBTQ community. But with the introduction nine years ago of "RuPaul's Drag Race," a reality-based drag queen competition show, and now RuPaul's DragCon, children are able to engage with this previously off-limits subculture.
Many parents -- both in same-sex and different-sex relationships -- brought their children, some as as young as newborn, to experience the one-of-a-kind drag convention. Marissa and John, who did not share their last name, were happy to bring their 2-year-old daughter to meet drag queens and play with glitter.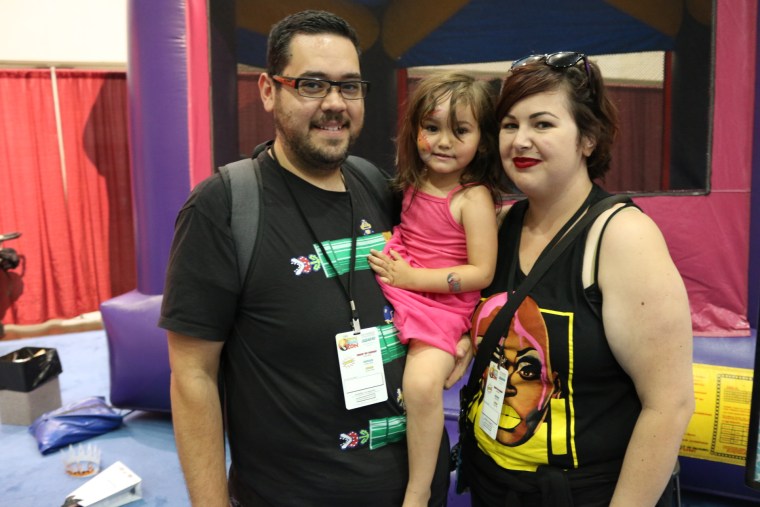 "We're just really big on diversity and accepting everybody. We just want to show her different lifestyles and different things," Marissa told NBC Out.
"We want her to know acceptance," John echoed. "That's the world she's going to grow up in. Anything you want to be is OK. This is our second year back, first year with [our daughter]. It's awesome, and we plan to be back again."
Michelle Tea, a queer woman who has a toddler, started Drag Queen Story Hour, an event where drag queens read stories to children in libraries and schools. The event, which happens monthly in Los Angeles, San Francisco and Brooklyn, held a special event at RuPaul's DragCon.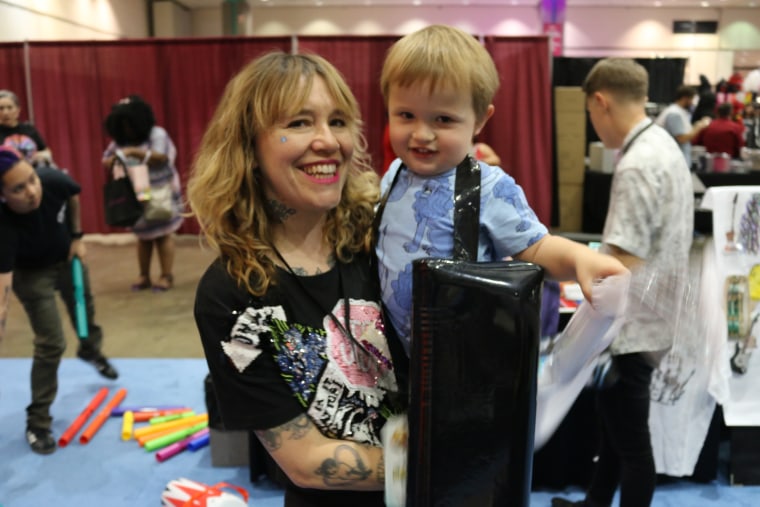 "As a queer person who suddenly had a child, I realized quickly there was a lack of queer-centered kids programming," Tea said. "I would go to a lot of story hours and things like that and just be in this really intensely straight environment, and I wasn't accustomed to being in straight environments."
Michael Gonzalez and his 2-year-old son were at DragCon, and Gonzalez said they have previously participated in Drag Queen Story Hour events. Despite what some may think, Gonzalez said many heterosexual couples bring their children.
"The kids love it -- especially the girls. They'll come in costume and just love to dress up," Gonzalez said. "[There is] this taboo where people want to keep drag away from their kids. But it's a job. It's a fun thing. It's having another persona. It's being yourself and loving and accepting who you are."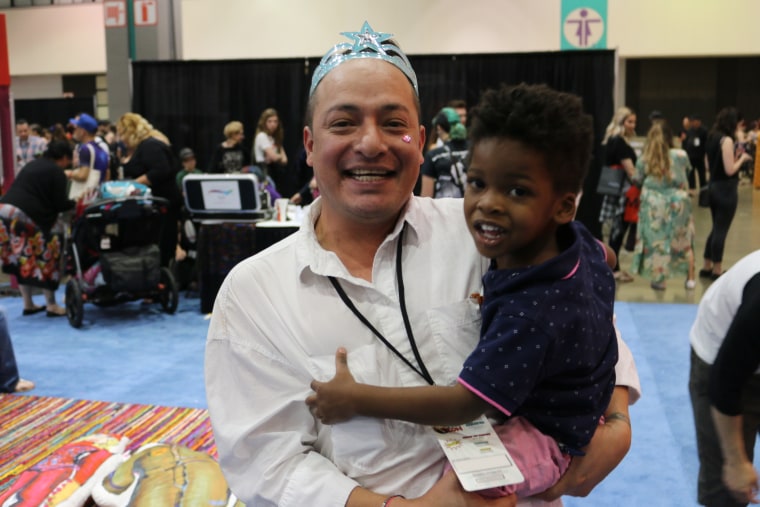 Not everyone, however, wants to break down those taboos. Elizabeth Alvarado said her husband did not want her to bring their four kids, ages 19, 15, 13 and 5 to DragCon. Alvarado brought them anyway.
"Last year, my son wanted to come, and my husband of course said no," Alvarado told NBC Out. "But this year, I'm here because of my son. He wanted to come."
"I don't think we should shelter our kids," she added. "I want them to be able to be around all kinds of people. I don't want them to hate anybody. I don't want them to think it's bad if a man wears makeup or if a man wears dresses."
In perhaps a nod to drag's increasing mainstream popularity, "RuPaul's Drag Race," now in its ninth season, recently moved from Viacom's LGBTQ-centric Logo TV channel to its more mainstream VH1 channel. And, for the first time, DragCon will make its way to the East Coast for a New York City event, which takes place from Sept. 30 to Oct. 1. If the New York gathering is anything like its LA counterpart, there will be many little drag fans in attendance.